There are many digital financial products on the market; some of them excel, while others lack demand and have to fight for their survival. What determines whether a financial product succeeds or fails? And how can one be sure that the millions invested in building such a product won't go to waste? Particular aspects seem to dictate the product's faith. All of them are related to proper financial design integration into all levels of the company. Unfortunately, most often, these factors go unnoticed, ignored or are ruled insignificant, leading to a painful fiasco. How can you use DesignOps to amplify the value and impact of design in your financial organization?

Download the PDF Whitepaper of this article with all the graphs and illustrations that help you understand the described processes. Feel free to print it and share it with your colleagues.
The more customers' expectations grow, the more they make purchase decisions based on the customer experience they get. The study conducted by Forrester Consulting on behalf of CSG shows that the main consequences of failing to deliver a positive CX are:
Decreased customer retention (60%)
Decreased sales (57%)
Loss of company revenue (57%)
Poor brand image (50%)
Companies now collect a huge amount of data about their customers, but they rarely know how to use it to improve service and CX. To provide the best possible CX within their service and products, companies must integrate a design-driven approach and user-centered thinking into their business processes, and DNA, as Apple does.
There's a common mistake many financial institutions and companies make. You might feel like everything is under control and going smoothly─the team is working, building the product, you have the technological support and financing... what can go wrong? A lot can go wrong, big time.
In many cases, incorrect design integration in the process of financial product creation has led to harmful consequences. The financial product lacks demand in the market, gets rejected by the users, exceeds the development budget or doesn't even get launched at all. This remains a huge risk for any company that doesn't integrate user-centered thinking at all levels, starting from the inner culture and ending with all processes and operations.

What is DesignOps in Banking and Why Do Financial Institutions Need It?
The term "Design Ops" was introduced in 2014 by Dave Malouf, author of the «What Is DesignOps?» book. Dave Malouf define DesignOps meaning as the grease, rails, and engine that make design processes, methods, and craft as valuable as possible. And according to "DesignOps Handbook", it's everything that supports high-quality design crafts, methods, and processes. In general, DesignOps (aka Design Operations) include customer-centered digital product design processes and design thinking for problem-solving.
Based on the above, we get the definition of DesignOps as a system of operations and processes that amplify the value and impact of design in a financial organization, increasing its customer-centricity and creativity. DesignOps practice is essential for large financial organizations that deliver digital product and service.
The importance of digital experiences to establish long-term customer relationships request creativity, empathy and design innovation. Financial organizations invest significant resources in the design and engineering of their products, but ROI often leaves a lot to be desired. This is because designers work as lone wolfs, and the latest UX design practices is hard to integrate across all departments into the strategy, development, implementation, delivery and product improvement. Unfortunately, design's potential for business success is not fully activated.
DesignOps in a bank helps integrate the design team's workflow into the broader product development and delivery context. To benefit from DesignOps banking companies need to implement a design-driven ecosystem with a set of standardized processes, methods, and tools that will support and evolve the design approach in the organization, effectively scaling the product. DesignOps tools should enable effective design operations management and customer-centered collaboration across all company departments thereby empowering the value of product design.
DesignOps tools for management and team collaboration are:
Trello - helps you keep track of all your project tasks
Asana - management tool in a Kanban-style philosophy
Basecamp - complete project management tool
Confluence - solution for managing team and project documentation
Slack - messaging platform for real-time communication and collaboration
Miro - virtual whiteboard where users can share sticky notes
Google Hangouts and Zoom - video conferencing tool
It's like planning a military ops or business ops. First, you have to define your mission. Why will you do it, and what is the fundamental meaning and Value? Next, we need to understand what Results indicate that the mission is successful. Then we need to outline the Actions that will help achieve the desired results. Next we need to staff the Team based on the competencies, knowledge and experience necessary for required action. And finally, we need a description of the system through the Processes of planning, coordination and control of the team to achieve effective results within the mission.
We can think of it as five levels: Process, Team, Action, Results and Value. And to implement DesignOps in banking, we need to properly integrate design at every level.
At this point, it's crucial to agree on what we mean by "design." Instead of the common misconception that design is simply beautiful packaging for marketing purposes, we view it as an ideology behind the process of integrating user-centered thinking into the company core─from production processes to the way people on the team think and act to provide value to their customers.
To create a successful financial product, it is crucial to pay close attention to several key aspects simultaneously:
Goals of the business;
Brand positioning and identity;
The complexity and pitfalls of finance technology;
Requirements of the digital products' market and competitive landscape;
The role that your product plays in a customer's life and your customers' context;
Consistency of overall customer journey across your digital ecosystem.
Here at the UXDA, we call this financial UX design. We believe this concept is critical to the success of any digital financial product. By using this approach with several of our clients and watching their products succeed, we made sure that the correct execution of each step significantly increased product value and eliminated risk. And believe me, perfect execution is dozen times more important than any brilliant idea. Ask Apple.
In several cases, making the design a top priority allowed our clients to open their businesses up to a broad range of opportunities that ensured successful digital transformation and empowered in-house innovation.
Only 2.5% of companies complete their projects 100% successfully, according to a PwC study of over 10,640 projects. The Design Pyramid helps to detect "bottlenecks" in designing the new product before it is too late.
If you truly dig deeply and work hard to improve banking UX through DesignOps implementation, I am confident you will experience huge changes in your team's approach, as it has already happened with many of UXDA clients.
Meet UXDA's Design Pyramid of DesignOps Implementation
On the way to creating a digital financial service, any company can face pitfalls that can shake even the most experienced businesses. If you ignore these hazards and fail to detect them on time, the product may be rejected by users and lose its market advantage.
The issue often arises because product owners have several blind spots. Tricky obstacles tend to appear that they don't even notice until it's too late. Usually, this results in failure of the financial product, leaving the management team confused because they can't find any rational explanation for its demise.
UXDA's Design Pyramid of DesignOps implementation consists of five levels: Process, Team, Action, Results and Value. Each of them, could help to amplify the value and impact of design in a financial organization at maximum, but if not carried out correctly, can lead to a certain threat to a financial product's success.
First Level: Process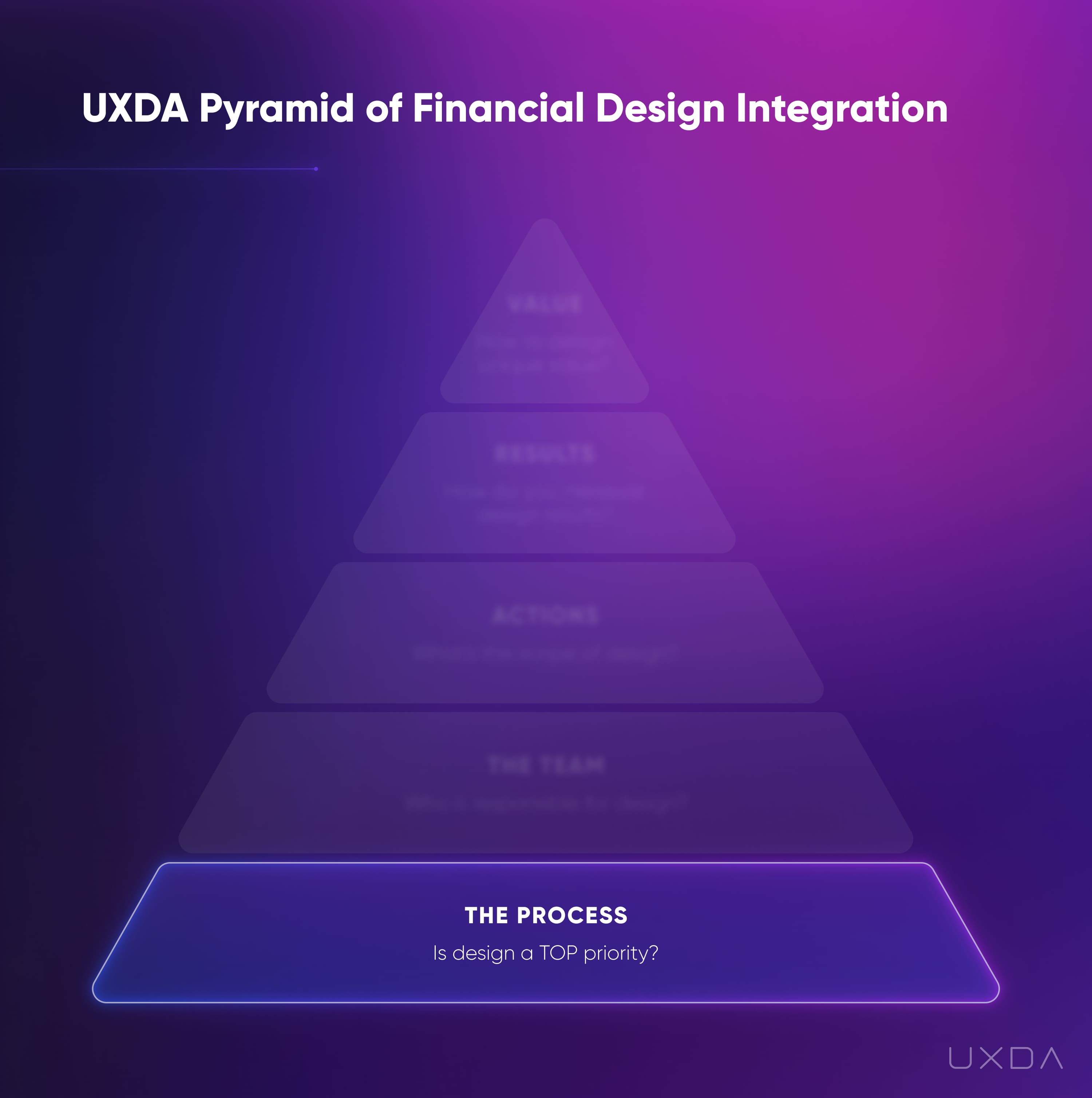 What is the role of design in the company processes and inner culture? Is it prioritized? A business that's powered by digital products cannot be limited to only a couple of designers who create landing pages and build interfaces from public templates.
Test Yourself: How Do You Perceive Design in Your Team?
How do managers and employees in your organization value the design process?
How much do they appreciate and are aware of financial design capabilities and the role of design in shaping the product's future success?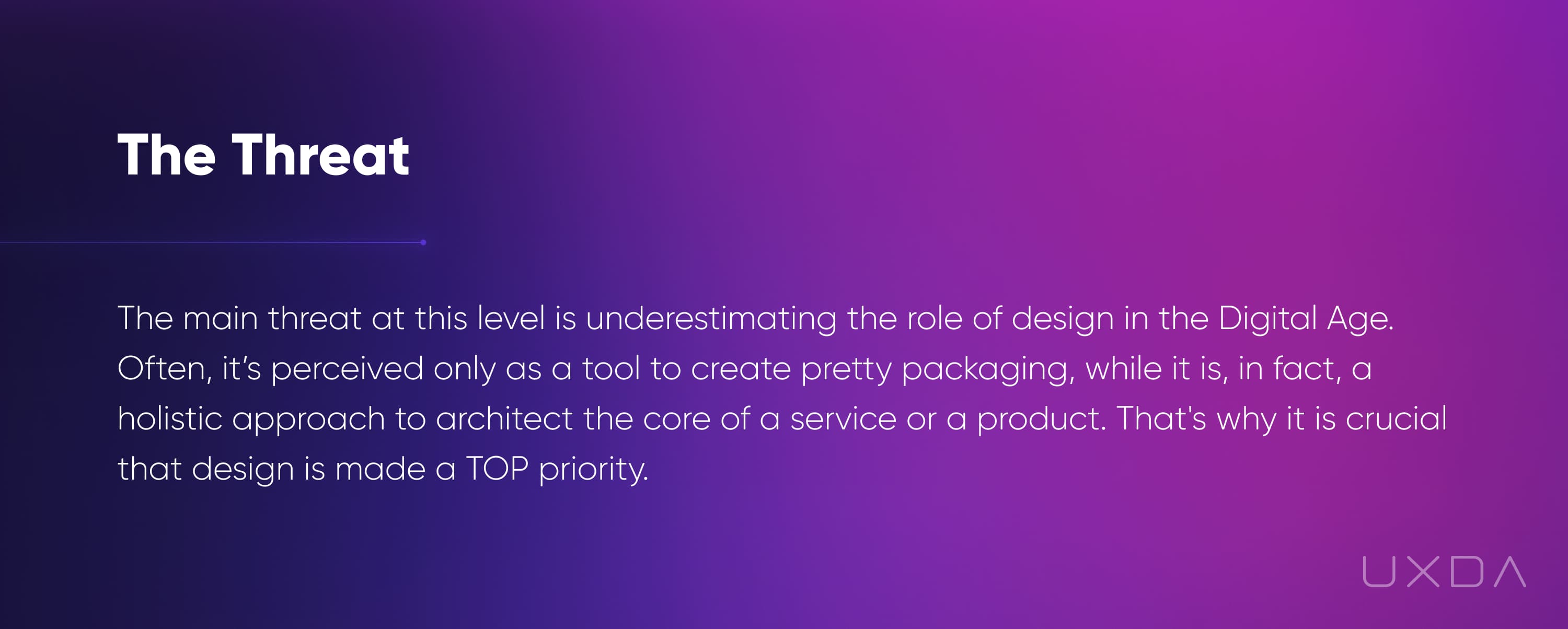 The inability to prioritize design leads to a deficiency of resources necessary to fulfill its true potential. This causes low-quality design of digital products as the process is messy and chaotic. In the end, this kind of approach dramatically increases the risk of product failure as the user needs and expectations have not been taken into account.
Learning to prioritize design allows you to develop a user-centered understanding throughout the entire team, leading to smooth and effective project workflow. This results in a successful and satisfactory product for the users.
User-centered thinking must be made a priority on the widest scale possible. Use UX research, empathy, user experience engineering process, user testing and service design throughout all levels, teams and processes in a company. This way, every employee can focus on satisfying the user's needs through designing products or services. Such an approach allows the creation of truly innovative financial product design that have long-term success in the digital market.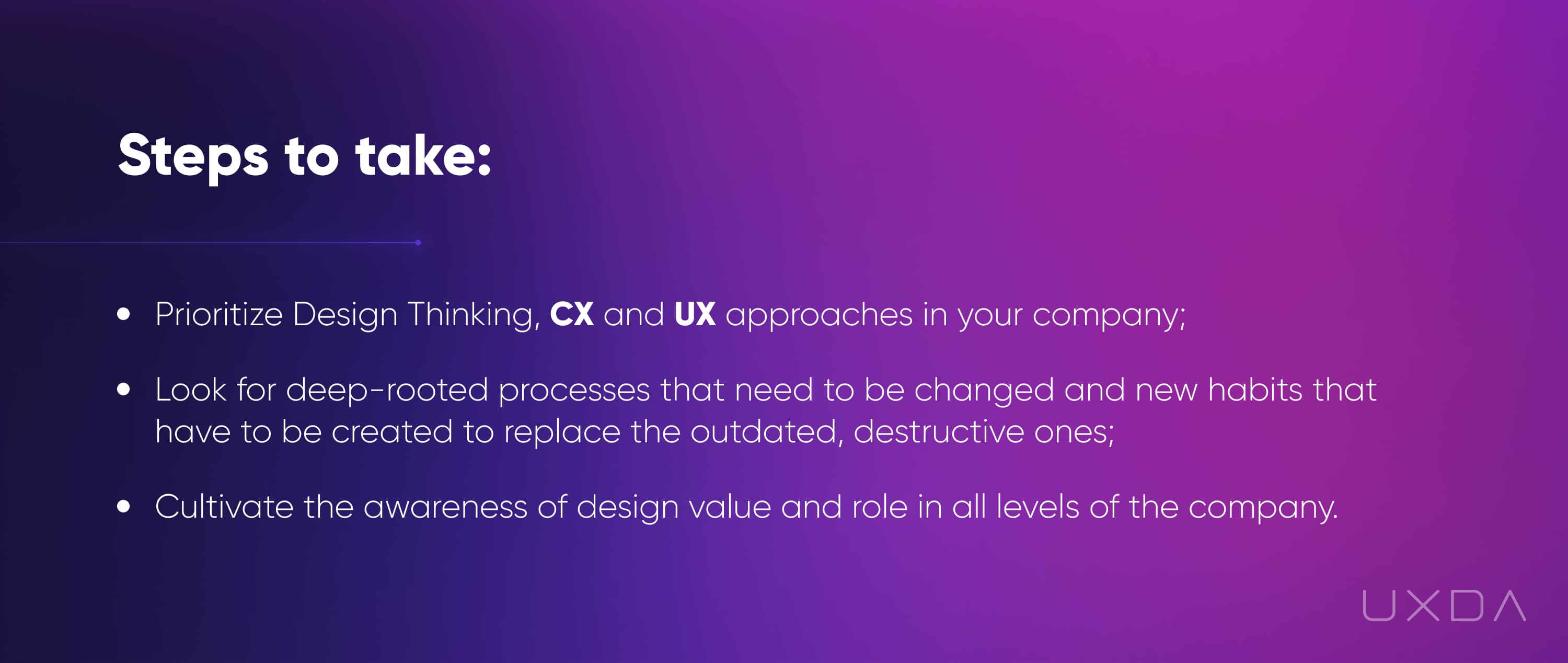 Second Level: Team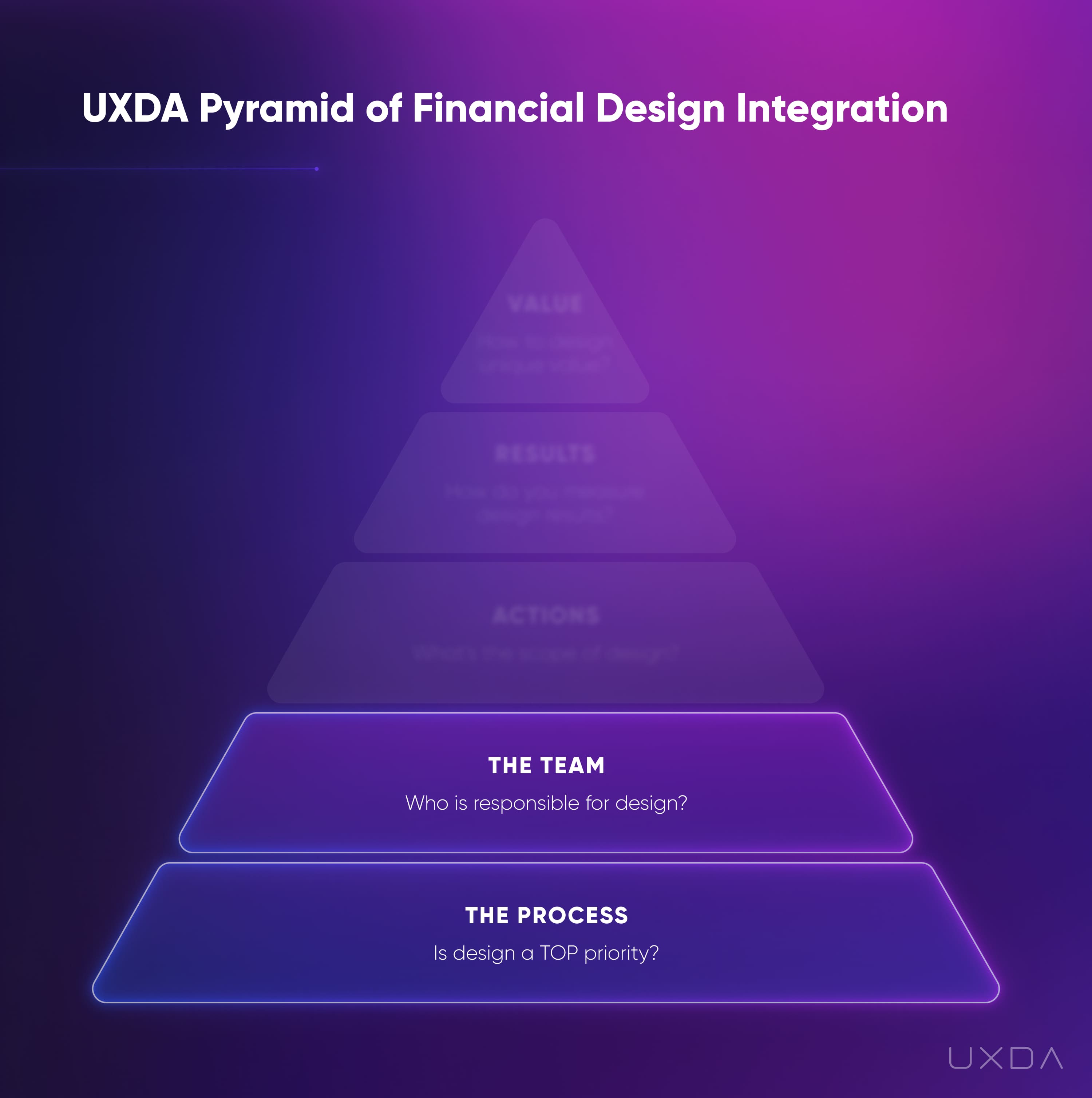 When we know how the design and user centricity should be incorporated into the company processes, we need to select the right people who can actualize that. What should their competencies and experience be? How will they integrate the design approach?
The people responsible for design might be: the Chief Experience Officer, who defines the company's strategy for user satisfaction; Head of Design, or DesignOps Manager who is responsible for the implementation of design at the product level; UX Architect, whose task is to design digital solutions based on the business goals and user needs; UI Designer, who embodies the vision of the team in the user interface.
Test Yourself: Who is Responsible for Design in Your Organization?
What are the competencies, backgrounds and mindsets of people who execute the product design process in your organization?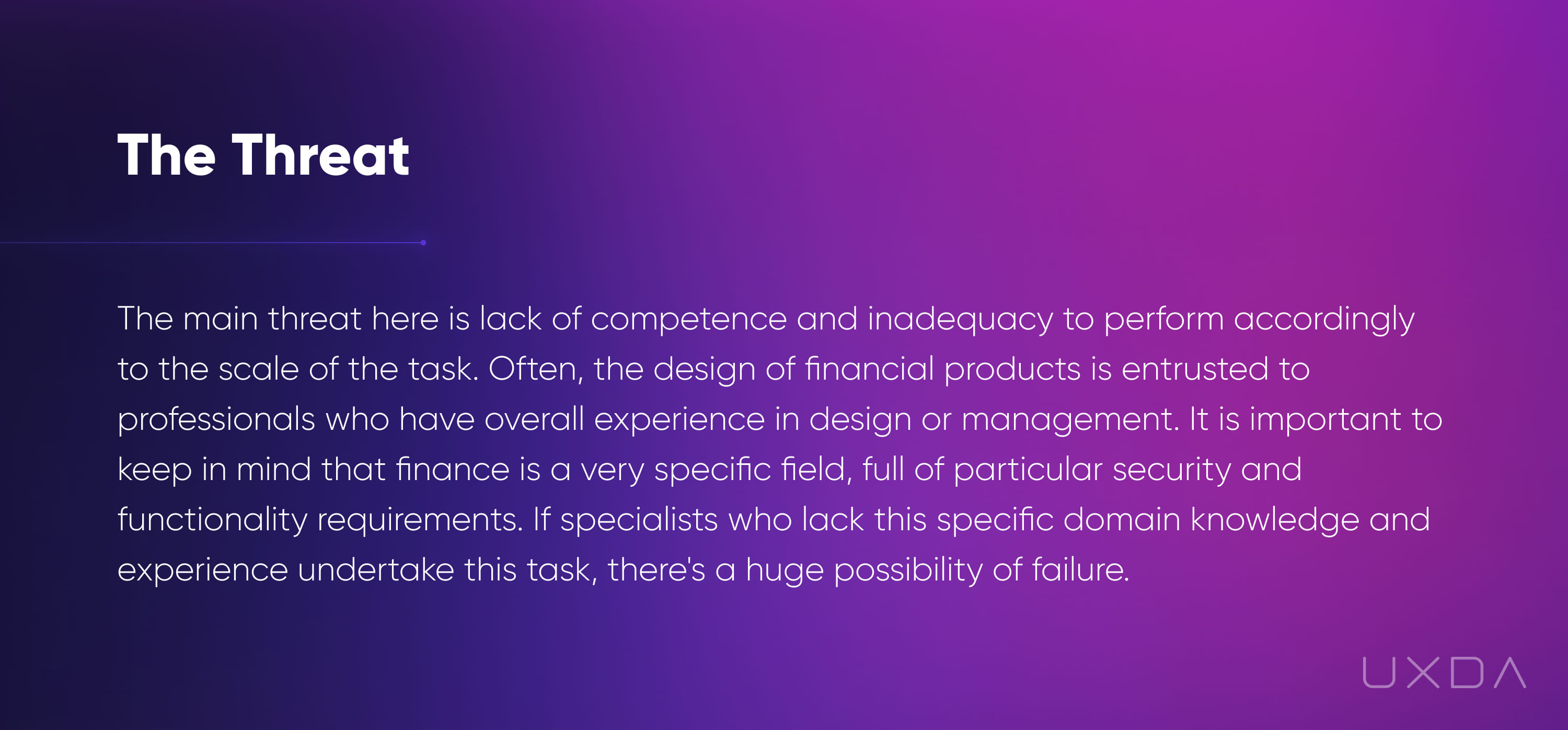 This could be compared to asking a dentist why your arm hurts because he is a doctor.
Superficially selected specialists can easily sink the project, regardless of how large and impressive the budget is.
Here's an example. I remember a Fintech startup that wanted us to completely redesign a product launched only a few months ago. Traction was awful with an almost zero retention rate despite a high acquisition rate. From the first sight, the Fintech app design looked fairly appealing and modern. Customers were interested in the brand-new solution and were eager to try it. Unfortunately, key user flows were so complex and full of friction that users weren't able to complete even the simplest tasks. The main cause of this fiasco is obvious. They had hired an agency that was experienced in designing attractive landing pages and eCommerce sites but knew nothing about financial services design. This Fintech wasted half a year and plenty of investors' money, missed market opportunity, damaged their reputation and lost customer loyalty.
To empower the design potential of a company, outsourced design competence can be used through experienced financial design consultants, agencies and coaches. This will not only help to create great products from the user perspective but also provide an opportunity to enhance the company's culture and expand internal expertise.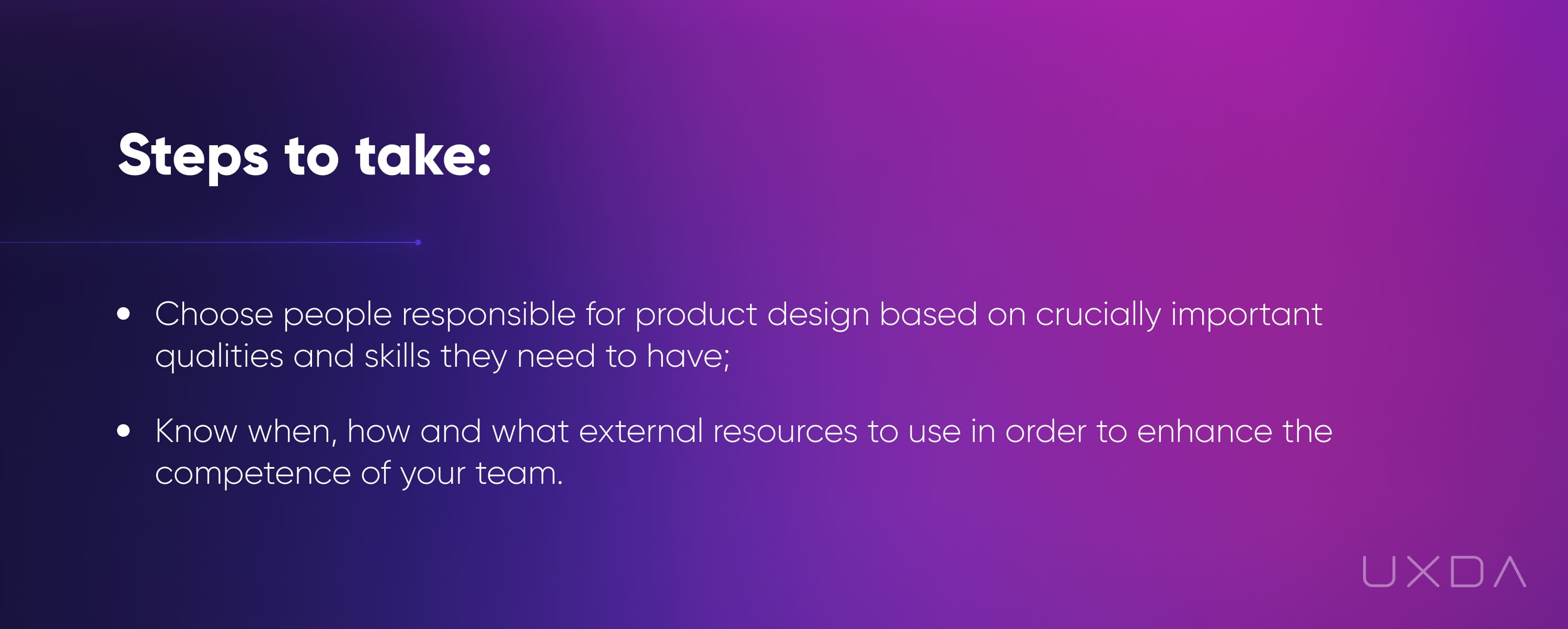 Third Level: Actions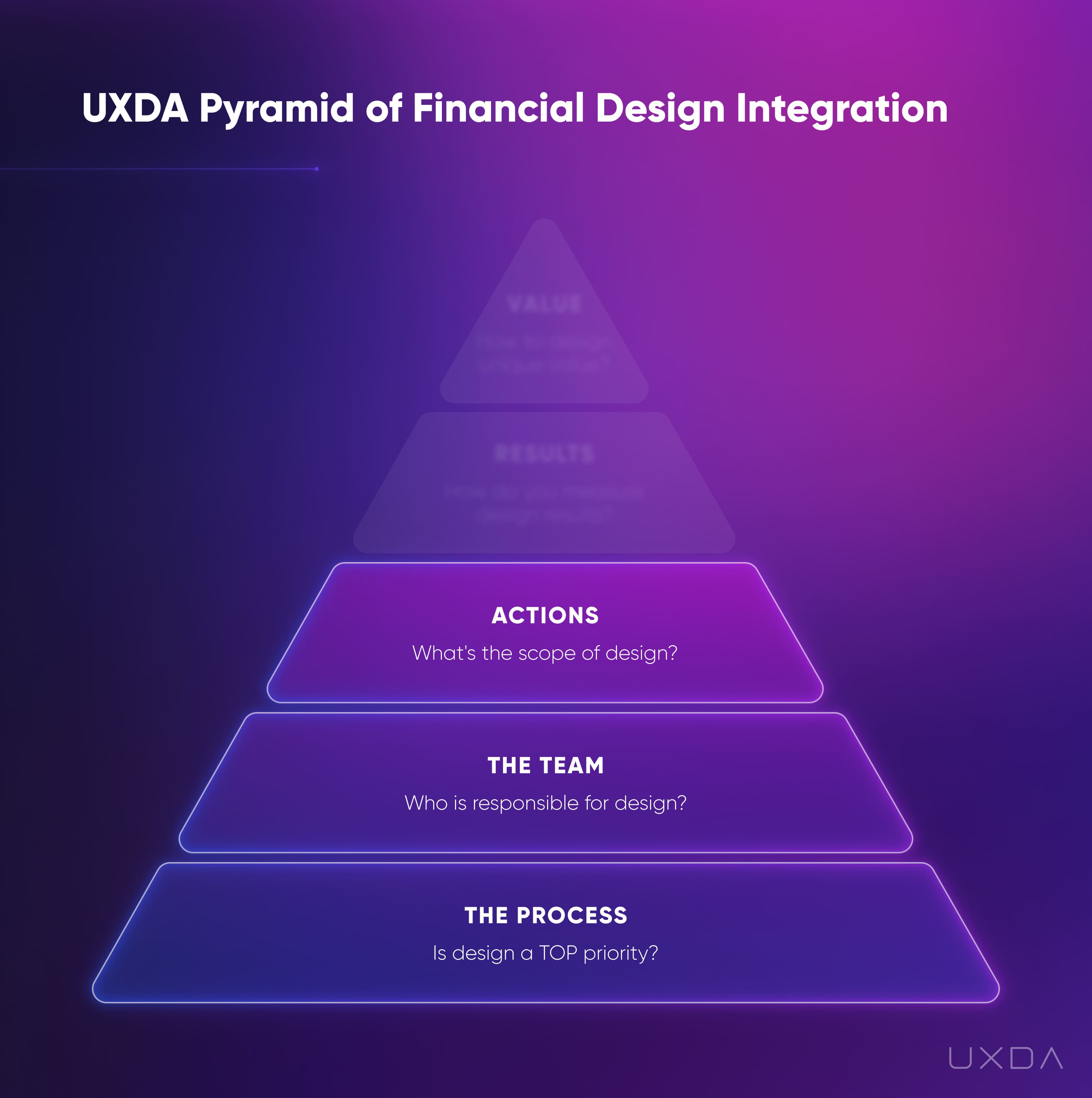 Now, we are moving to the next level. At this point, it's crucial to understand that even if you hire the most brilliant team of UX design specialists, your product can still fail. Why?
Simply put, the designers' skills, experience and domain knowledge are useless if their influence is limited only to the tasks concerning the "topcoat" of the product. Accenture survey of more than 1,500 global senior and C-level executives found that 75% execs say different business functions are competing against each other (e.g., R&D, engineering, production, marketing, operations, and sales) instead of collaborating on digital transformation efforts. Use design as the unifying force.
Test Yourself: What Actions Do Designers Execute in Your Company?
What are the designer's tasks, goals and zone of influence?
To what extent are they able to engage the entire company in caring for the success of the product?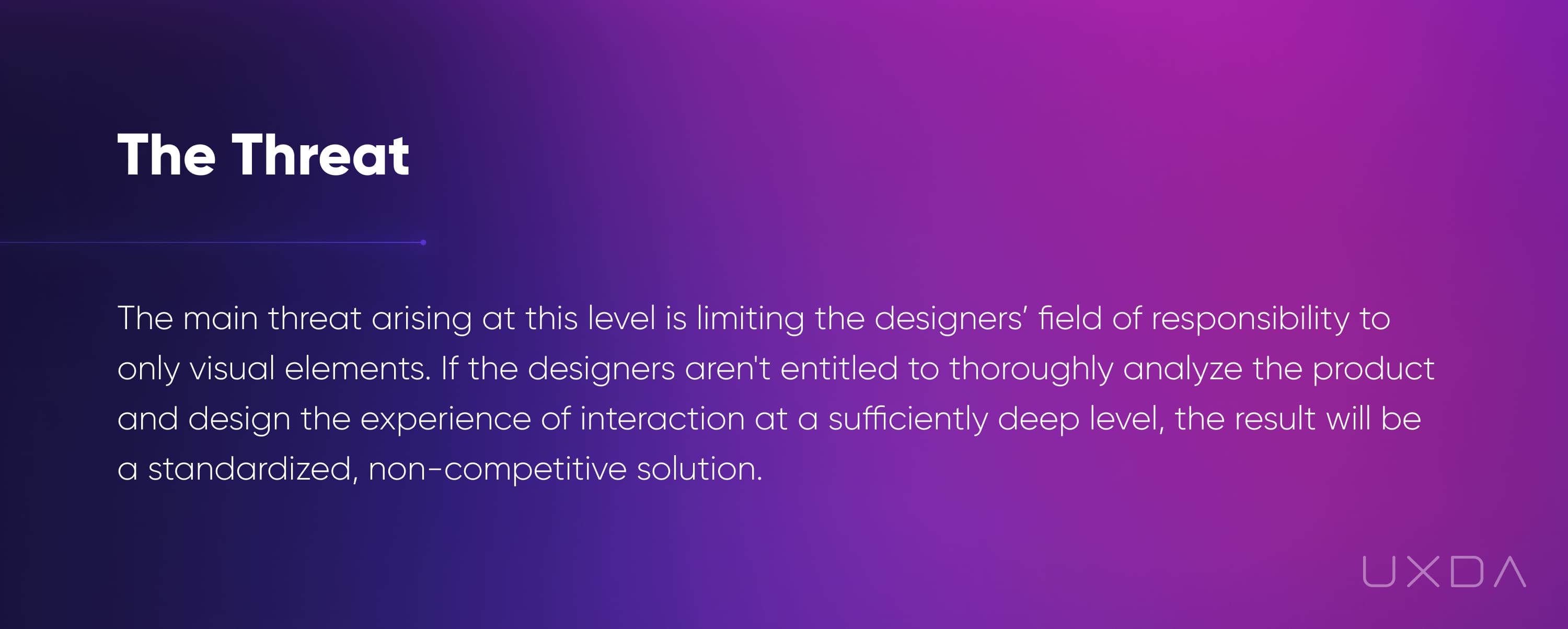 Unfortunately, this approach underlies the many boring and uncomfortable digital solutions that currently dominate the financial industry.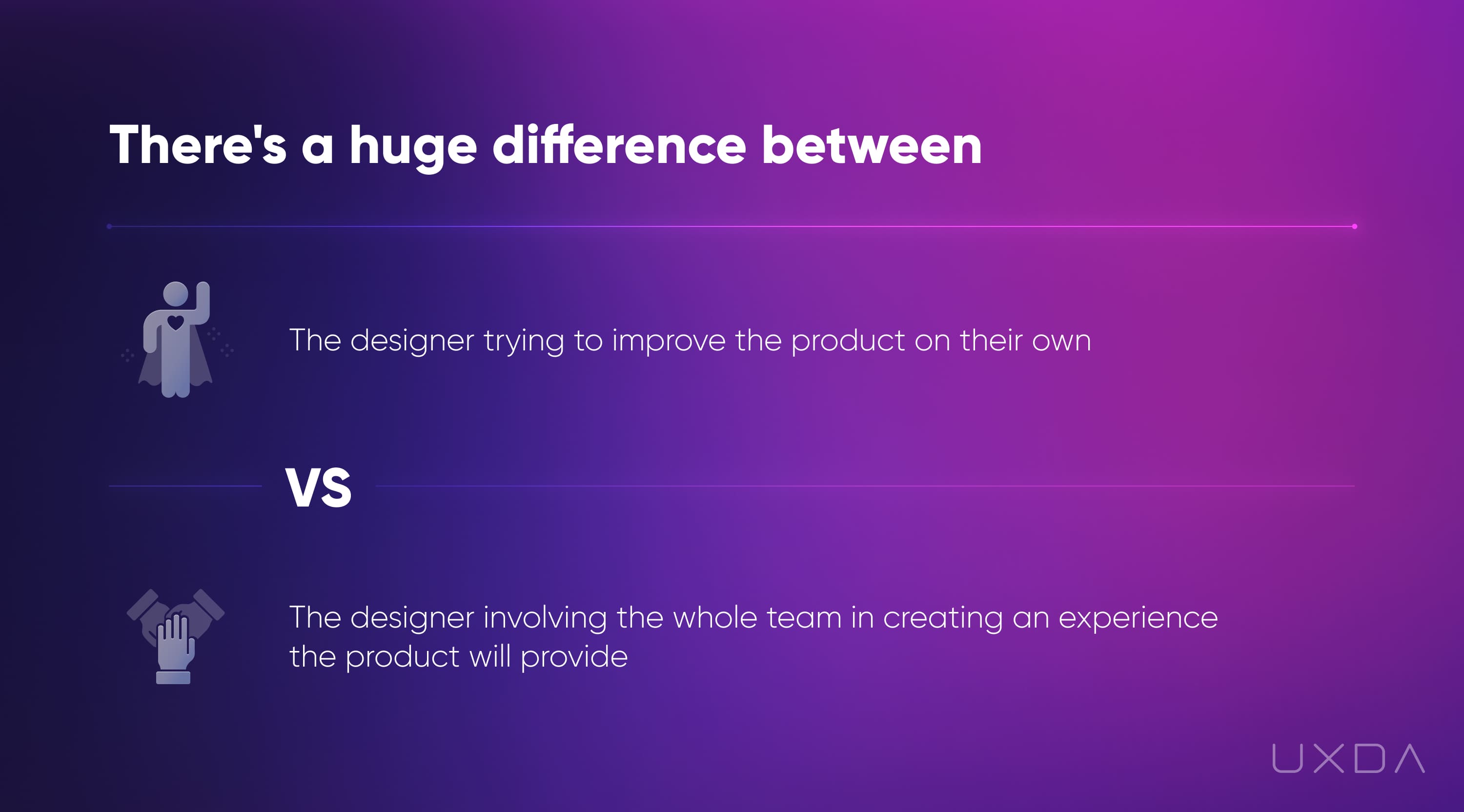 The results of each scenario are drastically different─from a complete failure to a unique product that's greatly demanded. I'm sure it's not difficult for you to sort out which is which.
Ideally, service design specialists should become design approach facilitators at every level of the company. In addition to the routine duties of product engineering, their primary goal should be to integrate the user-centered design approach into every process that's related to product creation and customer service.
This could be done through:
workshops
brainstorming
research
agile-based processes
lean UX practice
Design Thinking integration in finance.
Ultimately, the number of benefits that the product can offer users and the speed of its realization depends on the scale of actions and the vision of the design advocates on the team. This can be facilitated to a large extent if one or more of the C-level executives are passionate about increasing the products' and company's value through a user experience design approach and Design Thinking in banking.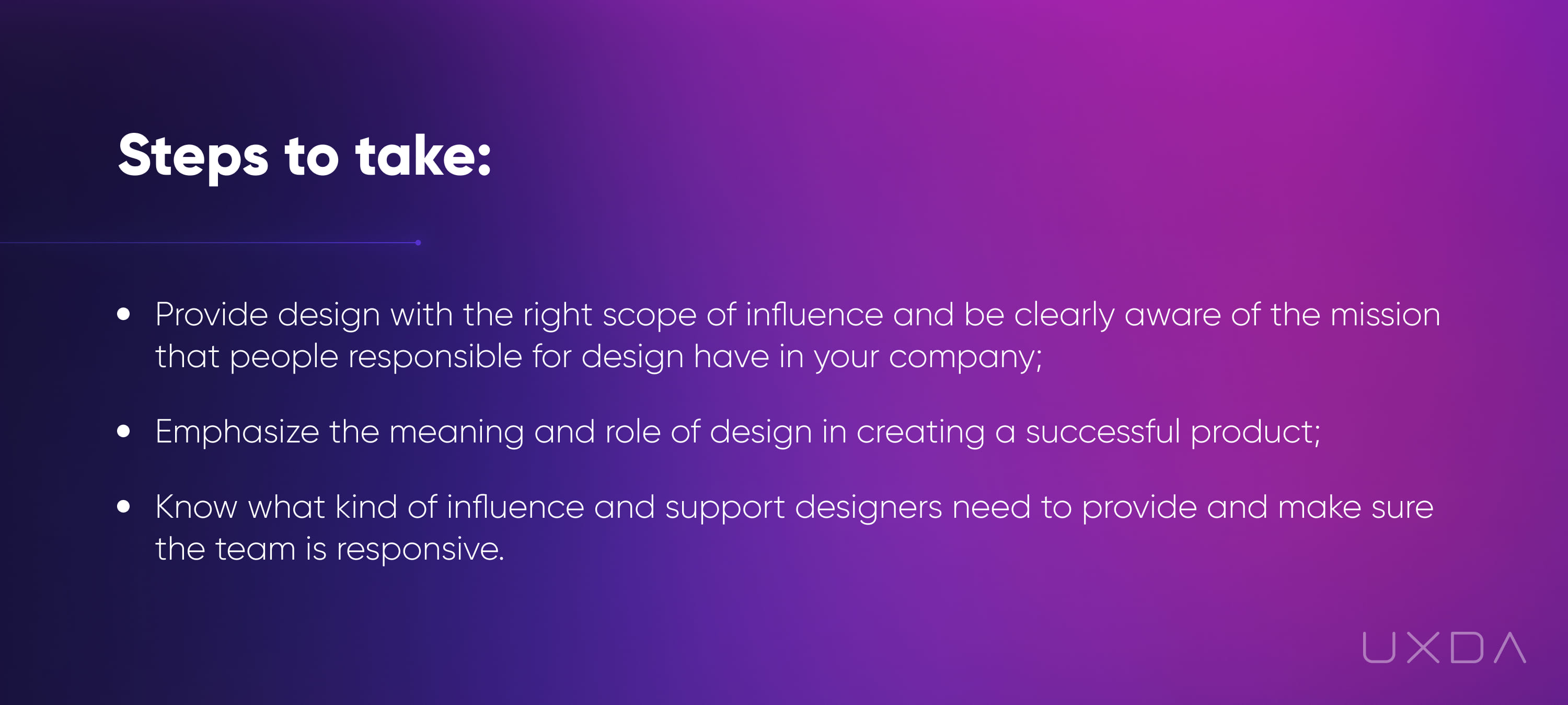 Fourth Level: Results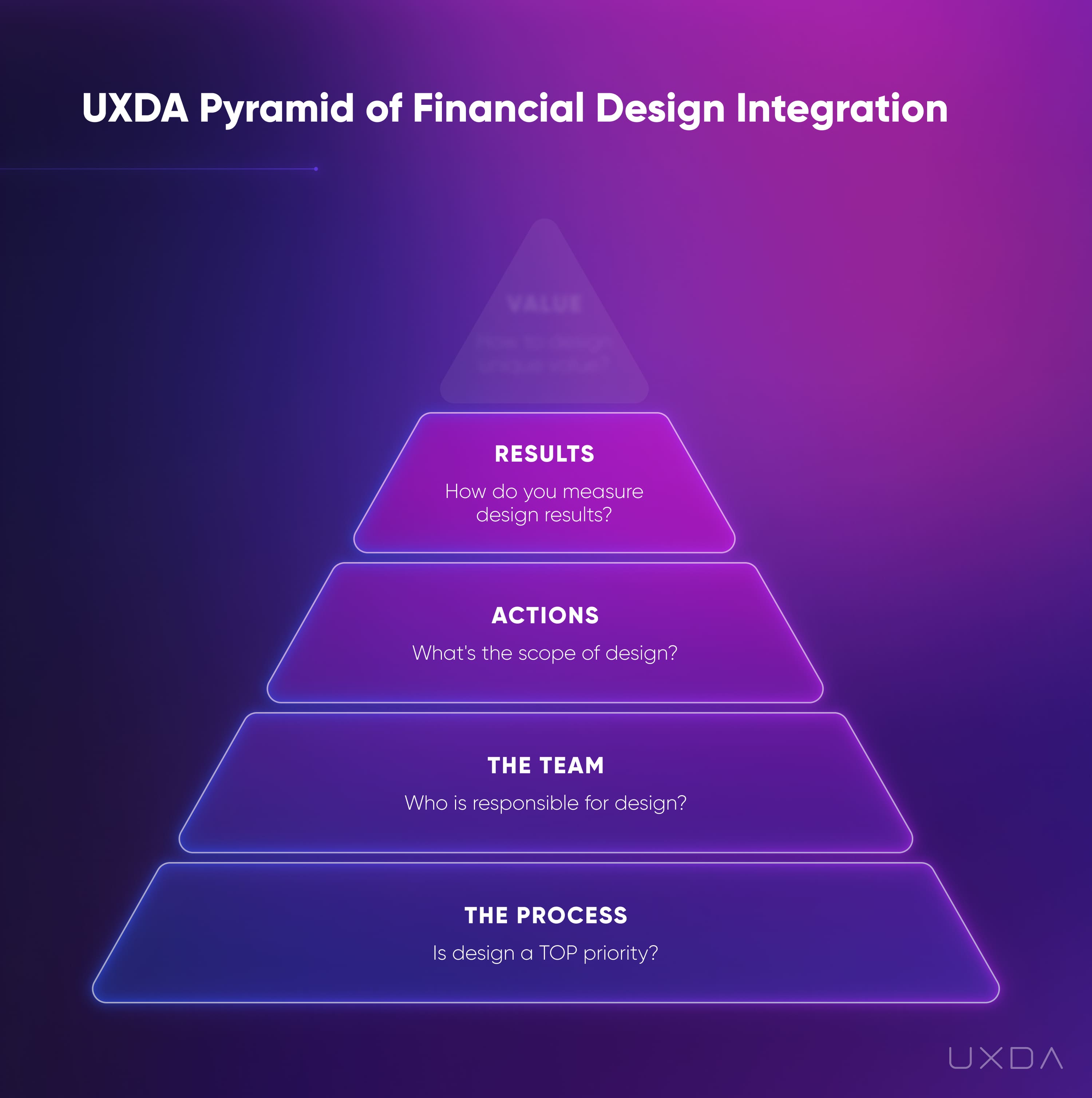 The success of the product depends on the criteria that are used to evaluate the results of the design team's efforts.
Test Yourself: How Do You Measure the Quality of Result?
What are the measuring criteria of the end result?
Are you fully aware of the value of the designer's input and each design deliverable?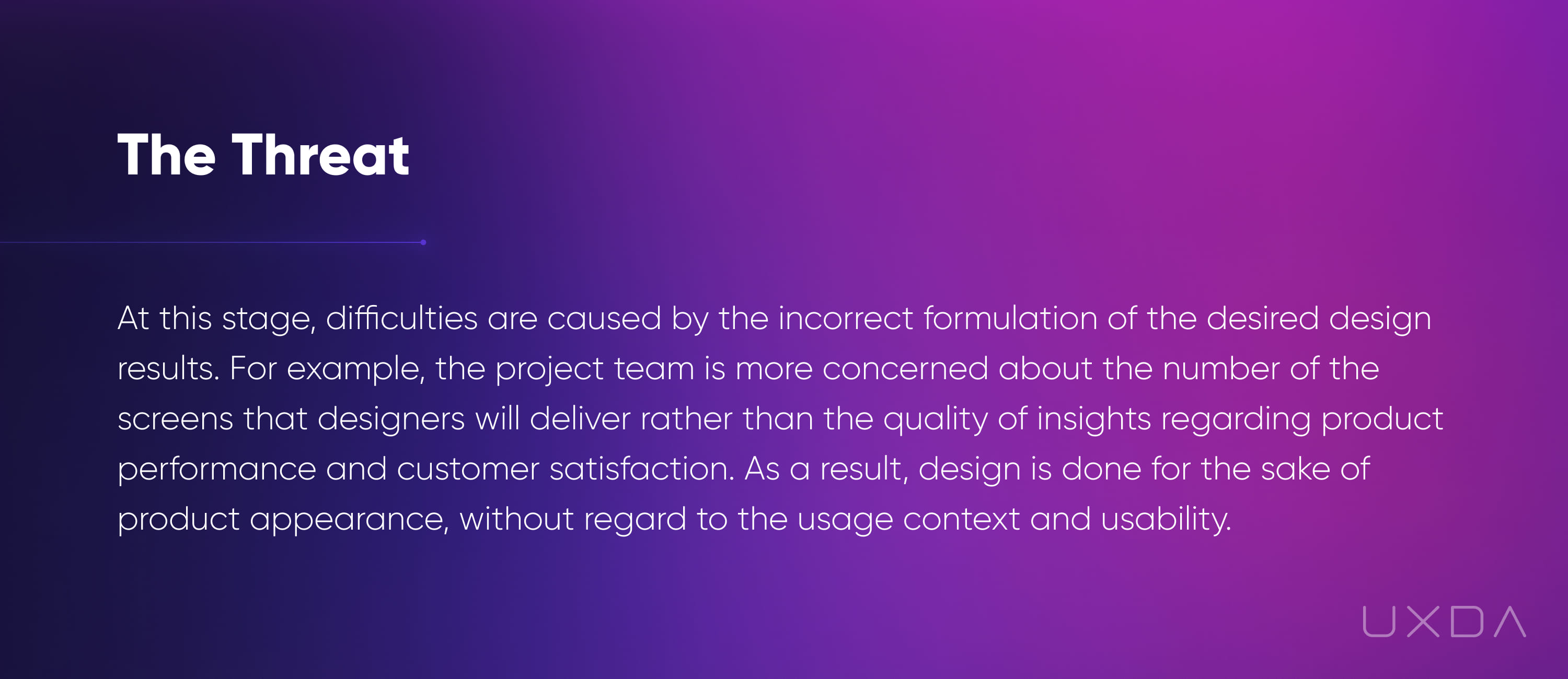 In the end, this turns into an extremely expensive and time-consuming way to market a useless product. Sounds absurd, right?
The correct outcome criteria define the level of value a product is able to provide for the users. It's not the number of screens that is important, it is the quality of the screens. Often, a clever and user-centered architecture of a digital product can significantly reduce the number of screens, while increasing user satisfaction.
Only the compliance of the financial product design with the key user scenarios can make it more understandable and enjoyable for the customers. Naturally, it requires the investment of more time and resources into analysis, research and UX architecture. Therefore, it is very important that this process is carried out by experienced specialists.
It is also equally important that every single employee in the company is 100% aware of the design approach significance for the success of the product.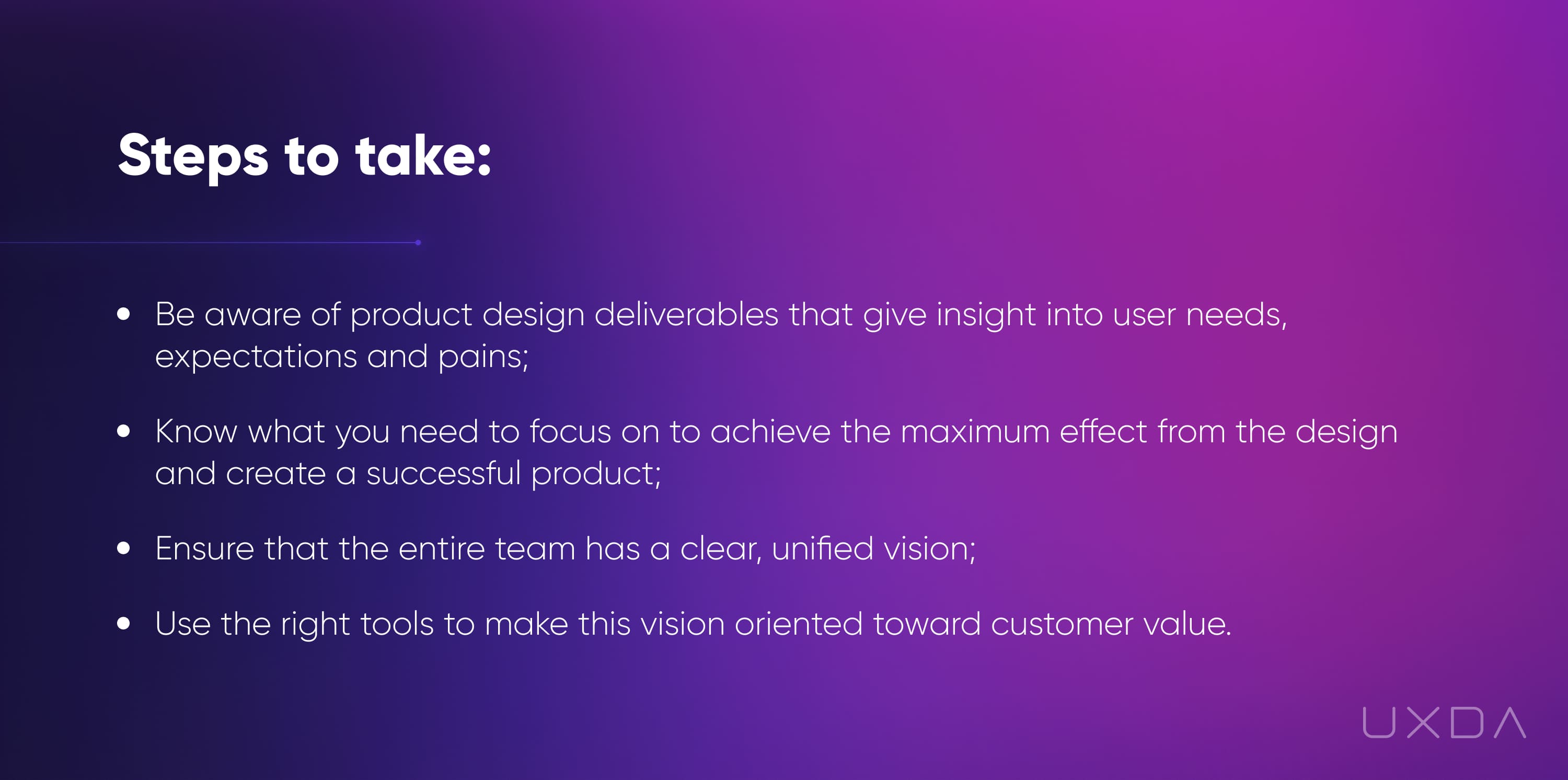 Fifth Level: Value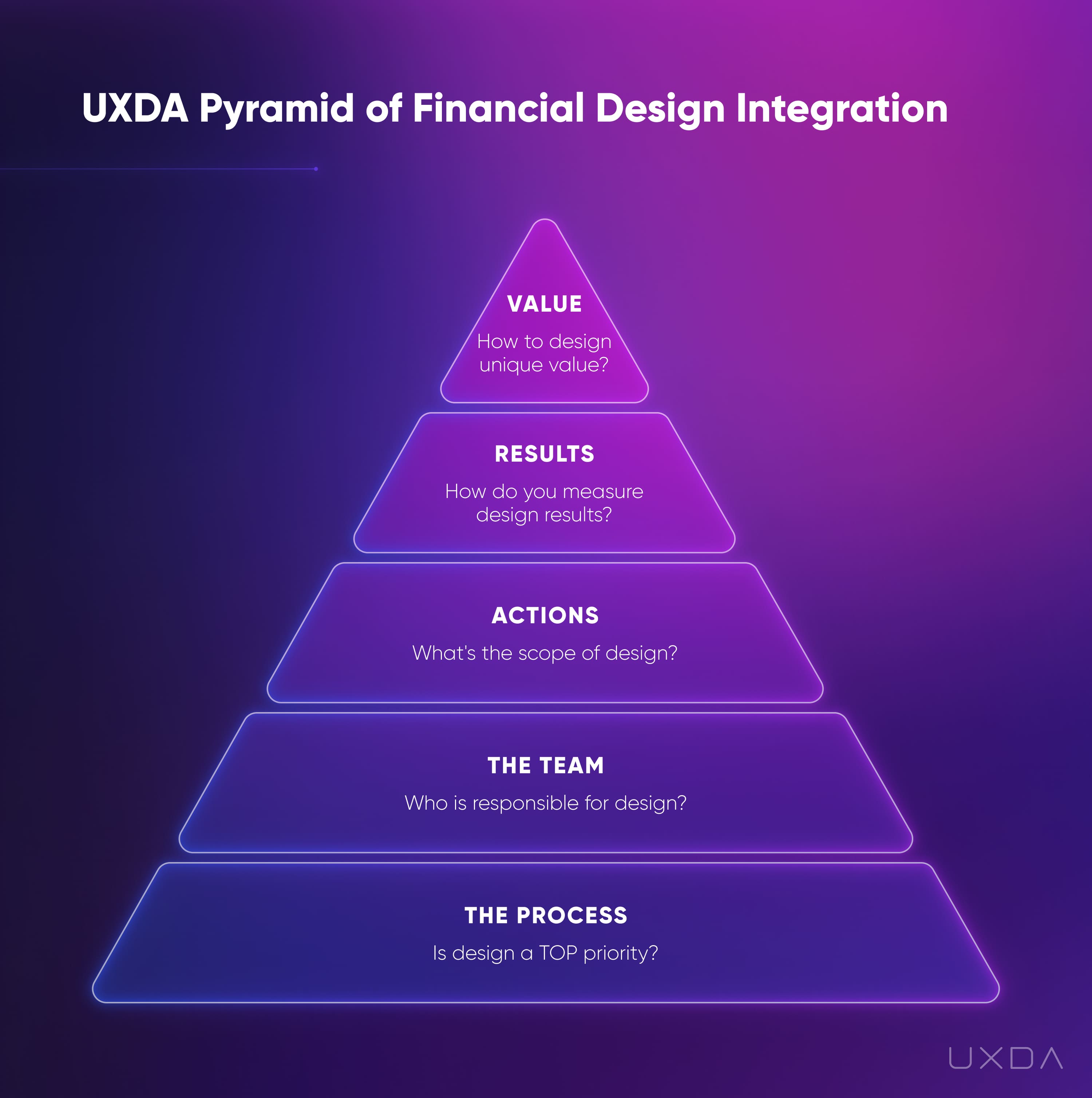 Though all of these five milestones on the way to a meaningful product are equally relevant and closely related to one other, we have come to probably the most important one.
The central question in the creation of any product is "WHY?"
What exactly makes your financial product valuable and unique to the users, and how does it matter to the team involved in its creation? Difficulties arise if the project team does not know the answer to this question, or if this answer is standardized and does not inspire anyone, most importantly themselves.
Test Yourself: What's the Unique Value of Your Product?
Does your team own a disruptive mindset?
Are they trying to think outside of the box to design unique value for the customers?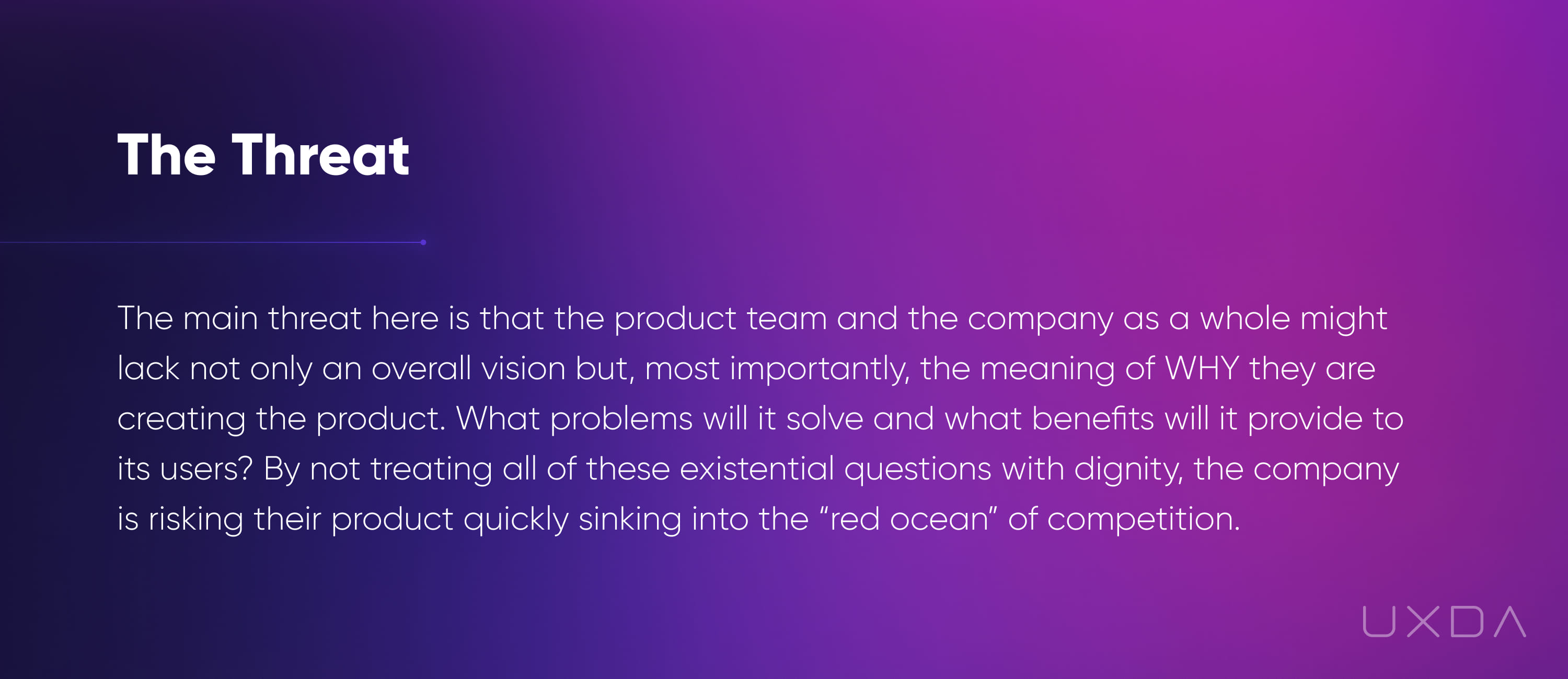 At the level of value, the design approach allows you to find the particular uniqueness your product is able to provide to the world─something that will definitely distinguish the solution from the many others already offered by competitors. There's no other way to find and detect this uniqueness than for the whole team to step out of the box. This way, the product can reach a level of innovation, maximizing its value.
Viewing a product from the perspective of user benefits allows you to set priorities aimed at creating long-term relationships with clients within a win-win framework.
Have the courage to challenge yourself instead of protecting your legacy. A design approach will guide you through the necessary methods and tools. This way, the company's employees won't be wasting their energy on protecting the market share of an unsuccessful product but, rather, focus on designing a financial product that exceeds user expectations, guarantees customer loyalty and leads to an organic increase in popularity without spending enormous marketing budgets. We are living in the Digital Age, and the network effect of social media has more influence than billboards ever did.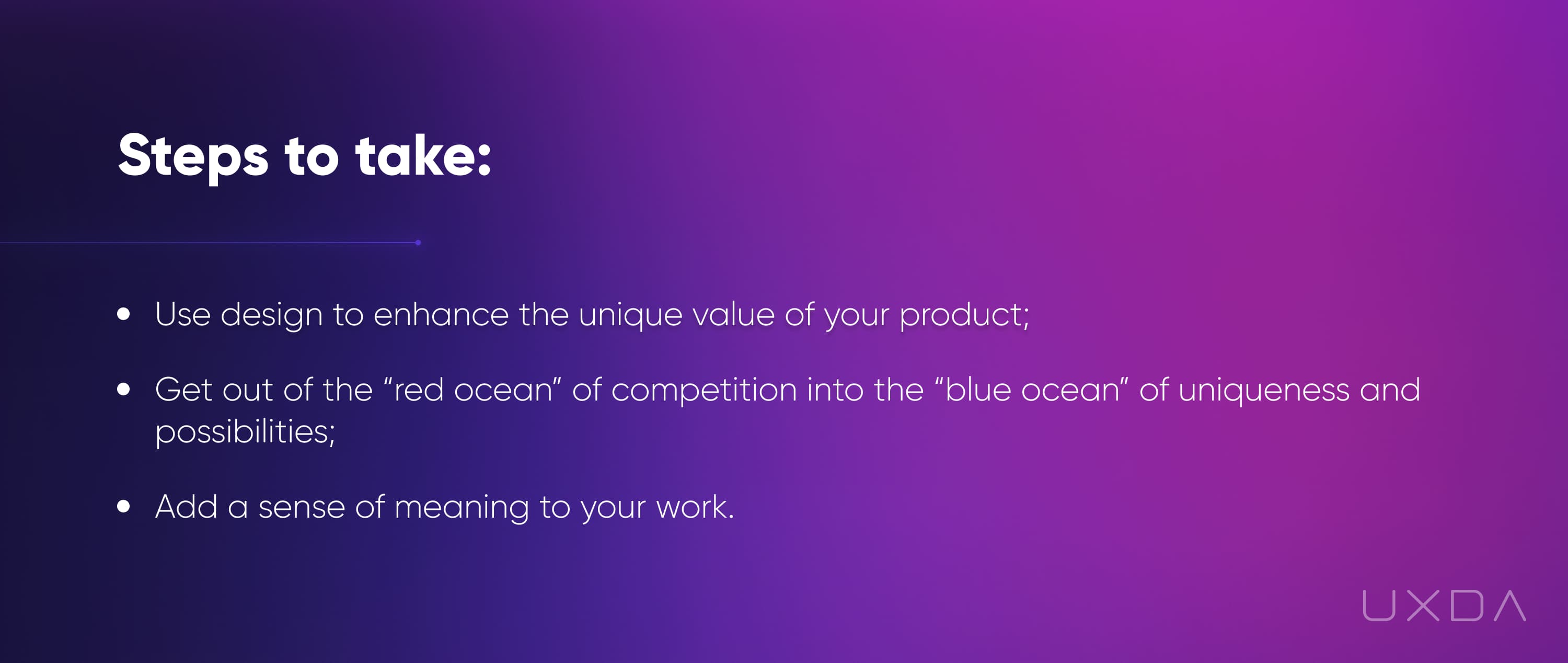 Successive Implementation is Key
For this instrument to be used to its full advantage, it is crucial to understand that all of UXDA's Design Pyramid aspects are interconnected and affecting one another and must be viewed as a system. If you're confident in most of them but don't succeed in mastering one of them, there's a big possibility of failure.
It is pointless to talk about the uniqueness of your product if the design is not made a top priority in your organization. If the entire team perceives the design only as a whim─merely a decoration on the facade when the building has already been constructed, it is impossible to create a digital financial product that will delight its users.
Compare it to caring about your health. If you do not integrate a healthy lifestyle into every aspect of your life─from eating, moving and thinking, doctors cannot help.

Create Your Own "Magic-Pill"
The best way to implement this model is to carefully study each of the levels and involve the whole organization into the design integration.
While going through the stages of the Design Pyramid, keep in mind your own unique situation. What might prevent you from creating a demand for your financial product? Seek ways to improve in-house processes with the help of financial design.
Remember, there's no "magic pill" that will miraculously solve all of your problems. Your own engagement is the key. Knowledge, tips and experience from this article, combined with you striving toward understanding the root of the problem and implementing the most effective solutions, will bring the optimal results.
Get UXDA Research-Based White Paper "How to Win the Hearts of Digital Customers":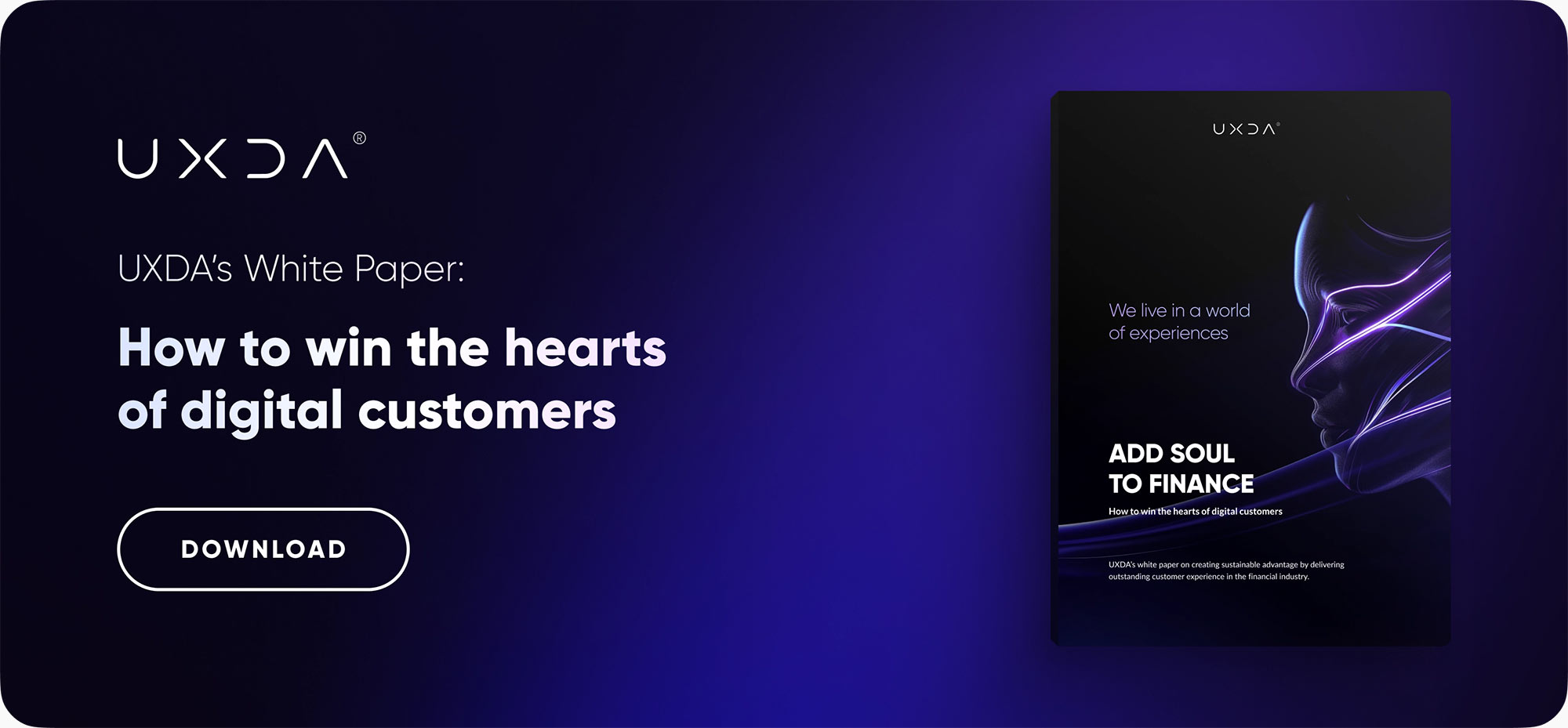 If you want to create next-gen financial products to receive an exceptional competitive advantage in the digital age, contact us! With the power of financial UX design, we can help you turn your business into a beloved financial brand with a strong emotional connection with your clients, resulting in success, demand, and long-term customer loyalty.