The whole UXDA team is excited to share great news! We have launched our Financial UX Design Podcast on ALL major podcast platforms. Now, our followers from all over the world can get the latest insights and knowledge about creating demanded digital products, not only on our blog but also in a lively audio format.
In UXDA's Financial UX Design Podcast, we are sharing ready-to-implement user experience tips and tricks from our unique Financial UX Design methodology. Anyone, in any industry, can use this knowledge to create digital products that will be loved and demanded by their customers.
The World's First Financial UX Design Podcast
The podcast is basically 15 years of UXDA's team knowledge and experience in UX design, banking, and digital transformation compressed into enjoyable episodes that our followers can listen to "on the go," at their convenience.
The podcast offers UXDA's most popular articles in an audio format. For maximum convenience and benefit for the listeners, there's a downloadable PDF whitepaper attached to each of the episodes, as well as a link to UXDA's blog post.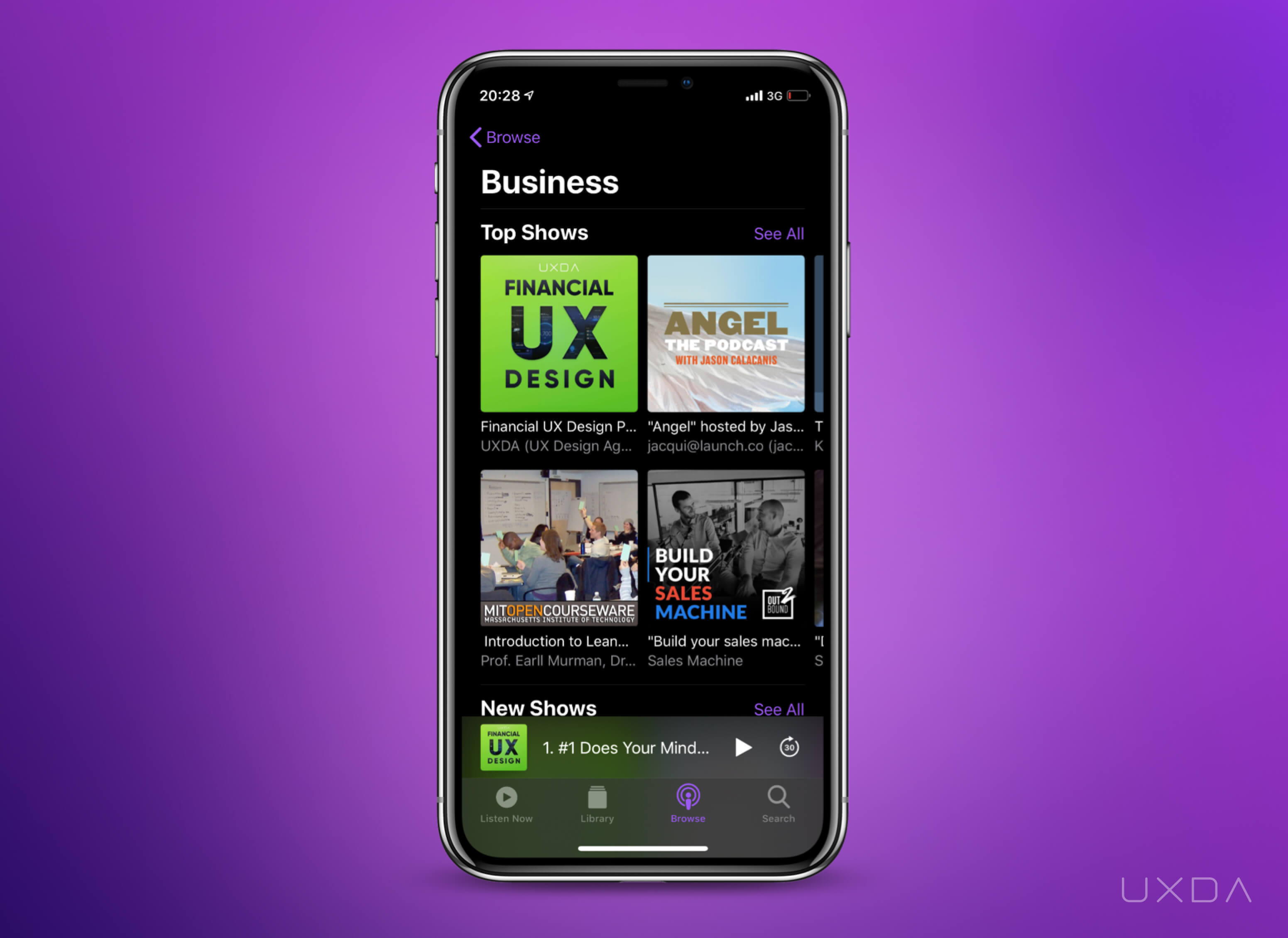 The Financial UX Design podcast has just only been launched, but it instantly became No.1 in the Business category in our home country
In the near future, we plan to extend our content to original episodes that explain the processes and methods behind the creation of truly successful digital financial products, guiding our listeners through every step of the path to create an amazing customer experience.
UXDA's CEO Alex Kreger shares his excitement:
In just 4 years, UXDA has become a well-known influencer in the field of financial UX with a following of 300,000 financial and design industry professionals from 127 countries, but we are not planning to stop there. We are always looking for new ways to develop ourselves and inspire a broader audience with our content, so the whole team is really thrilled to enter the field of podcasts!
Real-life Experiences by UXDA's UX Consultants
UXDA's podcast will also allow our followers to meet the members of UXDA's family. Both our UX architects and UX/UI designers will share their unique experiences and insights in captivating interviews.
Most of our UX experts have 5+ years of experience in the field of banking (corporate banking, trade finance, AML, wealth management, card issuance, acquisitions, and eCommerce), so they are competent to comment on tendencies and trends when it comes to user experience in banking. UXDA's UX consultants and UX/UI designers also have significant real-life experiences and success stories collected over the years of creating UX design for more than 70 well-known multimillion-dollar financial companies from 32 countries.
Hosted by UXDA's Inspiration Officer
The podcast is hosted by UXDA's Chief Inspiration Officer, Monika Calite. For the purposes of the podcast, Monika has narrated all of the articles herself:
As our podcast will offer both lively interviews with our financial UX experts and blog articles in audio format, it was extremely important for me to narrate the articles myself and not outsource an actor to do that. As the co-author of many of our articles, I know them by heart and feel it's my mission to read them in an engaging manner that would evoke positive emotions for our listeners, by guiding them through all of the processes and emphasizing all of the most important information. I hope I succeeded!
Inspired by Banking Transformed and Jim Marous
Recently, Alex and Monika took part in an episode of the Banking Transformed podcast by one of the world's TOP 3 financial influencers, Jim Marous. They discussed how financial organizations can use UX design to maximize the product value for the users and enhance the digital transformation.
We are happy to announce that Banking Transformed has become iTunes Top 5 Podcast in Banking and Fintech, and the episode with UXDA's participation is the most popular one alongside the interviews with such digital transformation leaders and influencers as Steve Wozniak, Brett King, Chris Skinner, Gary Vaynerchuk and Sonia Wedrychowicz.
So, it was our motivation to bring the same kind of inspiration to the listeners of UXDA's podcast, as well.
Get inspired to become truly user-centered and competitive in the digital world by listening to the Financial UX Design podcast on:
If you haven't done so already, you can also follow all the latest news from UXDA on our social media sites:
Get UXDA Research-Based White Paper "How to Win the Hearts of Digital Customers":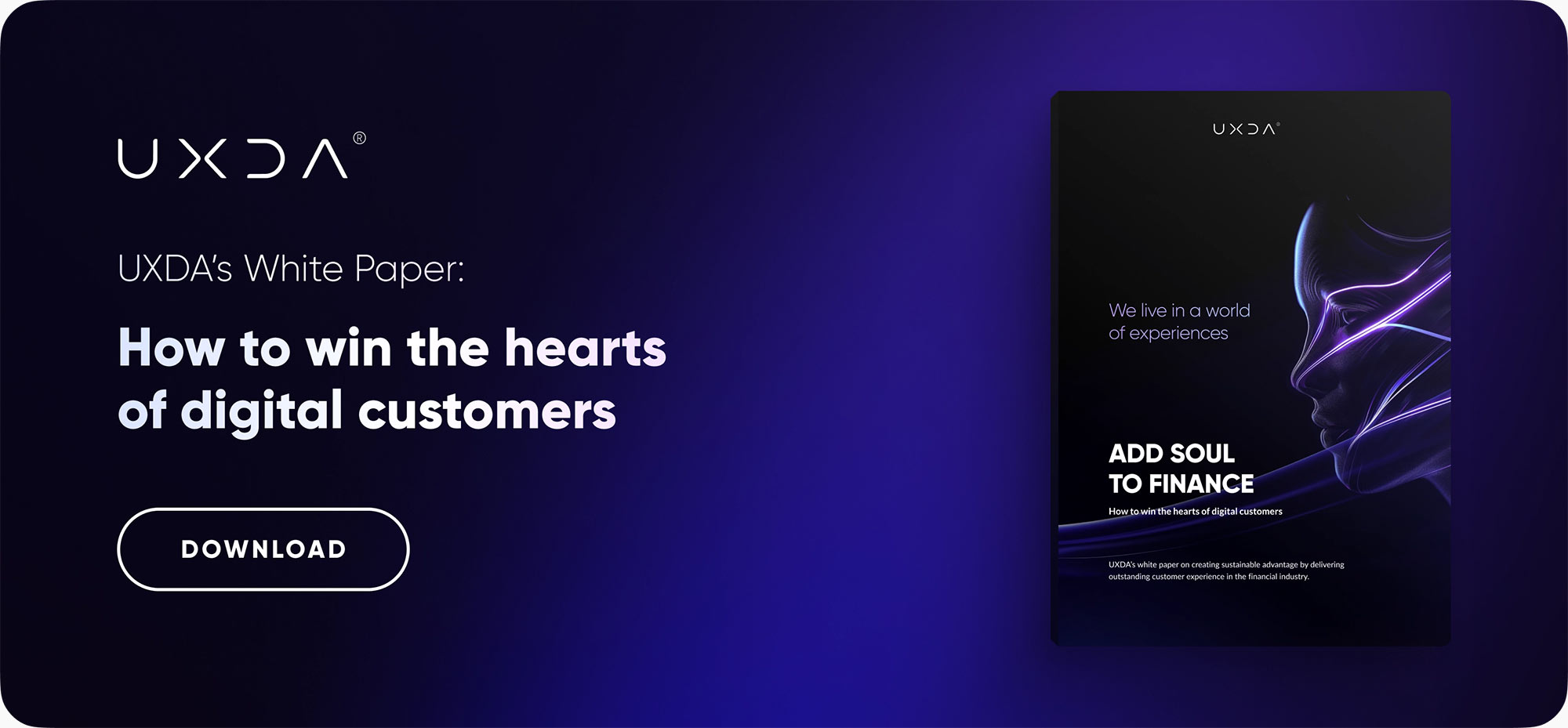 If you want to create next-gen financial products to receive an exceptional competitive advantage in the digital age, contact us! With the power of financial UX design, we can help you turn your business into a beloved financial brand with a strong emotional connection with your clients, resulting in success, demand, and long-term customer loyalty.