Generative AI solutions such as ChatGPT could fuel new types of products in banking, more personalized and more connected to users, but integrating innovative technologies often causes complications in terms of user experience. And here, the methods of financial UX design are very effective, as they help to imagine the unimaginable and create a digital solution, focusing on users' needs. Visionaries from BELLA and technical masterminds from LivePerson approached UXDA with a mission to infuse love and empathy into finance through a conversational AI banking app. This case study explores our actual work with generative AI banking design.
Client: Leading Conversational AI Company Enters Banking
As a leading provider of AI-powered customer engagement solutions, LivePerson has established a reputation for pushing the limits of human-computer interaction through their cutting-edge conversational solutions. In 2022, Fast Company ranked LivePerson #1 on its World's Most Innovative Companies in Artificial Intelligence list, as well as #21 on its overall World's Most Innovative Companies list.
Their flagship offering, the Conversational Cloud platform, leverages generative AI and machine learning to facilitate nearly a billion conversational interactions per month for a diverse range of industries and popular brands. This technology is akin to the popular GPT-3-based ChatGPT chatbot, which allows users to engage in human-like conversations with an AI.
In recognition of the tremendous potential of this technology, LivePerson debuted their Conversational Cloud in 2020, enabling brands to establish meaningful and personalized connections with their customers.
Their aim was to bring this innovative experience to the banking industry as well by creating a conversational banking service that leverages technology to replicate the human connection through online communication channels, such as chat, text and voice messaging.
Challenge: Creating Never-Before-Seen Conversational AI Banking from Scratch
As the world becomes increasingly accustomed to interacting with AI-powered interfaces and chatbots, the bar for usability in products has been raised. The team at LivePerson, in collaboration with the creators of Buddybank, dared to become the pioneers of conversational banking and wanted to make their product feel revolutionary in order to truly stand out. They sought out a UX partner who was bold enough to help them create and execute a design vision for the innovative conversational banking service, BELLA.
Conversational banking is the use of natural language interactions, such as voice commands or text-based chat, to access banking services. This can include things like checking account balances, making payments, and getting financial advice through a chatbot or virtual assistant. The goal of generative AI-powered conversational banking is to make banking more convenient and accessible for customers by allowing them to interact with their bank in a way that feels more natural and less formal.
Conversational banking, such as one powered by ChatGPT alike technology, provides several benefits:
Convenience
Customers can access banking services at any time and from any location, using natural language interactions such as voice commands or text-based chat.
Personalization
Conversational banking can provide a more personalized experience for customers by using customer data to offer tailored financial advice and recommendations.
Speed
Transactions can be completed quickly and efficiently through conversational banking, reducing the need for customers to wait in line or on the phone.
Self-service
Customers can use conversational banking to perform a wide range of tasks, such as checking account balances, making payments, and reporting lost cards, without the need for assistance from a bank employee.
Improved customer service
A conversational banking interface can help to reduce the number of customer service requests by providing quick and accurate information to customers.
Cost savings
Conversational banking can reduce the costs of running call centers and physical branches by allowing customers to perform many tasks independently.
BELLA's founders aimed to design their app as the heart and soul of their brand, to fulfill their mission and bring a breath of fresh air to the industry. Given that the banking industry eschews emotions, seeing them as noise that gets in the way of settlements, the BELLA team challenged that legacy. They set out to bridge the emotional gap and break down the barriers of traditional user experience models by treating users like family members.
In 2020, they challenged the UXDA team to create a never-before-seen banking interface that seamlessly connects the ChatGPT-like interaction and full-range retail banking services. After the initial research, we understood that this was one of the first attempts to create full-featured, AI-powered conversational banking.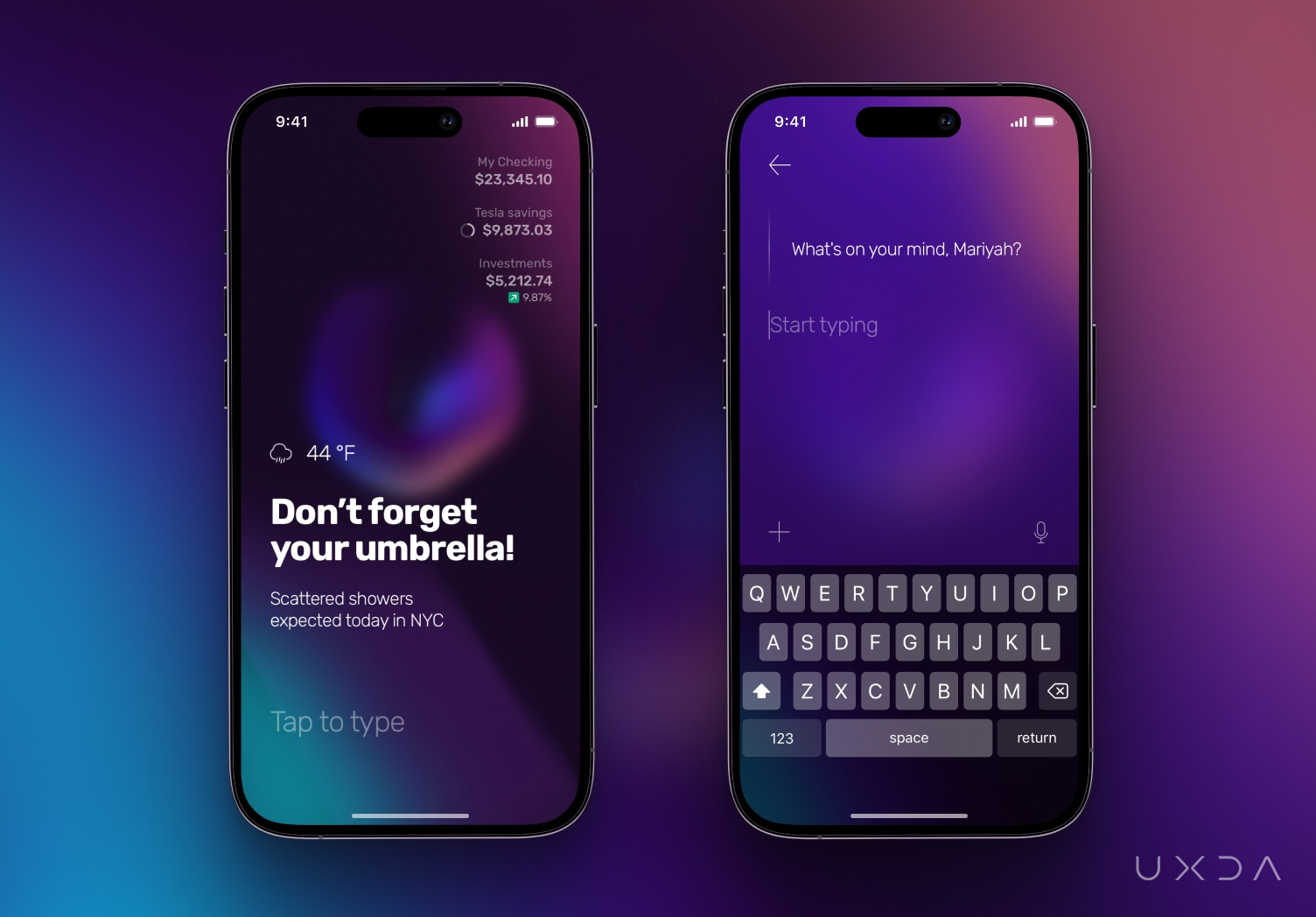 There were no ready-made banking solutions or proven products in this category on the market. We had to come up with functionality from scratch, while achieving the natural feeling of communicating with a real person who will offer an instant banking service and help solve problems even beyond it.
Approach: Going Beyond Banking and Chatting Patterns
Mobile banking apps are typically built upon a series of menus and buttons, but the BELLA team required something entirely different: full-range banking services through a conversational interface ─ something similar to the ChatGPT experience available today. But, unlike the usual chat services, they did not want messaging clouds, standard navigation or other familiar elements; they wanted something fundamentally different.
With the UXDA human-centered design approach, we have focused on understanding the psychology of digital conversations and the ways in which people use it to exchange ideas and information. The research helped to find a way for designing the banking app's interface so users can interact with it more naturally and intuitively.
Creating an unconventional ChatGPT-like conversational interface required a thorough understanding of the psychological patterns of conversations and how, why and when people use them in the digital environment to achieve their goals. Conversations in digital services eliminate the manual work of searching for answers by tapping through interfaces, because often users are not aware if the answer even exists within the service.
Our approach began with ideating and testing three solutions for the conversational interactions: text-to-text, voice input and a hybrid approach.
The text-to-text conversation concept involved using a single screen with an open keyboard for users to type their thoughts and receive text-based responses. This approach of using text-to-text alone had the potential to be minimalistic and simple, but it also presented several challenges, including high cognitive load, difficulty creating emotional connections and lack of discoverability for first-time users.
We also discussed using speech-to-text technology for voice input, as voice assistants have become increasingly popular. Users expressed interest in this feature. However, that alone would not be viable for use in public or professional settings.
Ultimately, the hybrid approach, which combined text and voice input, simple navigation and visual elements, proved to be the most successful. It allowed for the creation of emotional connections, increased discoverability, minimized cognitive load and ensured usability in a variety of settings.
Artificial intelligence in the service remembers and recognizes users as they are interacting with the app. It gets to know them over time as a friend and is therefore able to provide smart clues to the most frequent or recent searches, or prepare personalized answers.
Conversational Banking Use Cases: Implementing ChatGPT Alike Experience into Finance
By harnessing generative AI banking technology to understand user intent and provide personalized, contextual responses, the conversational banking app set out to create a deeper emotional connection with banking users. Our client's main priority was to treat all customers as human beings, regardless of their wealth status.
This philosophy is reflected in the service design DNA, which aimed to provide ChatGPT alike experience through the main conversational banking use cases to reduce the stress, fear and frustration that often accompany dealing with finances. The BELLA team wanted their app to become a seamless and enjoyable part of users' daily lifestyles.
To create this experience, we integrated conversational aspects across many product features, like transactions, finance and card management, investing and concierge service. As a result, we got a conversational interface similar to ChatGPT but completely focused on full-range banking services. Let's look at it in more detail.
When we asked ChatGPT about the conversational banking use cases in which technology like ChatGPT could be used, we got the following list.
Here are ten common use cases for ChatGPT in banking:
Account inquiries
Customers can use chatbots to check their account balances, transaction history, and other account-related information.
Fund transfers
Customers can initiate fund transfers to other accounts or make payments to merchants using chatbots.
Loan applications
Chatbots can help customers apply for loans and guide them through the application process.
Credit score monitoring
Chatbots can help customers monitor their credit scores and provide tips on how to improve them.
Investment advice
Chatbots can provide investment advice and help customers make informed investment decisions.
Fraud prevention
Chatbots can help banks prevent fraud by monitoring customer transactions and detecting any suspicious activity.
Customer service
Chatbots can provide quick and efficient customer service by answering common questions and resolving simple issues.
Account management
Chatbots can help customers manage their accounts, such as setting up automatic payments, updating personal information, and more.
Insurance claims
Chatbots can assist customers in filing insurance claims and provide information on the claims process.
Financial planning
Chatbots can help customers with financial planning, such as creating a budget or setting financial goals.
Well, it is pretty good. Now let's take a look at the use cases in which we designed conversational banking for our product.
360-degree View Dashboard
BELLA's dashboard is designed to provide a 360-degree view of users' finances. The inspiration for this feature comes from traveling. When taking 360-degree photos, you can get a full immersive viewpoint from all angles of the places where you have been. Similarly, this dashboard offers users a comprehensive overview of their finances with just a simple swipe.
The main screen displays contextual information and notifications, while swiping left allows users to access pinned conversations with their personal banking concierge as well as summaries of all the previous conversation topics. Swiping right provides a more traditional banking experience, allowing users to view their accounts.
Concierge Service
BELLA transforms the traditional financial experience by introducing customers to a generative AI banking concierge. A ChatGPT-like banking and lifestyle concierge guides them through their banking needs, while providing an intuitive and user-friendly way to access and explore banking services through a mobile app.
In cases in which users need more complex guidance or elaborate information, they get automatically shifted from the AI banking chat service to a conversation with a real person from customer service who is ready to offer help in a matter of seconds.
Easy Transactions with Sentence Patterns
Users can easily initiate banking transactions through the ChatGPT or Siri-like request by simply saying or typing in the needed action, for example, "send $200 to my mom." The app processes the request, confirms with the user and executes it.
In the case whereby a user for some reason doesn't initiate action through the conversation, the app offers two other options:
1) to input keywords like "pay," "payments" or "transfer," and a payment form will appear, or
2) to receive a subtle tip that informs users how to use full sentences to initiate a payment.
To enhance the user experience, a predefined statement is launched when a keyword is triggered, allowing users to learn the sentence pattern for future use.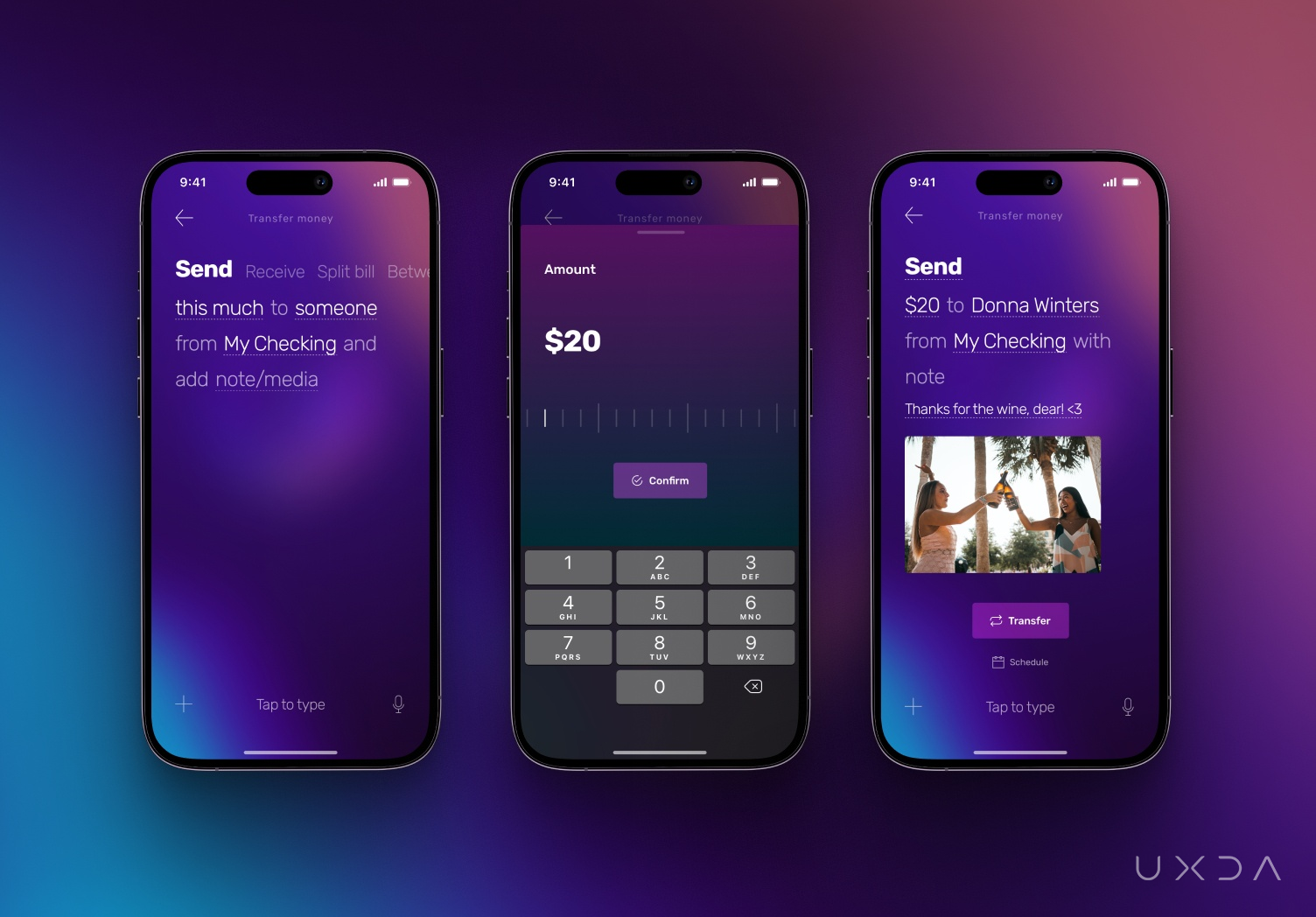 The financial service also provides innovative conversational ways for users to save, invest, donate and perform other financial actions, such as automatically donating a portion of their travel expenses to green funds or purchasing a fraction of a company's stock every time they make a purchase at a specific retailer like Starbucks.
Card Management
Users can conveniently manage their cards through the app. They can block or report a lost card, change their PIN or turn on contactless payments.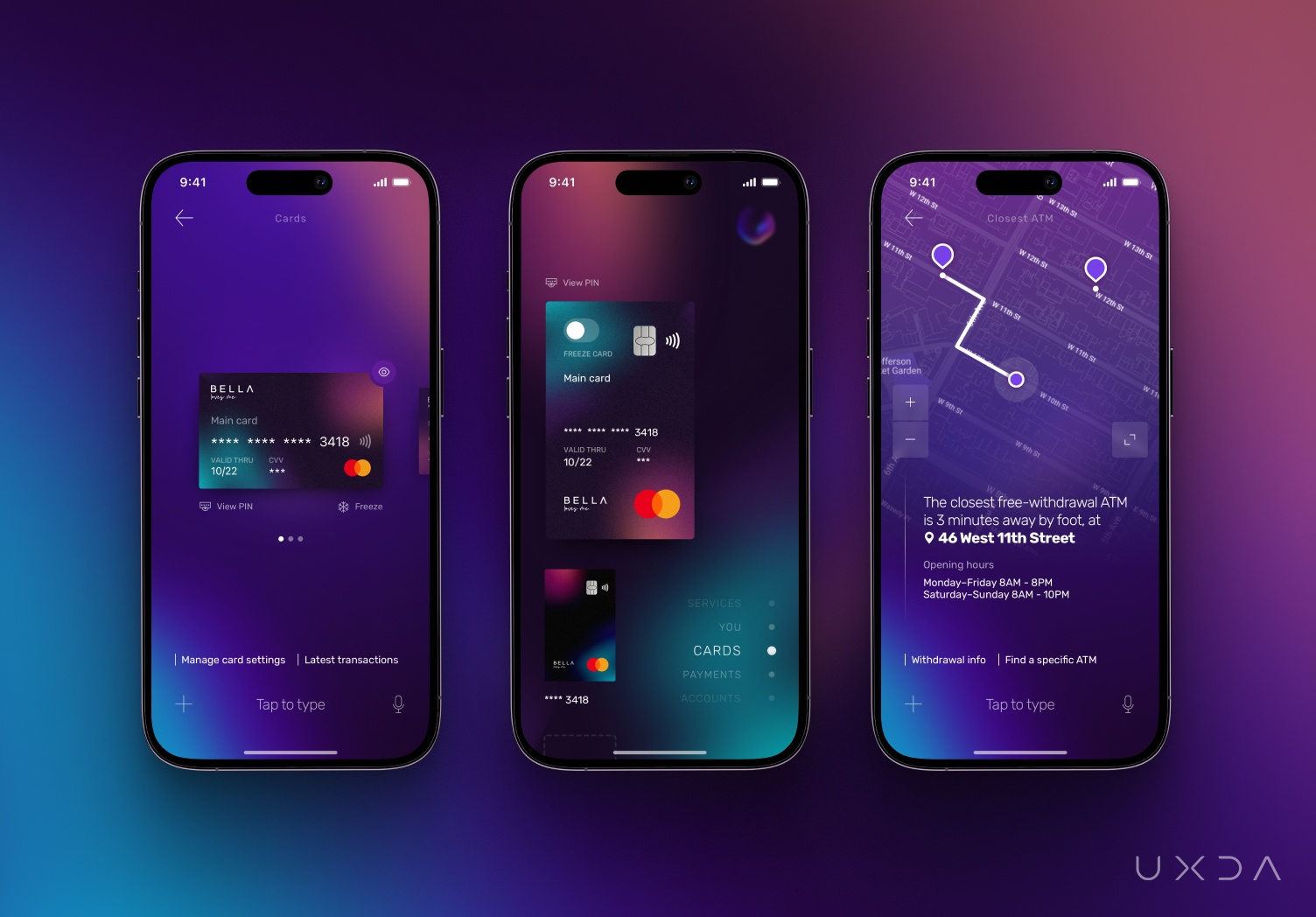 Conversational banking AI allows the app to anticipate users' needs before they have expressed them, for example, if the user tells the app through the conversational interface "I've lost my card!" The app will guide them through the process of identifying which card is missing and provide all the necessary information for the next steps, including the option to order a new card.
Personalized and Unconventional Savings
The app allows users to create savings accounts through ChatGPT-like natural language interactions.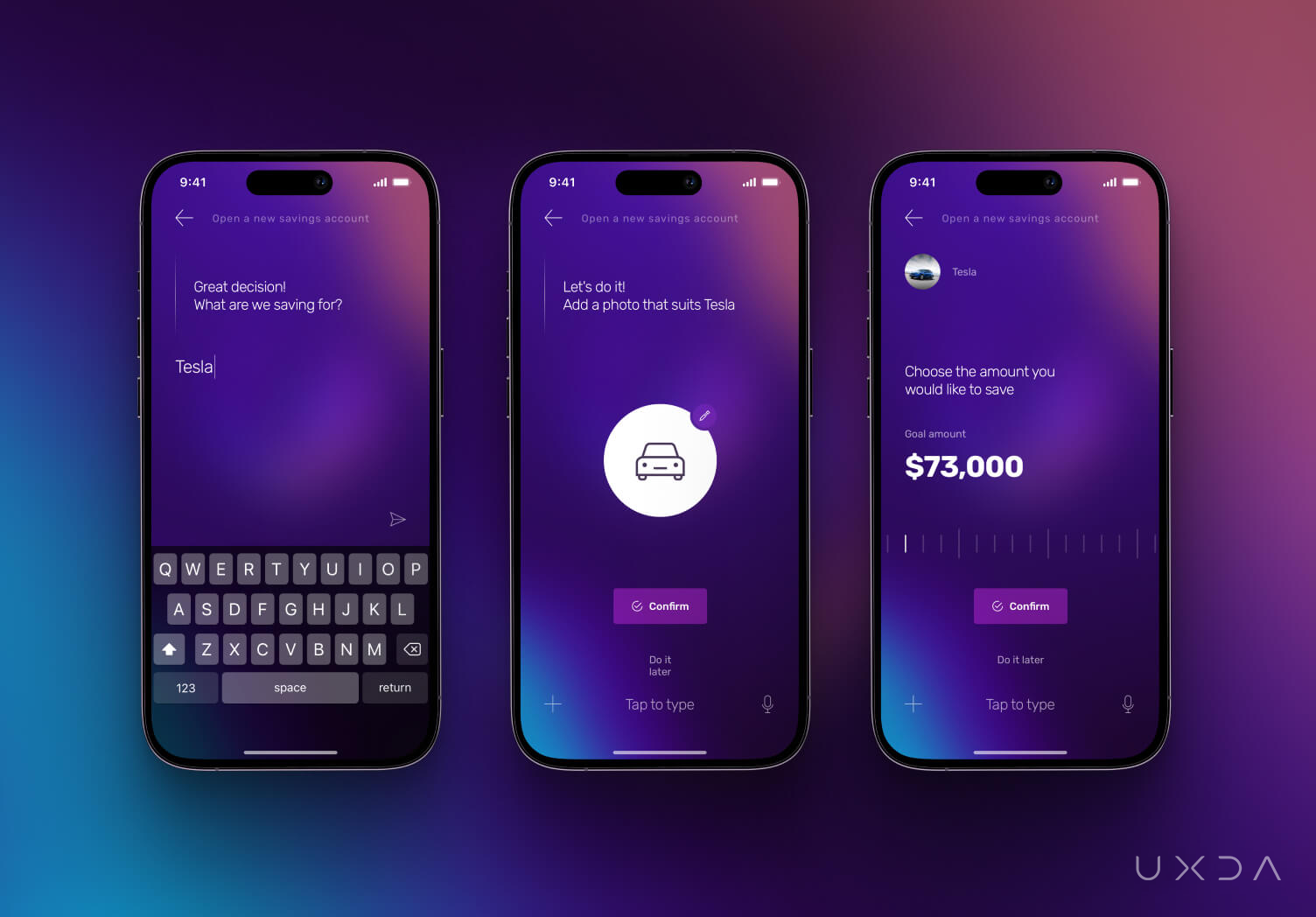 Users can choose a specific savings goal, personalize the account with a picture and set the desired target amount. Additionally, users can easily add funds to the account through the conversational interface.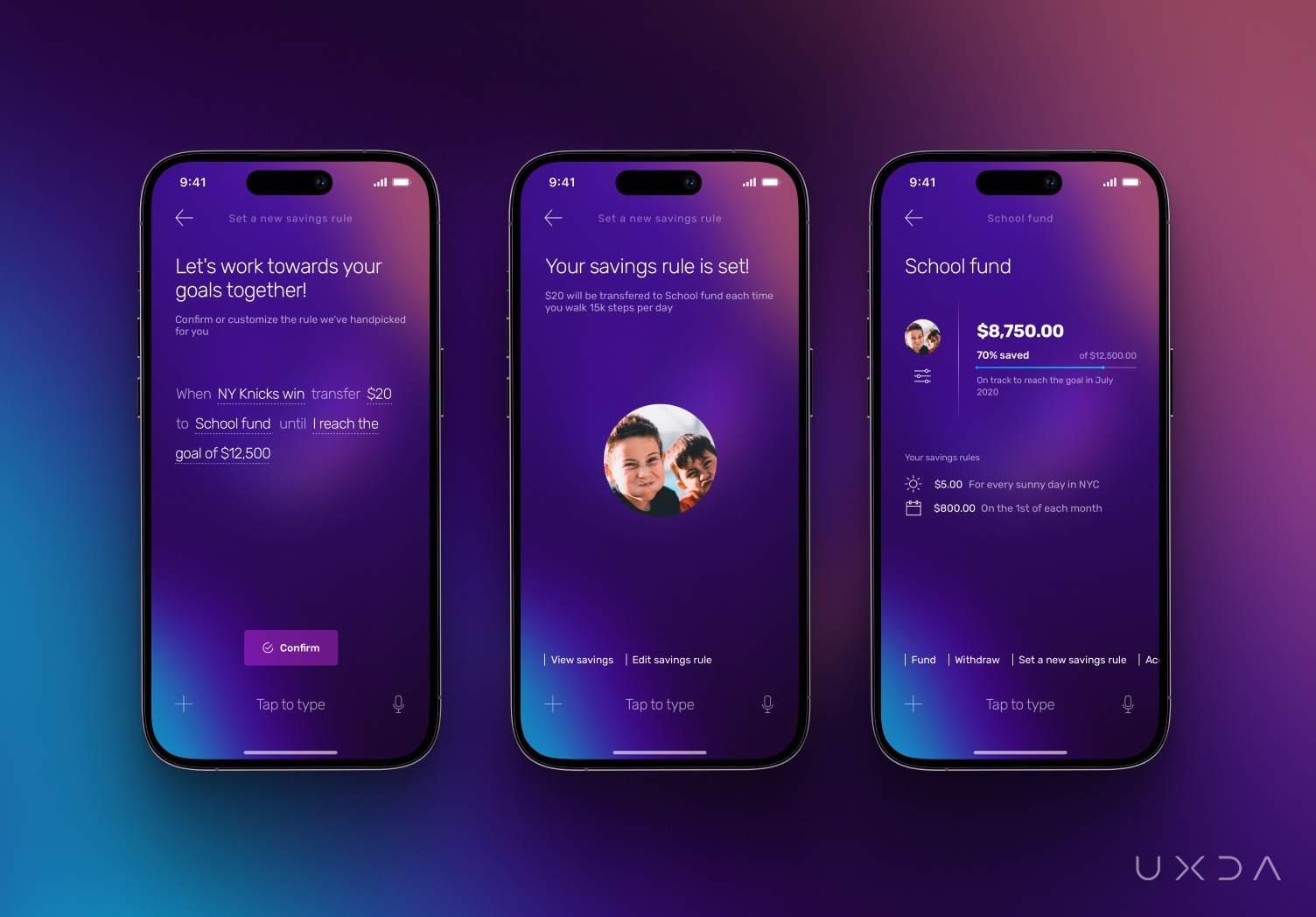 In addition to traditional saving methods, the app offers unconventional ways for users to move money, such as automatically sending money to a savings account when certain events are triggered, like when the NY Knicks win a game.
Seamless Investing
The app provides users with the ability to make investments directly from the dialog box in the chat.
Users can easily initiate and track investments without the need to switch between multiple applications. This seamless experience allows users to make informed decisions and manage their investments in real time.
Safe for Digital Assets
The Safebox feature in BELLA is like a typical safe in banks but only for digital assets. It allows users to store personal photos, documents, access cards and other sensitive information in a secure and encrypted manner.
As people increasingly use smartphones to store important information, there is a growing need for added security measures. To address this, BELLA implemented a digital safe within the app with advanced security measures. This allows users to easily access and locate their digital assets through the app's conversational interface.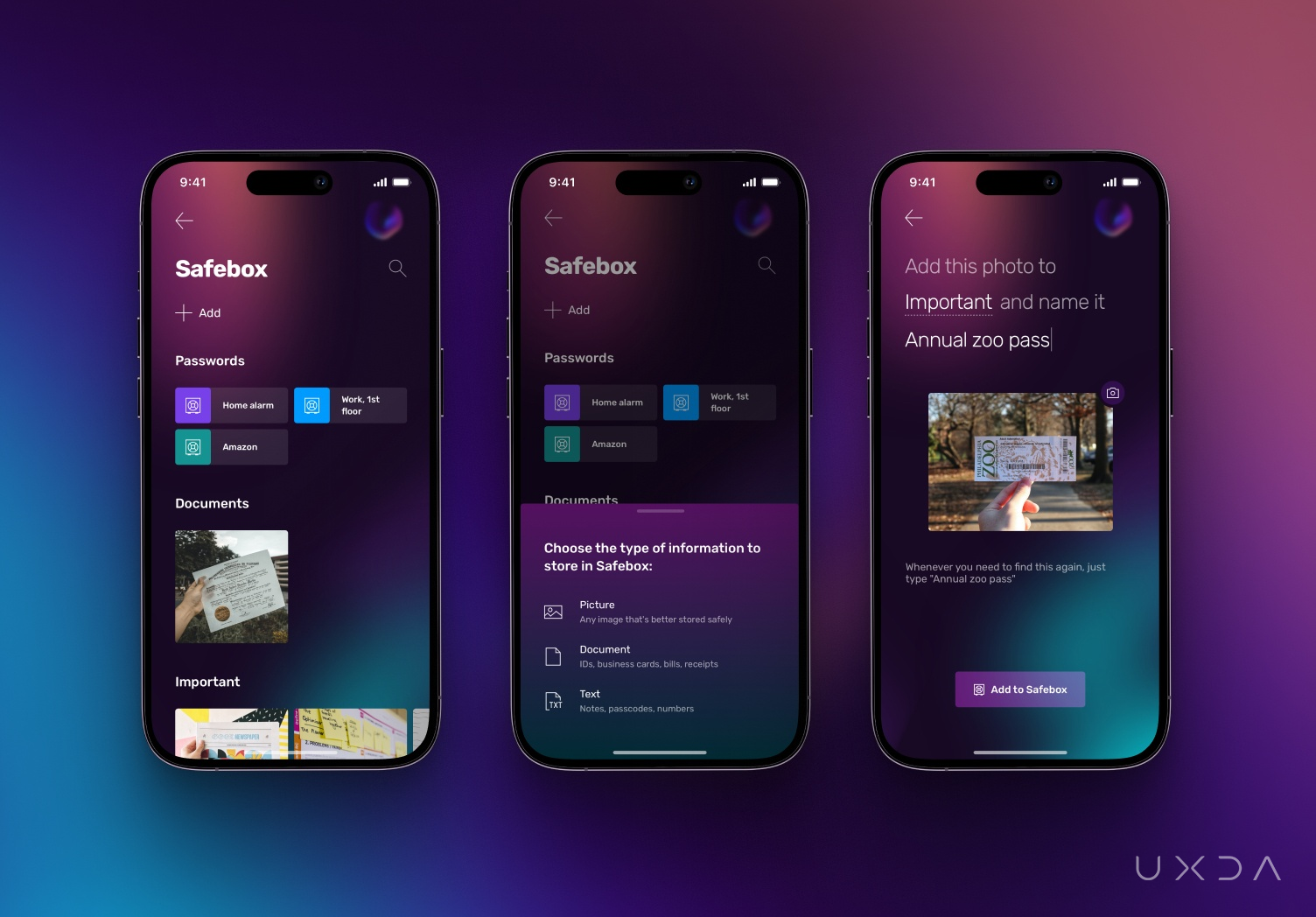 The items stored in the Safebox can be linked to a specific transaction, such as a warranty check for electronics or a purchase that may be returned. This allows for easy access and relevance when needed.
Community-driven Karma Account
In marketing execution, the BELLA team decided to go their own unique way. They decided to abandon the traditional banking marketing approach and focus on community development. They sent the entire advertising budget to users in the form of random cashbacks.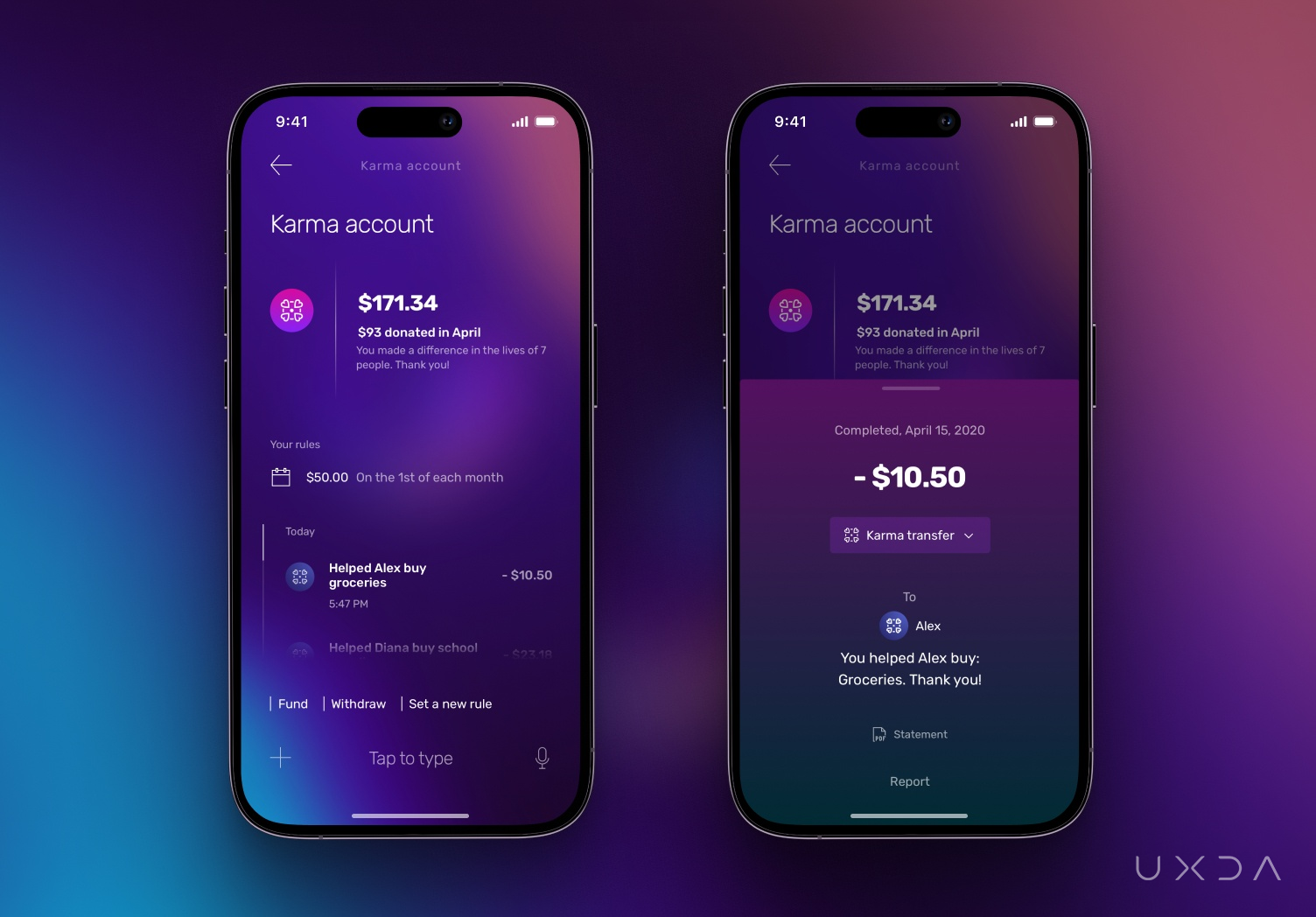 Also, by encouraging the users to create a Karma account, the banking app aimed to foster random acts of kindness among its community. Users can transfer money to this account, which will then be used to randomly pay for other customer purchases.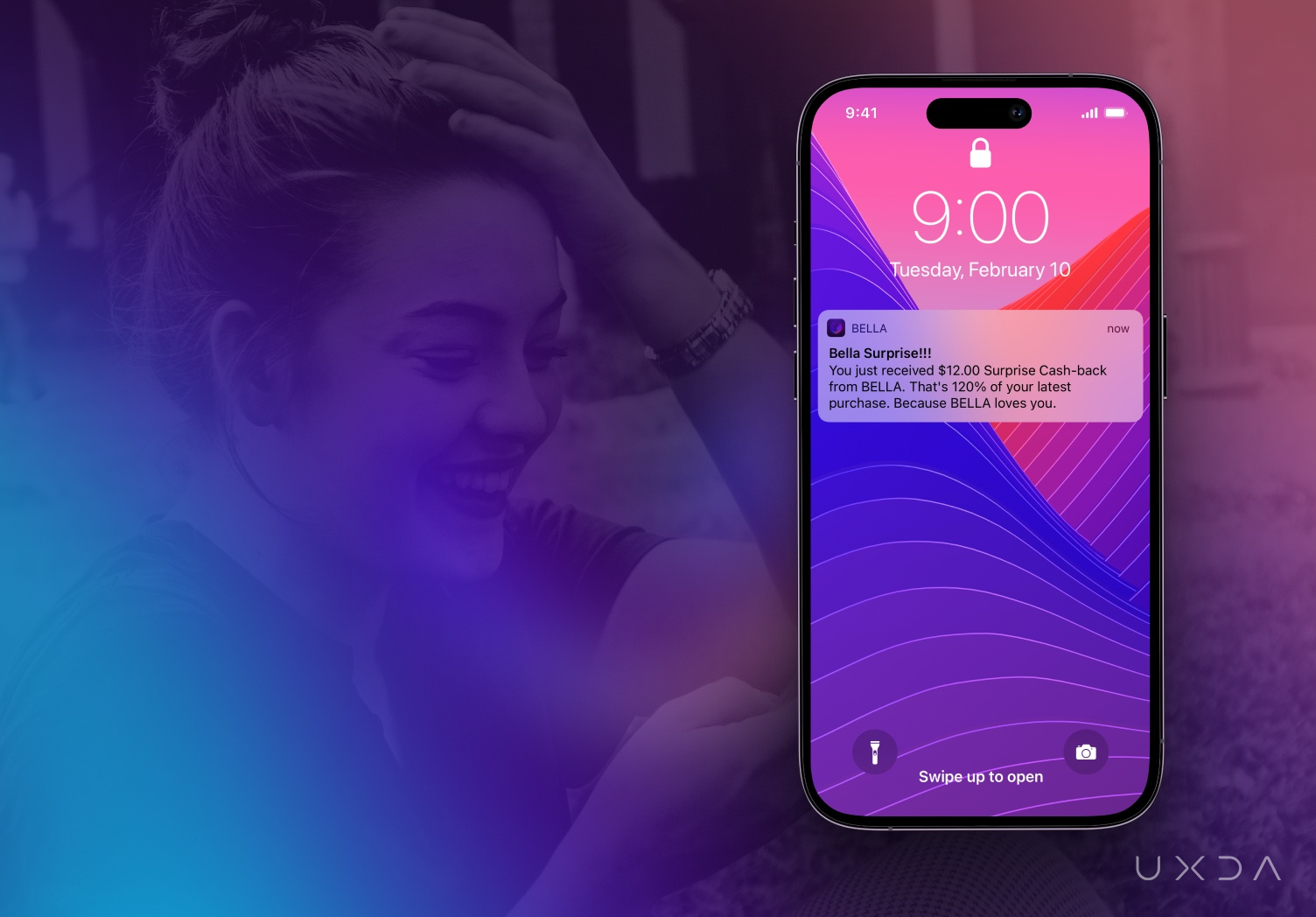 Although anonymous, customers can see each other's first name in their feed, creating an emotional connection between the anonymous donor and the recipient, as well as with the BELLA brand. This encourages recipients to continue their acts of kindness, fostering a positive and supportive community.
Finding Design Inspiration Across the Globe
When designing the user experience for this generative AI financial product, our goal was to evoke feelings of futurism, curiosity and innovation. We wanted to create an emotional and philosophy-driven design that exudes sophistication and balance.
To achieve a unique result, we drew inspiration from BELLA's visionaries. They sought to infuse the product with the colors of a Los Angeles sunrise, the ambience of Florence's Duomo Cathedral and even the peacefulness of Japanese Zen gardens. By drawing inspiration from outside the banking world, together we were able to bring fresh perspectives to the digital product and create a truly unique user experience.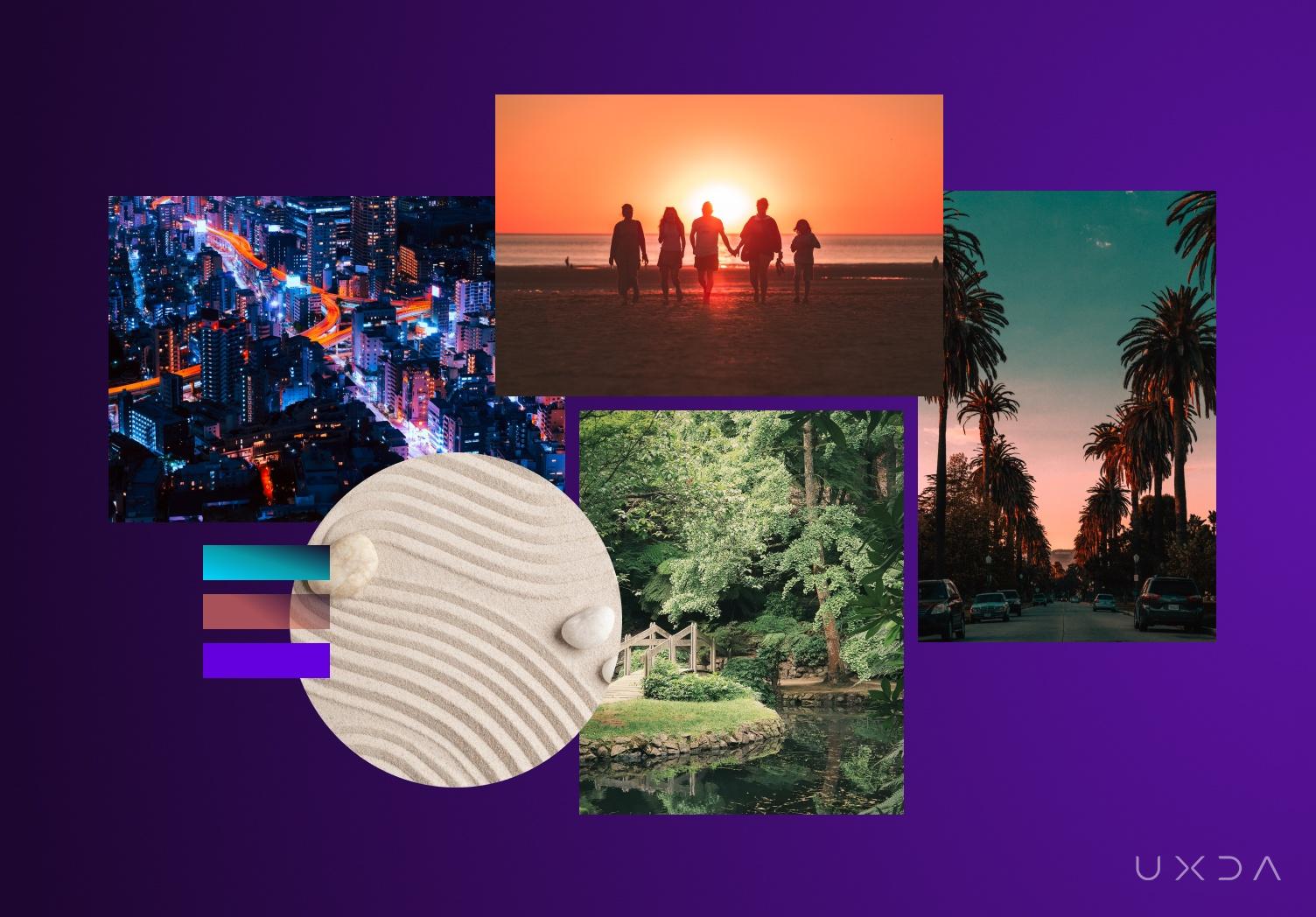 The visual design features a combination of magnificent colors and gradients, enriched with abstract movement energy. We also used typeface sizes and hierarchy to provide a sense of order and unexpected elements to surprise users.
At the center of the design is a metaphorically-shaped heart representing the emotions and love associated with the brand philosophy. This abstract heart is brought to life and serves as an AI manifestation that guides users throughout the app.
UXDA Deliverables
Stakeholders' interview
Product strategy
Contextual market research
User personas through a JTBD framework
Empathy map
User journey map
Information architecture
User flow maps
Wireframes
Key design concept
UI design prototype
Product motion design
Design documentation
Design system
Usability testing
Takeaway: Conversational Banking with ChatGPT-like Experience Opens Up New Edges
BELLA demonstrates the potential for using conversational banking ChatGPT-like generative AI and machine learning solutions to provide new types of banking enriched with personalized, contextual responses that establish an emotional bond with users.
We tried to dive deeper into digital human behavior to find a new edge for the banking experience. This required courage and an innovative approach to combine cutting-edge technology with a design rooted in beauty, love and empathy.
This case study illustrates an example of how disruptive AI technologies, such as ChatGPT, could be integrated into the banking experience with the help of customer-centered UX design. By treating customers as human beings and reducing the stress and frustration often associated with dealing with finances, the BELLA mobile app searched for a way to establish a true friendship between customers and their financial institution, opening new possibilities for the banking industry.
Explore other of our client's next-gen financial digital products and UX transformations showcased in the UXDA team's latest showreel:
Additional answers that might be helpful:
What are the benefit of using ChatGPT in conversational AI banking?
The use of ChatGPT in conversational banking can help banks to provide a more efficient, cost-effective, and customer-centric service. There are various benefits to using ChatGPT in banking:
24/7 Availability
ChatGPT is available 24/7 to provide customer support and address inquiries for customers who may need assistance outside of regular business hours.
Scalability
ChatGPT handles a large volume of customer inquiries simultaneously, making it an ideal solution for banks with a large customer base.
Improved Customer Experience
By offering a conversational interface, ChatGPT provides customers with an engaging and personalized experience that may increase satisfaction and loyalty.
Reduced Costs
Using ChatGPT alike technology helps to reduce the cost of providing customer support, allowing banks to avoid the need for large customer support teams.
Increased Efficiency
ChatGPT can quickly and accurately respond to customer inquiries, reducing the waiting time for customers and allowing bank staff to focus on more complex tasks.
Enhanced Security
ChatGPT can be programmed to follow strict security protocols, ensuring that customers' personal and financial information is kept safe and secure.
What are the main UX requirements for integrating ChatGPT with digital banking products?
Integrating ChatGPT with digital banking products requires careful attention to user experience (UX) design to ensure that the chatbot provides a seamless and effective experience for customers. Here are some key UX requirements to consider:
1. Natural Language Processing (NLP)
The chatbot should be designed to understand and respond to natural language inputs, making it easier for customers to interact with it in a conversational manner.
2. Personalization
The chatbot should be able to personalize responses based on customer data, such as account information or transaction history, to create a more tailored experience.
3. Clarity and Transparency
The chatbot's responses should be clear and concise, and it should provide clear information on what it can and cannot do, as well as any limitations or potential errors.
4. Multimodality
The chatbot should be designed to work across multiple channels, such as web, mobile, and messaging apps, and provide a consistent experience across all of them.
5. Error Handling
The chatbot should be able to handle errors and misunderstandings gracefully, providing helpful feedback and suggestions to help customers resolve issues.
6. Integration with Banking Products
The chatbot should be integrated with the bank's existing digital banking products, such as mobile apps or websites, to provide a seamless and integrated experience for customers.
7. Human Handover
The chatbot should have a smooth handover process to a human agent, if required, to handle more complex issues that require human intervention.
8. Feedback Loop
The chatbot should have a feedback mechanism that allows customers to rate their experience and provide feedback, allowing the bank to continuously improve the chatbot's performance and address any issues that arise.
9. Contextual Awareness
The chatbot should be able to understand the context of the conversation and maintain the conversation flow, even if the customer switches topics or asks follow-up questions.
10. Accessibility
The chatbot should be designed to be accessible for users with disabilities, such as those who are visually impaired, hearing impaired, or have motor impairments. This may include features such as voice commands, screen reader support, and keyboard shortcuts to ensure that all customers can use the chatbot effectively.
By considering these UX requirements, banks can create a ChatGPT-powered banking that provides a seamless, effective, and engaging experience for their customers.
What problems arise when using conversational AI in banking products?
While using conversational AI in banking products can provide several benefits, there are also several potential problems that can arise. By understanding these potential problems, banks can better anticipate and address any issues that may arise when using conversational AI technology in their banking products, and take proactive measures to ensure that their chatbot delivers an effective and secure customer experience. Here are some of the most common issues:
1. Language Barriers
Conversational AI may struggle to understand customers with different accents, dialects, or language variations, which can result in misinterpretations or incorrect responses. This can be a particular problem for global banks with a diverse customer base.
2. Misunderstandings and Errors
Conversational AI can misinterpret or misunderstand customer queries, leading to incorrect responses, which can result in customer frustration, confusion, or even financial losses.
3. Lack of Personal Touch
Conversational AI in banking may lack the human touch that many customers prefer, making them feel uncomfortable or uneasy when discussing sensitive financial topics.
4. Security Risks
Conversational AI in finance may pose security risks if not designed and implemented properly. For example, if the chatbot is not securely designed, it may accidentally disclose sensitive customer information or become a target for cyber attacks.
5. Integration Challenges
Integrating Conversational AI with existing banking systems and processes can be challenging and time-consuming. Issues such as data integration, API limitations, and system compatibility can arise, leading to technical difficulties and delays.
6. Maintenance and Updating
Conversational AI in financial services requires regular maintenance and updating to ensure that it remains up-to-date, accurate, and effective. This can be time-consuming and expensive, requiring significant investment in technical resources and expertise.
7. Legal and Compliance Challenges
Conversational AI needs to comply with various legal and regulatory requirements related to data privacy, security, and financial compliance. Failure to meet these standards can lead to legal and financial penalties.
8. Cultural and Social Factors
Conversational AI may not be well-suited to certain cultural or social contexts, which can result in a negative customer experience. For example, some cultures may view automated chatbots as impersonal or disrespectful, while others may be uncomfortable discussing financial matters over chat.
9. Ethical Concerns
Conversational AI raises various ethical concerns, such as issues related to bias, privacy, and transparency. For example, chatbots may exhibit biases towards certain groups of customers, or they may inadvertently reveal sensitive customer information, resulting in ethical concerns.
10. Limited Domain Knowledge
Conversational AI may lack specific domain knowledge of the banking industry, making it difficult for the chatbot to understand complex financial queries, regulations, or nuances that are specific to banking. This can result in inaccurate or incomplete responses, which may frustrate customers.
Only by carefully considering these potential problems and taking proactive steps to mitigate them, banks can ensure that they derive the full benefits of Conversational AI while avoiding the potential pitfalls. This requires a combination of technical expertise, legal compliance, and user-centered design principles to create a banking product that delivers a secure, accurate, and effective customer experience.
Get UXDA Research-Based White Paper "How to Win the Hearts of Digital Customers":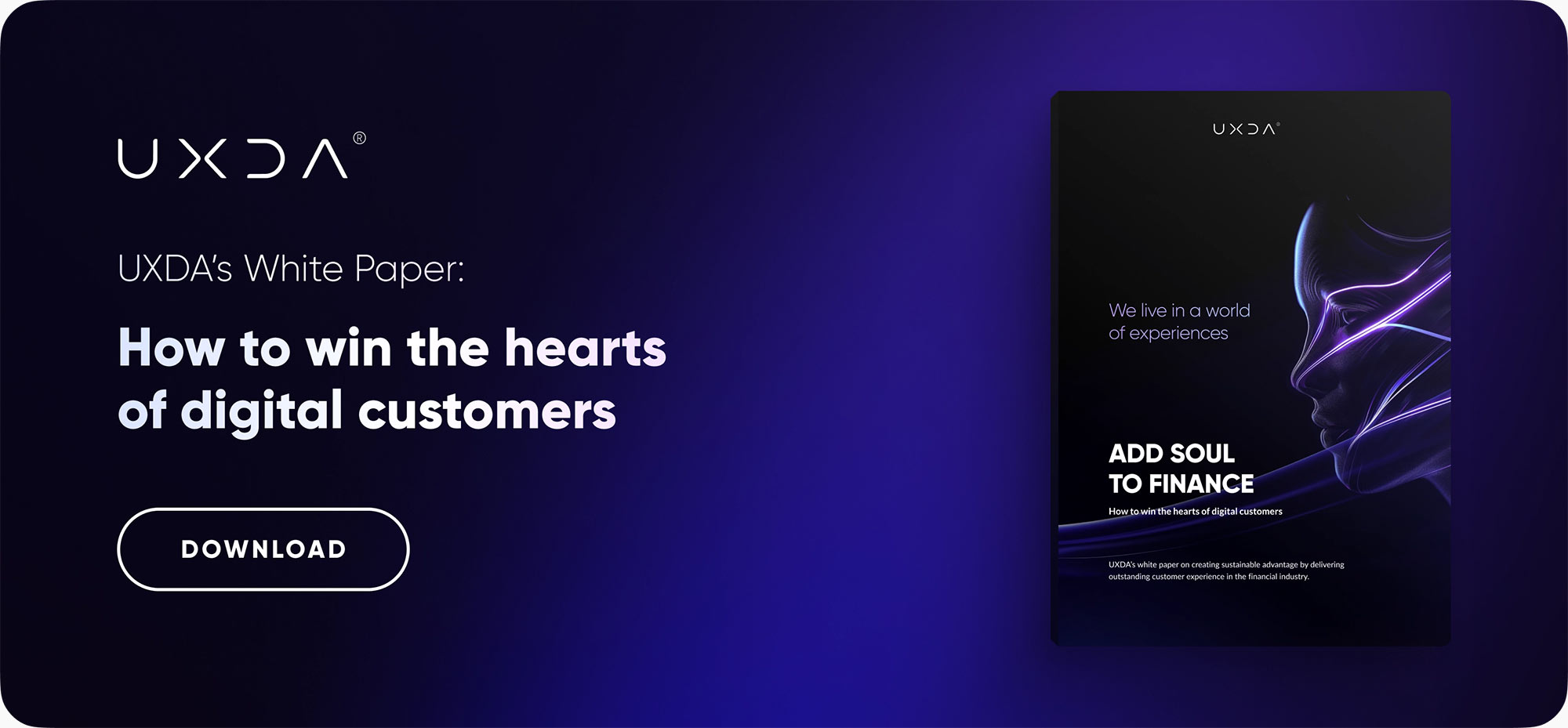 If you want to create next-gen financial products to receive an exceptional competitive advantage in the digital age, contact us! With the power of financial UX design, we can help you turn your business into a beloved financial brand with a strong emotional connection with your clients, resulting in success, demand, and long-term customer loyalty.