We see hundreds of new skyrocketing fintech startups and challenger banks. They work hard on usability and design the best financial user experience (UX) to build the next generation of financial products. At the same time, some products of incumbent banks and other financial institutions lag far behind in terms of design and usability. What can sabotage the creation of next-generation financial products, and how can this be overcome?
Having a next-generation product in financial institutions provides clear business benefits, including:
Customer Satisfaction
Next-gen product design places a greater emphasis on user-centered design, resulting in products that are more intuitive, engaging, and personalized. This can lead to higher customer satisfaction and retention.
Competitive Advantage
Financial organizations that implement next-gen product design can gain a competitive advantage by offering innovative products that meet the evolving needs and expectations of customers. This can lead to increased market share and revenue growth.
Flexibility and Agility
Next-gen product design approaches can enable financial organizations to be more flexible and agile, allowing them to respond quickly to rapidly changing digital market conditions and customer needs.
Increased Revenue
By providing a better user experience and meeting customer needs more effectively, financial organizations can increase revenue by attracting and retaining more customers.
Enhanced Brand Reputation
By offering innovative and user-friendly products, financial organizations can enhance their brand reputation and differentiate themselves from competitors. This can help to build trust and loyalty among customers.
Tailor-made Service
By leveraging data and user research tools, financial organizations can create more personalized next-gen products and services that meet the unique needs and preferences of their specific customers. This can help to build stronger relationships with customers and increase loyalty to their financial brand.
The main difference between next-gen digital banking design and an outdated approach is to prioritize customer-centricity and user experience improvement, while the outdated approach is to focus more on internal processes and legacy systems. Next-gen financial products leverage technology to create seamless and intuitive experiences for their customers, using data analytics and machine learning to personalize services and streamline processes. They employ a design thinking approach, which involves empathizing with the customer, defining their needs, ideating solutions, prototyping, and testing with users.
In contrast, legacy-driven organizations often have complex and cumbersome systems that were built over many years and are difficult to change. They also tend to be more focused on risk management and compliance, which can result in slower innovation cycles and less flexibility in product design. Overall, next-gen challengers are more agile and responsive to customer needs, while traditional companies may struggle to keep up with the pace of innovation in the financial industry.
Main Obstacles to Deliver Next-Gen Financial Products
Sometimes we see incumbent banks or other legacy-driven financial organizations having difficulties designing or updating their digital products, and their products look and feel outdated despite the huge investment of time and money to improve them. The reasons behind this can be complex and multifaceted. And to ensure successful digital transformation and next-gen product design, the incumbent financial institutions (FIs) needs to focus extra efforts on removing the obstacles holding them back:
1. Legacy Systems
Many incumbent banks have legacy systems that are difficult to update or replace. These systems may be outdated and not compatible with modern technologies, which could lead to difficulties in creating next-gen digital products.
2. Complex Stakeholder Landscape
Incumbent banks have various stakeholders, including customers, shareholders, regulators, and employees, each with their own priorities and preferences. Balancing these competing interests can be challenging and may result in design compromises.
3. Lack of User-Centered Approach
Incumbent banks may not prioritize a user-centered approach to product design, which involves prioritizing the needs and preferences of the end-users. Instead, they may focus on the internal processes and systems of the bank, leading to digital products that do not meet the expectations of their customers.
4. Lack of Design Expertise
Incumbent banks may not have the resources or expertise to design next-gen digital products. This could be due to budget constraints, a lack of in-house design talent, or competition for funding with other bank areas.
5. Focus on Functionality
Incumbent banks may prioritize functionality and security over product aesthetics and user experience. This may result in an emphasis on the usability and reliability of digital products rather than their appearance. In other words, banks may prioritize features such as security, compliance, and a number of functions over customer-centered design and usability.
6. Slow Decision-Making Process
Incumbent banks can have a lot of bureaucracy and a slow decision-making process, which can delay updating existing products and launching new digital products, as well as innovation. This can result in missed opportunities and inflexibility to respond to changing market conditions and customer needs.
7. Cultural Resistance to Change
Incumbent banks may have a culture that is resistant to change and innovation. This can create a barrier to adopting new design trends and technologies that could enhance the visual appeal and functionality of their digital products.
8. Regulatory Constraints
Incumbent banks operate in a heavily regulated environment, and their digital products must comply with various laws and regulations. This may limit the extent to which banks can innovate in terms of design and functionality.
9. Lack of Collaboration
Incumbent banks may not have a collaborative approach to design, which can result in siloed teams that do not share knowledge and expertise. This can lead to inconsistencies in design across different digital products and a lack of alignment with the overall brand image of the bank.
10. Low Competition
Due to the holding major customer deposits, incumbent banks have enough funding and do not feel significant competitive pressure, resulting in a lack of need for innovation in terms of product design. This can lead to complacency and a lack of motivation to invest in improving the design and usability of their digital offering.
How to Move to a Next-Gen Financial Product Design
By switching from a legacy approach to a next-gen, customer-centered design approach, banks could ensure customers an exceptional digital experience according to their expectations. Because with the rise of digital services, customers have become accustomed to delightful, seamless, easy-to-use digital experiences. And here are ten UX strategies to switch a financial institution team to a next generation product design approach:
1. View Design as a Methodology, not as a Package
Next-gen approach: design is a customer-centered business approach
Legacy approach: design is a package
There's an outdated belief in the financial industry that design is an eye-catching marketing tool to trick customers into buying. Things have changed in the digital age; now design ensures the success of the financial brands through a customer-centered business approach.
Fintechs and progressive banks put the customer at the center of all business processes, starting from production to the way the team thinks and acts, thus creating benefit to customers and making the world a better place.
To realize their full potential, Fintechs and progressive banks know that design is not a tool, it is a process that involves the whole team of the company in seeking and executing innovative ideas on how to solve customer problems. It's an approach for creating demanded digital products that would live up to the customer's needs and expectations.
There are five areas successful financial brands focus on to use UX design as an accelerator of the company's success:
Business model that puts the processes of user-centricity first;
Team of UX experts who are qualified to execute the business idea and make sure it will truly bring value to the customers;
Right actions executed by the UX experts who are able to impact in-depth processes of the financial company;
Correct criteria to evaluate the results the team is producing - whether the focus is on the packaging or delivering exceptional experience;
The materialization of the unique Value the financial app will provide to the customers, turning the brand into a success story.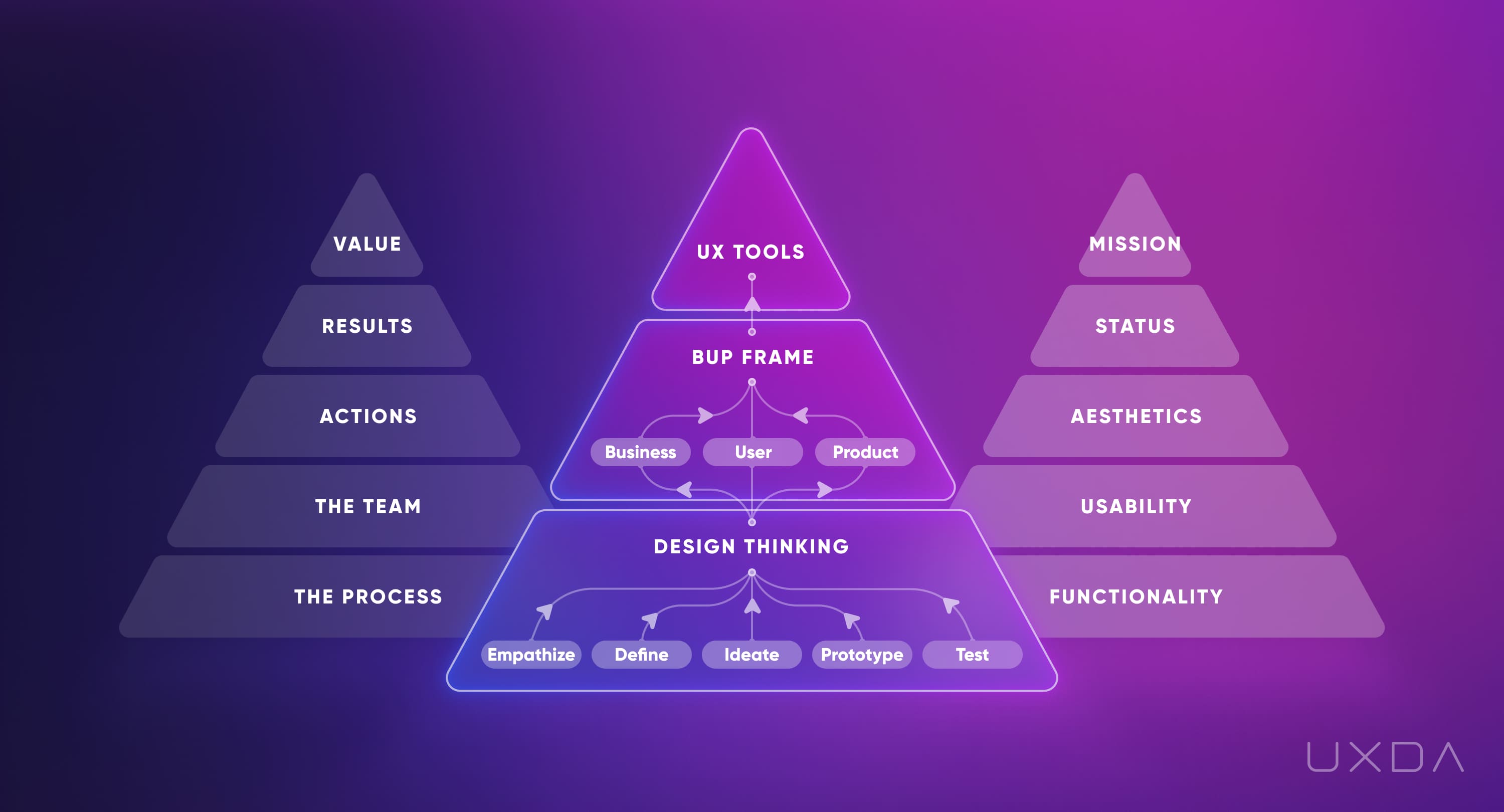 Financial UX Design Methodology
2. Increase the Scope of UX Design Influence
Next-gen approach: designers are UX facilitators, empowering customer-centricity in business processes
Legacy approach: designers create only the top coat of the product
The skills and expertise of the world's best UX designers and experts will be worthless if their influence is limited to visual appearance. To empower the design potential of Financial companies, UX experts become design facilitators, implementing user-centered thinking into every company process, and coaching employees to become customer advocates.
Fintechs and progressive banks empower the design potential through outsourced design competence like experienced financial design consultants, agencies and coaches.
This helps them to create great products from the user perspective but also provides an opportunity to enhance the financial brand's culture and expand internal expertise.
The number of benefits that the product can offer and the speed of its realization often depend on the scale of actions and the vision of the design advocates on the team. This can be facilitated to a large extent if one or more of the C-level executives are passionate about increasing the products' and company's value through a user experience design approach and Design Thinking in banking.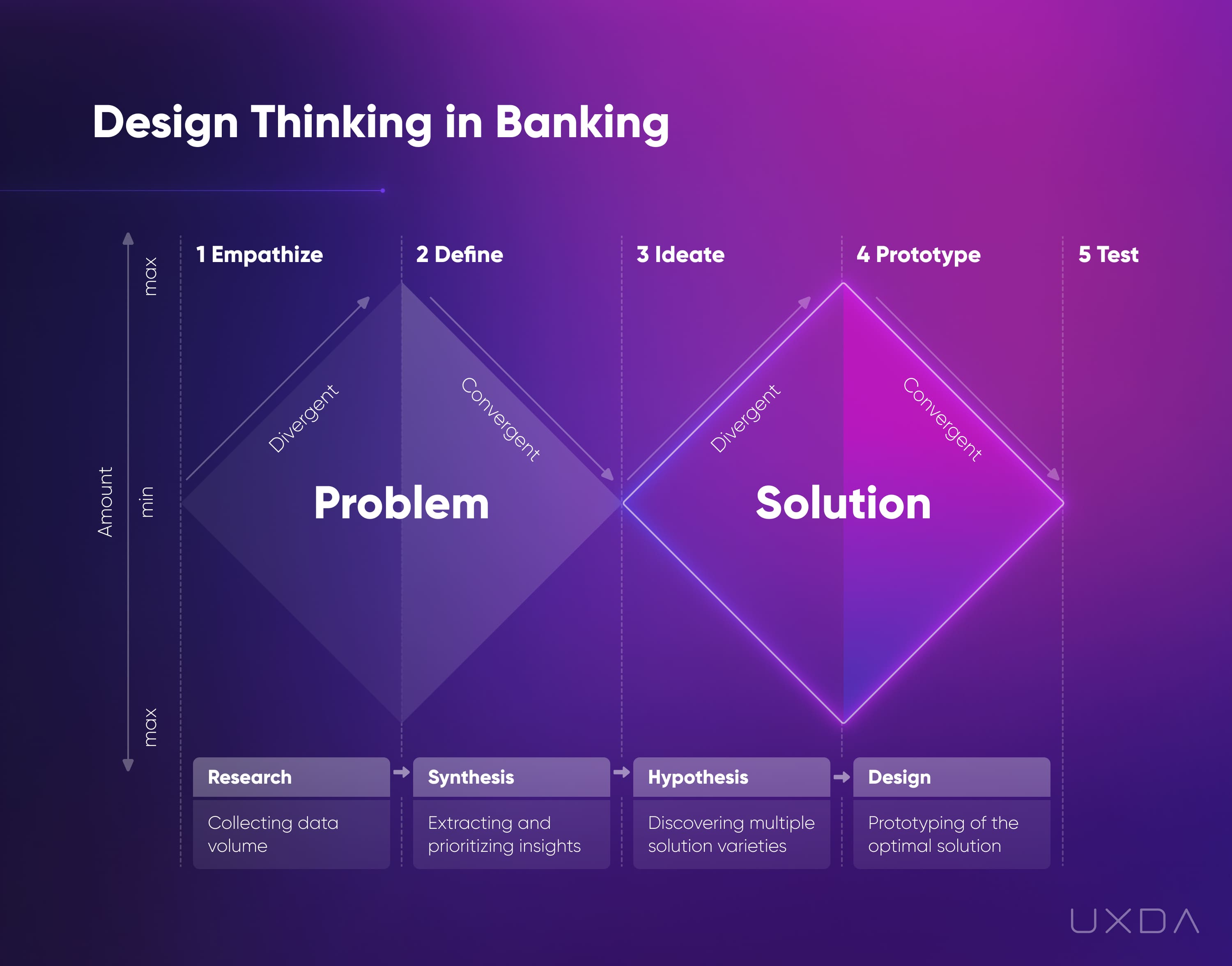 3. Challenge the Past
Next-gen approach: agile, flexible and quickly adapting to future rules
Legacy approach: relying on past success
The new age requires the ability to adapt quickly. The recent COVID-19 crisis was a clear example of it. Those who reacted bravely managed to keep their clients, while others who stuck protecting their legacy failed.
The explosive growth of the Fintech customer base depends on its ability to remove obsolete practices and adopt a new, user-centered approach to doing business by adjusting to growing customer needs and digital tendencies.
Incumbents are often focused on protecting their legacy and maintaining the corporate image. That's why any new changes may come slowly and painfully. It is self-evident that this legacy is holding them back. That's why implementing new technologies doesn't save incumbents from losing clients.
Meanwhile, successful financial brands challenge legacies and encourage their teams to step out of the box.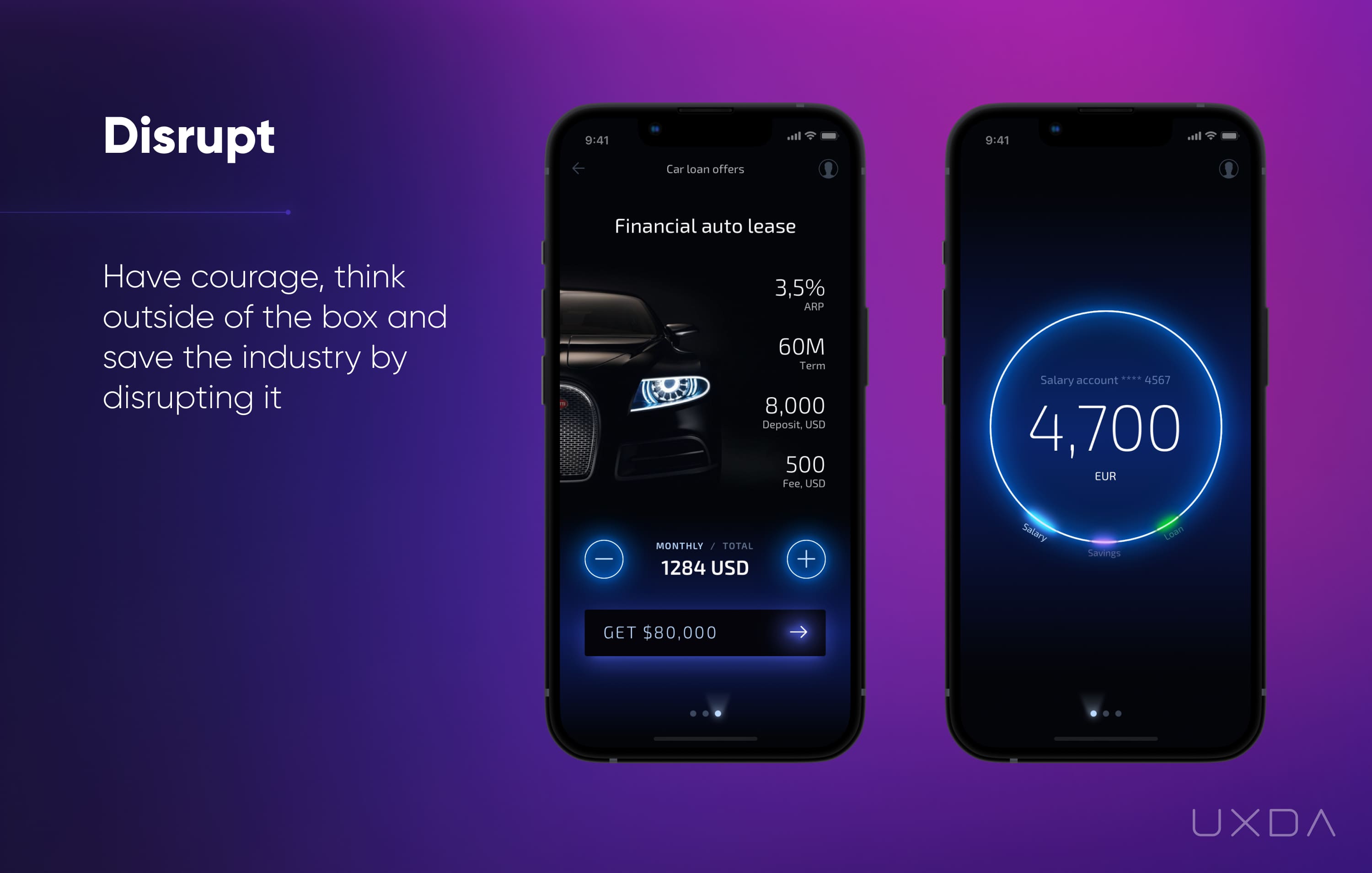 The design approach guides their teams through the necessary methods and tools. This way, the company's employees aren't wasting their energy on protecting the market share of an unsuccessful product but, rather, focusing on designing a financial product that exceeds user expectations, guarantees customer loyalty and leads to an organic increase in popularity without spending enormous marketing budgets.
Fintechs and progressive banks are completely immersed in the customer's problem to find the best solution. They are aware of the complexity of the task and the fears that naturally go with it, but these companies know that legacy holds them back, so they gather all of their courage to step over it.
4. Switch from Fragmentation to Ecosystem
Next-gen approach: developing a holistic digital ecosystem
Legacy approach: developing products separately
A mistake that many incumbents make is that they try to digitize their products separately. Having different departments each working on their product creates fragmentation. This leads to a broken customer experience as users perceive the experience of banking services as a holistic flow, not separate elements.
To avoid this, the employees of progressive financial brands work side-by-side to improve the customer experience that connects all of their products into a united, user-friendly ecosystem.
Successful financial brands ensure a victorious digital transformation by creating and developing a united digital banking ecosystem that ensures a smooth, connected flow of a delightful experience that the customers expect.
A practical way to make this happen is to create a complete UX/UI design system. It ensures that everyone working on the ecosystem products is on the same page and can quickly develop consistent digital solutions in their specific field of responsibility. Most importantly, in this way, the customer will be able to enjoy the end result as all banking products will have the same intuitive and user-friendly functioning principles.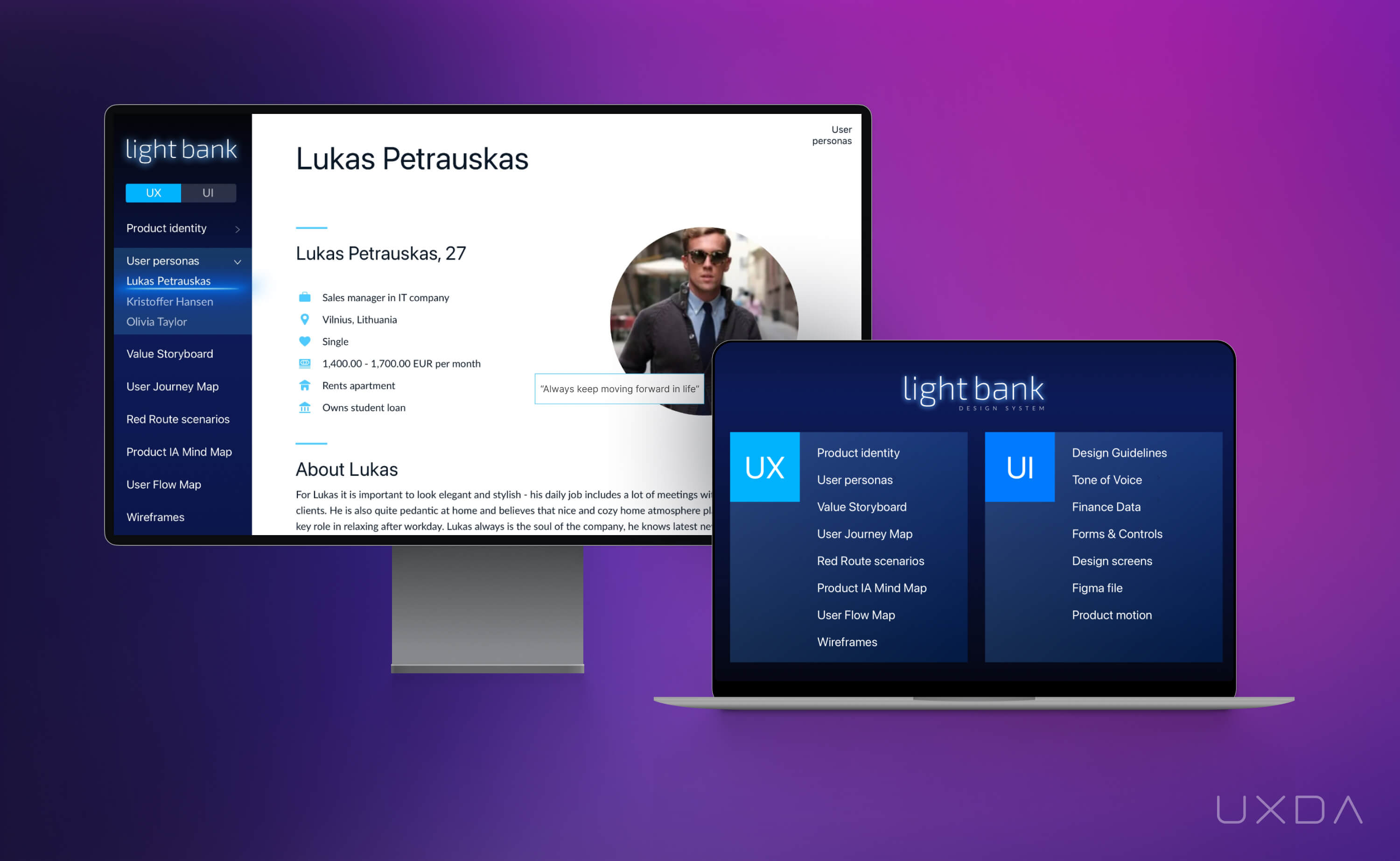 Banking UX/UI design system
5. Put UX Research First
Next-gen approach: the main focus is on the users
Legacy approach: the main focus is on products
Successful financial companies know that mobile banking apps created without proper user research often fail, because it's not possible to address market needs if there's no knowledge about the user problems.
They first find out the user's context and then create a value proposition. This process doesn't end after the launch of the Fintech or banking app. They regularly collect customer feedback from social networks, App Store and Google Play, improving the product accordingly.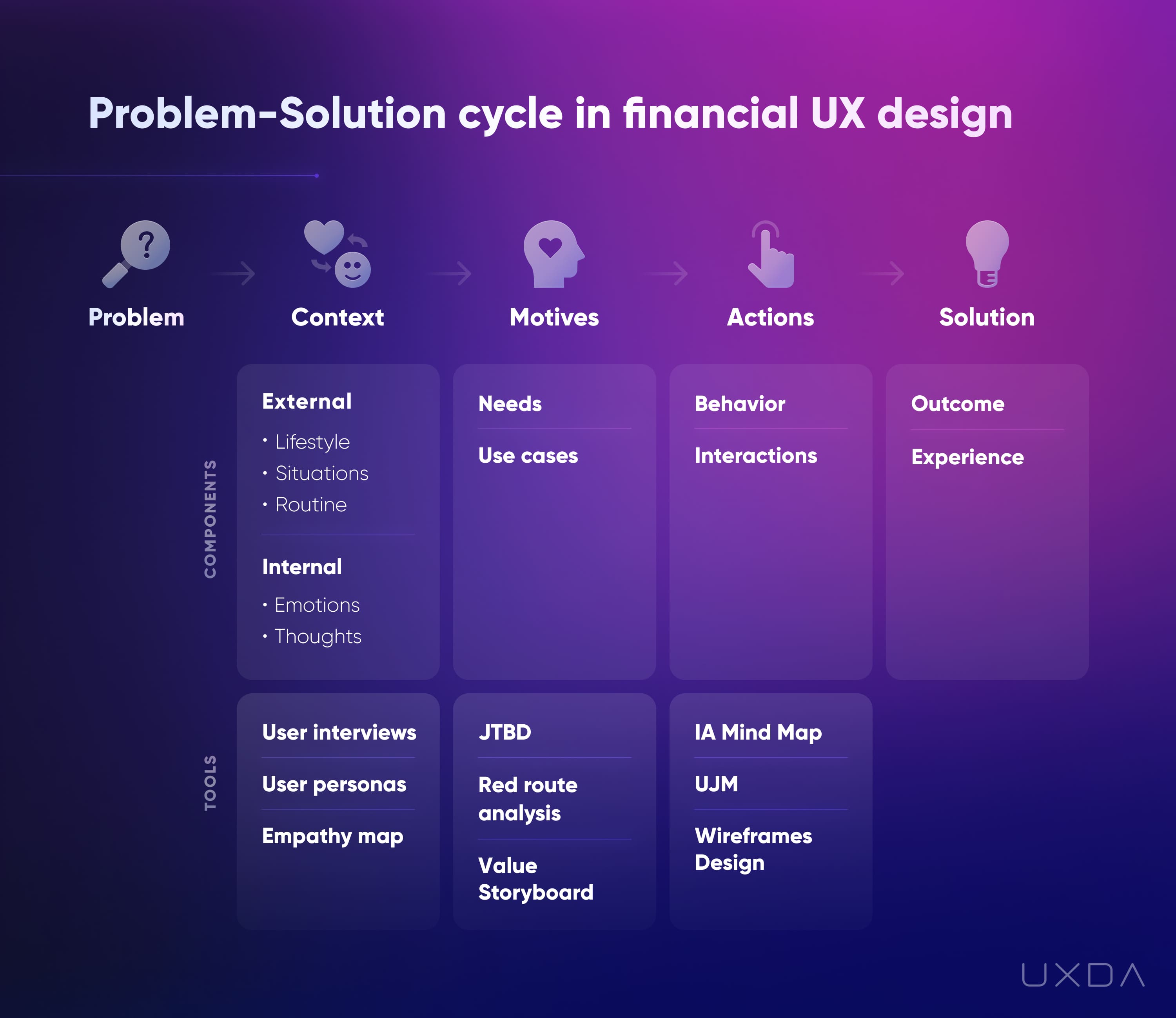 Financial Services Problem-Solution Cycle
Fintechs and progressive banks invest a lot of time and money in research, data analysis, information architecture, and product improvement.
Before building the product, they always start with user research and user experience engineering. They constantly explore users' feedback, thus finding a lot about their customers' pain points, and are constantly improving those. The executives and employees regularly discuss customer reviews and actively ask their opinion to gain insights about customer needs and pains and seek ways how the product can solve them.
Successful financial brands know that great digital products are created through a deep understanding of the end customers, attention to their needs, and a well-organized design process.
6. Provide a Unique Value Proposition
Next-gen approach: creates an authentic value
Legacy approach: believes that one size fits all
What is the "WHY" behind financial services? Many incumbents make a profit that doesn't address the customer's needs.
To save their business from the highly competitive "red ocean," Fintechs and progressive financial brands are authentic. They define the weak points of their competitors and address customers' pains in a way that enriches their daily lives.
The marketing thinking "one size fits all" is long gone. Unique solutions create emotions. And emotions drive the value of the product and the loyalty of the clients, resulting in conversion.
Successful financial brands are always looking for their way to excel amongst competitors to deliver a uniquely delightful experience.
This is possible by carefully empathizing with the users and analyzing the competitor's mistakes and successes.
7. Drop the Obsession with Functionality
Next-gen approach: aims for fewer functions that better match the users' needs
Legacy approach: thinks that the more functions, the better
For many incumbents, featuring sometimes feels like an obsession. They believe the more features, the greater the probability of product success. Actually, it's the opposite.
Digital-first financial brands know that too many options confuse customers and cause decision paralysis. They don't make customers think, providing them with a solution instead.
They strive for a simple-to-use product and avoid overfeaturizing because that confuses users. These kinds of companies carefully evaluate all the features and eliminate those without value for the user.
Users don't come to the financial brand because of the hundreds of options it offers. They have a specific goal that the product or service helps achieve.
Here it's important to carefully evaluate all the features and eliminate those that have no value for the user.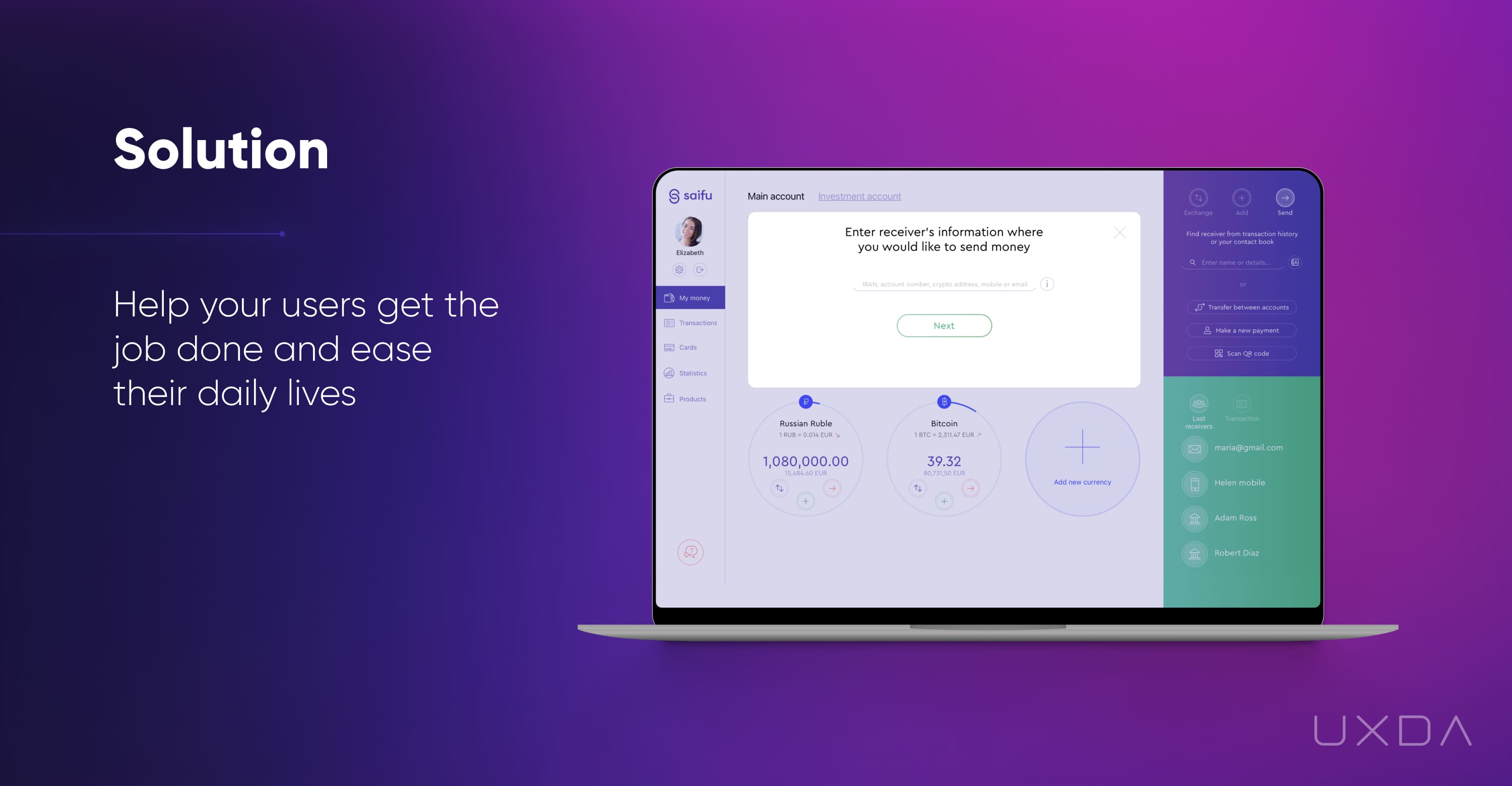 8. Measure the Result by the Quality, not Quantity
Next-gen approach: measures results by the value that design brings to the customers
Legacy approach: counts design deliverables
Success depends on how it's measured. Some incumbents often focus on the number of interface screens designed per day.
Fintechs and progressive banks focus on intuitive banking experiences and think carefully about every element on each screen.
The product quality of incumbents might be sacrificed for speed and quantity. This might seem like a win in the short term, but, in the long term, the support team starts receiving thousands of calls about similar struggles.
Fintechs and progressive banks are ready to sacrifice delivery speed to gain best quality. Their service designers and architects think through every tiny detail, even if it slows the overall design process.
Successful financial brands know that the correct outcome criteria define the level of value a product is able to provide for the users. It's not the number of screens that is important, it is the quality of the screens.
Often, a clever and user-centered architecture of a digital product can significantly reduce the number of screens, while increasing user satisfaction.
Only the compliance of the financial product design with the key user scenarios can make it more understandable and enjoyable for the customers. Naturally, it requires the investment of more time and resources into analysis, research and UX architecture. Therefore, it is very important that this process is carried out by experienced specialists.

9. Focus on Emotions Instead of Information
Next-gen approach: ensure an emotional connection with customers
Legacy approach: focus on advertising and information
Emotions make customers loyal to the financial brands they choose. To connect with customers on an emotional level, digital-first financial companies provide personalized attitude and a delightful experience, demonstrating that they care about their customers.
Users forget information but remember experiences, and experiences are created from emotions. That's why Fintechs and progressive banks integrate information into a context of usage, so it becomes an organic part of the banking user experience.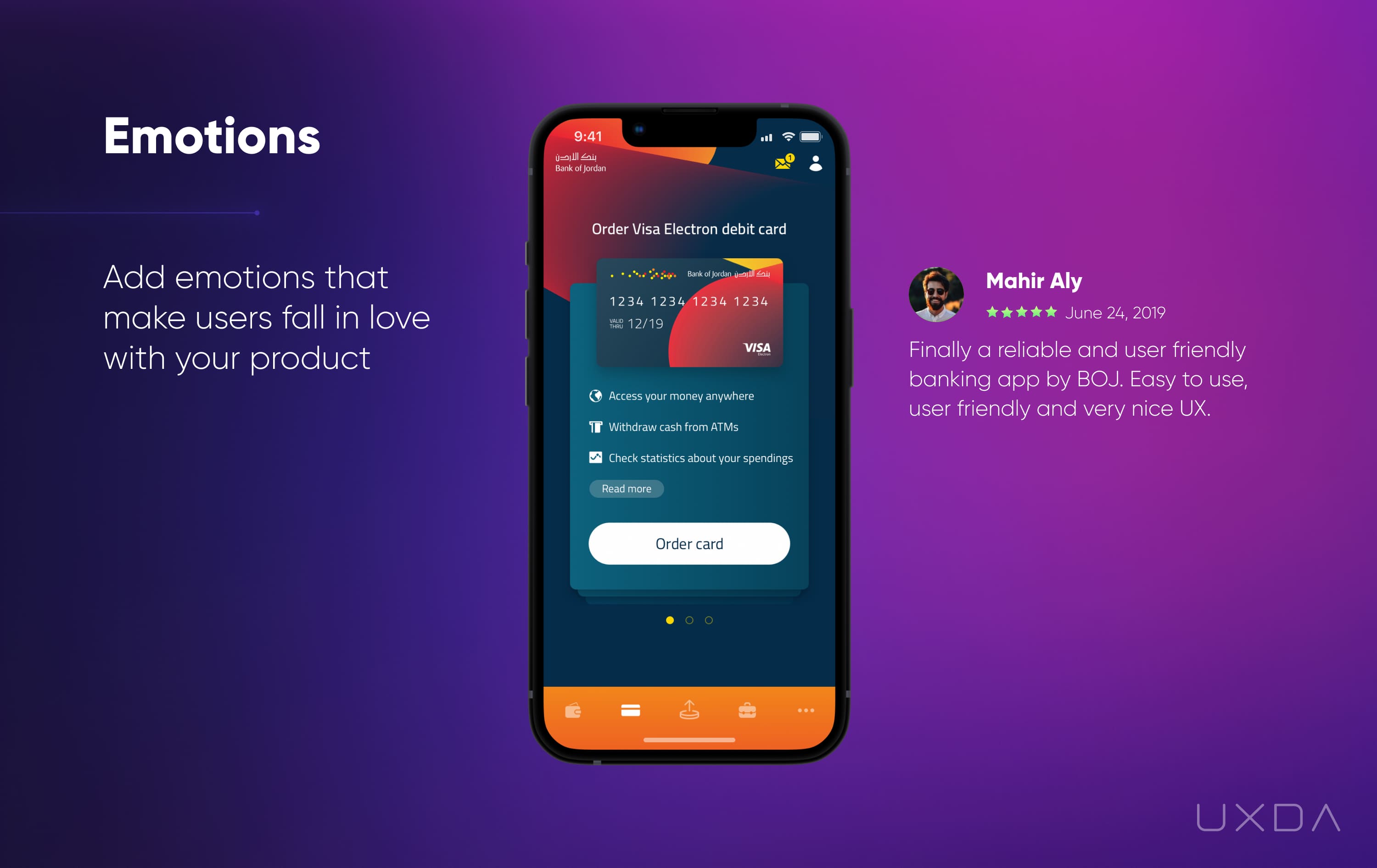 To achieve this, they focus on emotions that the brand itself and the product delivers, using intuitive information architecture and a delightful UX design to manage it. They use customer experience design methodology to explore and connect with their users emotionally.
10. Invest More in Improving Customer Experience
Next-gen approach: focus on how to serve customers through a purpose-driven approach
Legacy approach: focus on how to make more profit in any way possible
There are two strategies to attract digital customers. Incumbents tend to focus all efforts on marketing and large-scale advertising campaigns.
Neo banks and Fintechs create a value-based community around a significant purpose and outstanding brand experience.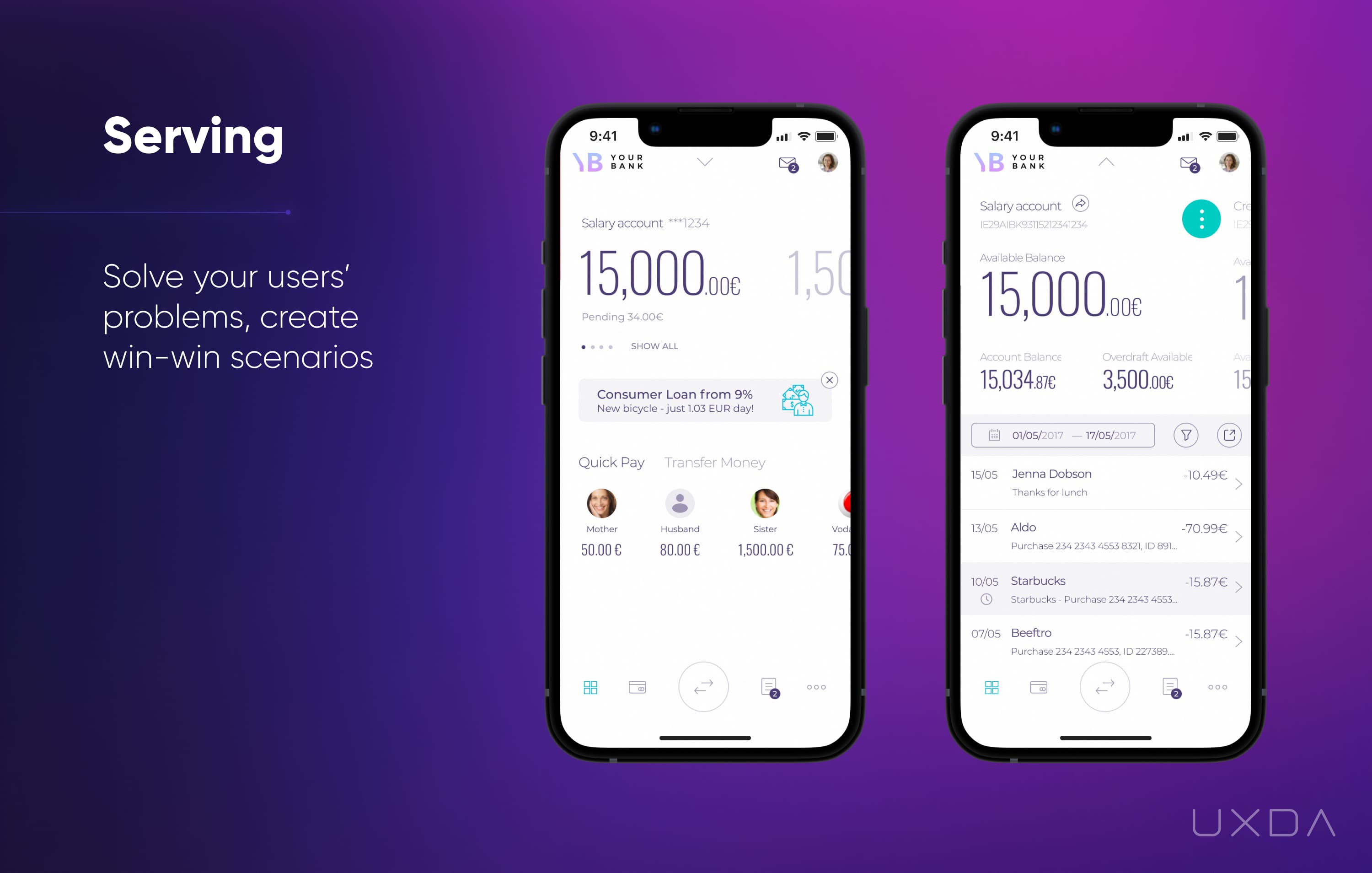 "Win-win" scenarios in which the main aim is to help customers, instead of manipulating them, will pay off with customer loyalty and referrals.
Making human-centricity a cornerstone of the financial company values and culture, makes the service a magnet that attracts customers and ensures the financial brand's success.
Get UXDA Research-Based White Paper "How to Win the Hearts of Digital Customers":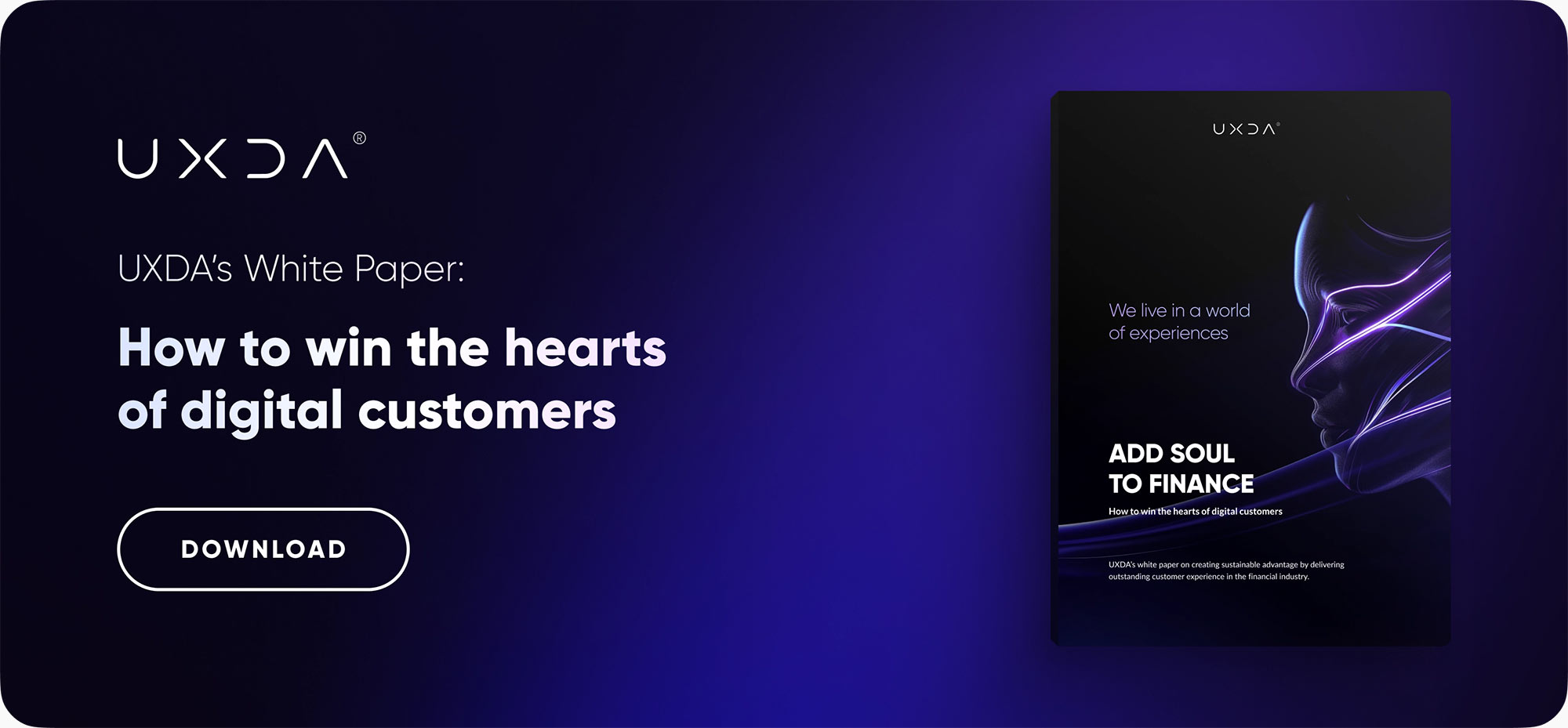 If you want to create next-gen financial products to receive an exceptional competitive advantage in the digital age, contact us! With the power of financial UX design, we can help you turn your business into a beloved financial brand with a strong emotional connection with your clients, resulting in success, demand, and long-term customer loyalty.