The digitalization of the banking industry is rising, and here ready-to-use digital banking software designed by IT vendors plays a significant role. But how to choose the best banking software provider in terms of UX? What threats using third-party software can appear for financial technology in the future and how to avoid them?
Software Vendors Provide a Bridge from Offline to Online Banking
Banking software providers are companies that develop and sell software solutions for the banking industry. These solutions can include a wide range of applications, such as online and mobile banking platforms, customer relationship management (CRM) systems, fraud detection and prevention systems, loan origination and servicing systems, and accounting and reporting systems.
The role of banking software providers is to provide banks with the tools and technology they need to operate effectively and efficiently and to meet the evolving needs and expectations of their customers. Banking software providers work closely with banks to understand their specific requirements and challenges and to develop and deliver software solutions that meet their needs.
Some of the key responsibilities of banking software providers include:
Developing and maintaining software solutions for the banking industry
Working closely with banks to understand their specific needs and requirements
Providing ongoing support and maintenance for the software solutions they provide
Keeping up-to-date with the latest trends and developments in the banking industry
Providing training and support materials to help banks and their staff use the software effectively.
Cooperation with banking software vendors will provide banks with the speed and flexibility essential in the Fintech era. Such financial technology providers have large experience, and special skills, and are ready for the prompt implementation of digital solutions. As a result, it saves time and resources for banks when moving their services from offline to online.
According to Apps Run The World research in 2021, the top 10 Banking and Financial Services software vendors accounted for nearly 47.9% of the market. And the world's leading banking software providers are:
1. Microsoft
2. FIS Global
3. SAP
4. Oracle
5. NCR Corporation
6. Jack Henry & Associates
7. Temenos Group AG
8. Fiserv
9. SS&C Technologies
10. ICE Mortgage Technology
Main UX Risks of Banking Software Provided by Vendors
It's essential to look at the UX of digital solutions provided by banking software vendors. Every financial company wants complete digitalization as soon as possible, but in the end, the UX will define if the users stay with the bank or prefer another banking service with an easy-to-use and pleasant digital product.
Let's try to identify the main UX risks banks need to take into account when choosing the best banking software vendor:
1. The lack of user-centricity
Third-party core banking software development teams usually consist of many engineers. They have excellent technical skills, as the banking software development process is incredibly complicated, and the highest levels of stability and security has to be implemented. In this corporate culture, the "technical genius" usually gets promotions and becomes the leader. Unfortunately, UX architects and UX/UI designers as user advocates do not always have a proper place in the such a development team.
A strict technical orientation may create a lack of empathy in the whole team, which is a necessary element for user-centered financial solutions. It gets more complicated when there is a lack of clear understanding for whom the final solution is intended and the end-users who will be employing it. It is challenging to evaluate user scenarios and provide the best UX while creating a universal solution for any bank.
Of course, often vendor designers can provide a modern-looking software interface design. But what looks good for sale doesn't always match the key-user scenarios and may not have good usability. Best banking software providers with good UX, involve in their team UX architects with expertise in user psychology, marketing, financial services, business processes, technical solutions, and interface design for different digital platforms.
2. Over-featuring
Banks usually choose banking software providers based on the solution's technical aspects and offered functions. In response to their request, banking software vendors pay special attention to the functionality scale. Dozens of extra functions are often used as an additional benefit to sell the digital banking platform.
However, recent studies of user behavior indicate that it's not enough to focus on a number of functions. For users, it is more important service usability. If it is too complicated and inconvenient, the user will switch to an alternative - a simple service, which may even lack some functions.
Particular attention should be paid to the user's needs and desires throughout the whole bank-software vendor chain - from the bank's management to the vendor's management and developers to optimize the banking product by collecting users' feedback and constantly improving the UX.
Realizing this, many banks actively switch from buying just functions to user-centered solutions. The best customer-centered banking software vendors do not deliver software, they deliver end-user experience.
3. Outdated experience
The development of complex banking software takes years and millions of investments. Across these years a core banking software provider should consider all possible requests of the different banks in advance. Unfortunately, many solutions may become out-of-date at the moment of release as technologies change rapidly. This leads to an experience shortage in ready-to-use solutions.
A modular development approach comes in handy here. The development and delivery of separate modules simplify the implementation of integrated solutions. It also provides good opportunities for small vendors dealing with a narrow development on the market. But sometimes this does not meet the complex needs of large banks, and this can cause integration difficulties.
4. Platform limitations
The main goal of an omni-channel banking platform is to offer a universal solution. That's the only way the internet banking vendor can ensure the platform with further support and development and save banks' resources. But there's another side of the coin: this solution does not always fulfill every possible need and use case of bank and their end-users.
As the IT vendors' main efforts focus on creating a universal and stable backend solution, user interface design and user experience could become a platform "hostage". It's essential for the bank that the product reflects the bank's image, creates an emotional interaction, and strengthens customer loyalty through the best UI solutions and also a perfect UX. But in the limited terms of a standard solution, it is not always possible to ensure that the product meets the bank's needs and considers all the aspects of user behavior.
Best banking software vendors provide UX customization as an integral part of the financial software to manage this. They develop and use advanced Design Systems to provide the flexibility needed for the solution implementation to the needs of a particular bank.
5. Over-complexity
The development of a universal ready-to-use banking solution implies a lot of work. This solution should cover different user scenarios from different banks and regions. In its essence, this solution is a complex super-set that can be configured to the request of a particular bank.
It's difficult for such a complex solution to provide the user with a simple and enjoyable use flow for every scenario. In addition, it gets worse when new elements (not provided in the basic architecture) need to be added at the bank's request after the sale.
This can lead to a highly negative UX caused by the information architecture complexity, bad navigation, an increase in the user-learning curve, user cognitive overload, and overall frustration caused by friction.
Therefore, special attention must be paid to the banking software information architecture: it must be intuitive and scalable.
Main UX Criteria and Steps for Choosing the Best Banking Software Provider
From our experience, banking software vendors are improving their products and want to make them user-centered. They hire UX experts to work on finance software design within their product development team to achieve that. They also cooperate with external UX agencies and consultants. At the same time, banks are getting increasingly active in managing the above-mentioned risks on their own.
In particular, some banks separate the implementation of the core platform and the development of the UI/UX frontend solution. This allows them to use a ready-to-use vendor solution while establishing the best UX in cooperation with the UX design agency such as ours.
Banks should pay attention to five key UX design aspects when choosing the ideal banking software platform:
Make sure that the solution corresponds to the bank's UX strategy
It is necessary to have a clear UX strategy to choose the ideal vendor to maximize the bank's value for customers. What is the bank's digital strategy? What banking services are the most essential and demanded? What form should they have in digital channels? What user emotions and reactions should be according to the bank's positioning and identity?
A formal visual language is unsuitable for an informal and revolutionary bank and vice versa. For example, strict lines and a template interface may conflict with the image of a democratic and friendly banking brand. Digital products should represent the key values of the bank.
Check how simple and intuitive the information architecture is
It's vital to see if it's easy for users to understand the banking platform information architecture. It's not just about the beautiful software interface design, but also about the administrative environment. Over-complicated and confusing interfaces increase training costs and the risk of errors. Also, they irritate and discourage users. Take care of employees' experience (EX).
Make sure that the sections and content blocks are grouped into clear and user-friendly way. Ideally, you should minimize the number of key sections and modules. This will help the user to quickly frame the actual service mind map. Use clear naming in navigation and avoid professional slang.
Make sure that the solution provides key user scenarios in an easy and fast way
Make a list of priority user scenarios according to their current behavior. Thus, each digital banking product generates a list of user expectations.
Based on this list, it is possible to evaluate to what extent the product offered by the vendor is usable and whether it will meet the real needs of the bank's customers. These scenarios' execution should be simple and understandable for any user.
In addition, a user's Failure Map should be developed for a deeper analysis. After all, the negative experience is best remembered. Therefore, a good solution must take into account any possible bad scenario.
Measure performance compared to other alternatives
The products are launched in a competitive market. Banking users have more and more opportunities to choose from. They compare different solutions with different criteria: technology, visual environment, convenience, cost, clarity, and simplicity.
Make sure that the solution offered to your bank beats your competitors or is at least at the same level. It should look modern and offer a cutting-edge user experience in solving customers' problems.
Reserve the opportunity to tune up UX after users' feedback
Delivering the best UX does not finish once the digital financial service is launched. Users' feedback should be a powerful source of insights for constant product improvement.
Therefore, you must ensure that the banking software vendor will make changes after the solution is released and ready for continuous platform development. It is also important for the bank to get access to the software to improve the product UX themselves.
There are several key steps to choosing a software vendor for your bank:
1. Identify your needs and priorities
Before you start looking for a software vendor, it's important to take some time to identify your bank's specific needs and priorities, especially in UX strategy and product requirements. This will help you narrow down your search and focus on vendors that can provide the solutions you need.
2. Research potential vendors
Once you know what you're looking for, you can start researching potential vendors. This might involve reading online reviews, talking to other banks that have worked with the vendors you're considering, and attending industry conferences and events to learn more about the latest developments in the banking software market.
3. Evaluate vendor capabilities
After you've identified a few potential vendors, it's important to carefully evaluate their capabilities to ensure that they can meet your needs. This might involve looking at the specific features and functions of their software, as well as their track record in the banking industry and their ability to provide ongoing support and maintenance.
4. Compare pricing and contracts
Once you've narrowed down your list of potential vendors, it's time to compare their pricing and contracts to ensure that you're getting the best deal. This might involve looking at factors like upfront costs, ongoing fees, and the length and terms of the contract.
5. Make a decision
After considering all of these factors, you should be in a good position to make a decision about which software vendor to work with. Be sure to carefully weigh all of the pros and cons before making your final choice, and don't be afraid to ask for additional information or clarification if you need it.
Conclusion
When choosing a banking software provider, it is important to consider their track record in terms of user experience (UX) design. Some key factors to consider include the overall usability and intuitive design of the software, as well as its accessibility for users with disabilities.
You should look for a provider that offers features and functions that are relevant to your banking needs, and that can be easily integrated with other systems you may already be using. It is also important to consider the level of support and training provided by the vendor, as well as their reputation and customer satisfaction ratings. Ultimately, the best provider for you will depend on your specific needs and priorities, so it is important to carefully evaluate your options before making a decision.
Digital banking solution vendors play an important role in banking. This influence will grow in the total digitalisation and open banking age. Taking this into account, banks need to clearly state their needs and encourage IT vendors to develop in the right direction. Banking platform vendors should consider their responsibility for the financial industry future. The users' choice of banking service, or their decision to search for a Fintech alternative depends on how innovative, user-centered, delightful and usable banking vendors solutions are.
Banking Software Vendors Served by UXDA Get in Forrester TOP >>
Get UXDA Research-Based White Paper "How to Win the Hearts of Digital Customers":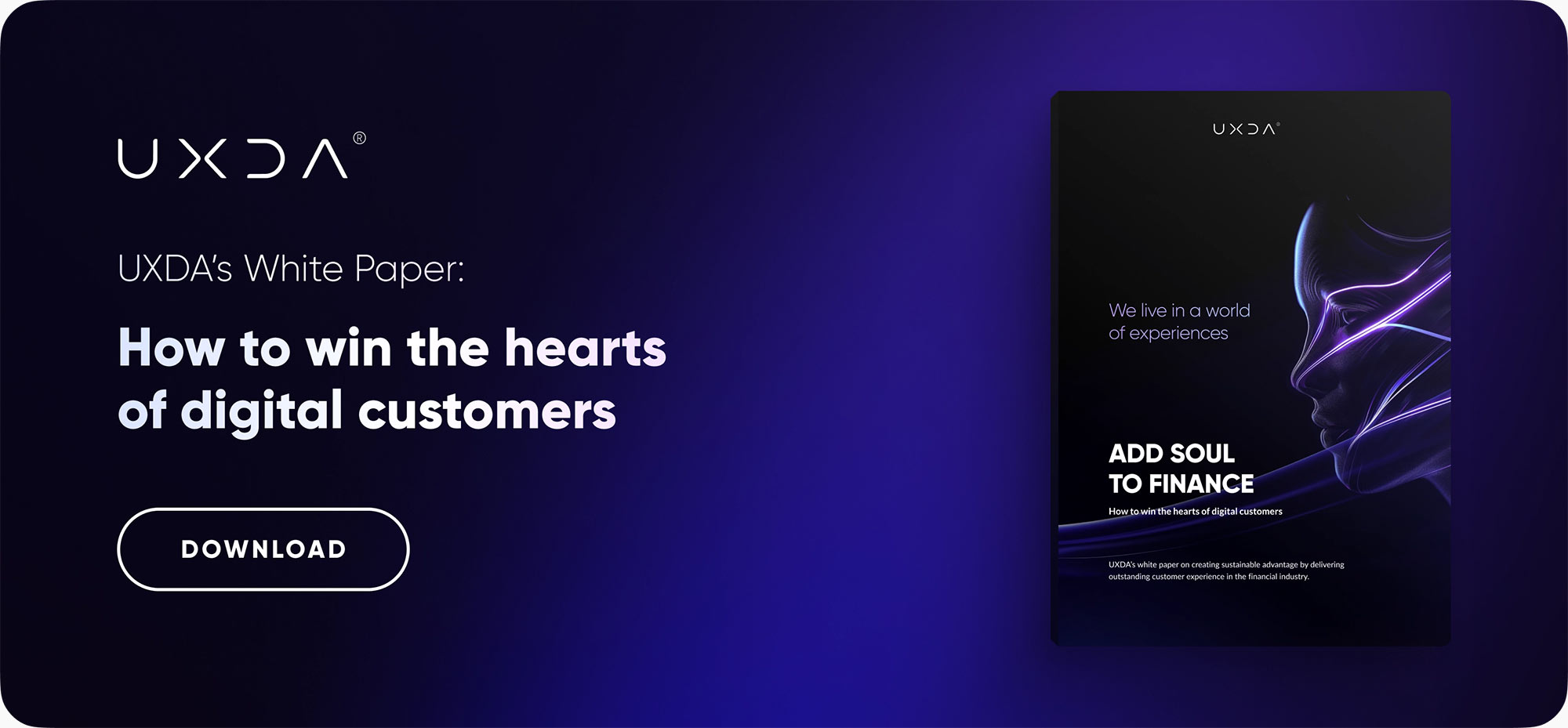 If you want to create next-gen financial products to receive an exceptional competitive advantage in the digital age, contact us! With the power of financial UX design, we can help you turn your business into a beloved financial brand with a strong emotional connection with your clients, resulting in success, demand, and long-term customer loyalty.