The Founder CEO of UXDA and the creator of the unique Financial UX Design methodology Alex Kreger has been accepted into the Forbes Business Council. It's a globally famous invitation-only organization for successful business owners and leaders worldwide.
UXDA's Founder CEO Alex Kreger Becomes a Member of Forbes Business Council
Alex Kreger was vetted and selected by a review committee based on the depth and diversity of his experience as a successful UX strategist, helping financial companies all over the world maximize their business potential through digital transformation with the power of financial UX design. Criteria for acceptance include a track record of successfully impacting business growth metrics, as well as personal and professional achievements and honors.
The Financial UX Design methodology created by Alex Kreger has been recognized by globally famous design and finance awards like IF Design Award, A' Design Award, European Business Award, Banking Technology Award, International Design Award (IDA), London Design Award. As well as, led by Kreger UXDA has become a well-know influencer in the field of financial UX with a following of 300K financial industry professionals from 128 countries.
We are honored to welcome Alex into the community. Our mission with Forbes Councils is to bring together proven leaders from every industry, creating a curated, social capital-driven network that helps every member grow professionally and make an even greater impact on the business world.
Founder of Forbes Councils Scott Gerber
As an accepted member of the Council, Alex will be sharing his expert insights about digital transformation in banking and Financial UX design in original business articles on Forbes.com, and contribute to published Q&A panels alongside other experts.
I'm honored to become a member of this prestigious organization, as it will be a fantastic opportunity to share the knowledge and experience of my company. It will allow us to expand our mission to humanize the financial industry with user-centered design and encourage more and more financial companies to maximize their potential by digitalizing and becoming user friendly because that is where the future of the financial industry lies.
States Alex Kreger, the Founder CEO of UXDA, the member of Forbes Business Council.
Forbes Councils is a collective of invitation-only communities created in partnership with Forbes and the expert community builders who founded Young Entrepreneur Council (YEC). In Forbes Councils, exceptional business owners and leaders come together with the people and resources that can help them thrive.
UXDA is the world's first financial UX design company that's maximizing the financial business potential through the power of Financial UX Design methodology.

UXDA is working with 100+ financial institutions from 36 countries, helping to reach the peak business efficiency through the Financial UX Design Formula, Matrix, and the three pyramids of Value, Design, and Execution. UXDA's mission is to help financial companies make an impact in the world by creating an overall UX strategy, designing and engineering user-centered digital products, and conducting user-centricity workshops worldwide.
Alex Kreger on Banking Transformed Podcast by Jim Marous
Recently, Alex took part in an episode of the Banking Transformed podcast (iTunes Top 5 Podcast in Banking and Fintech) by one of the world's TOP 3 financial influencers, Jim Marous. They discussed how financial organizations can use UX design to maximize the product value for the users and enhance the digital transformation.
The episode with UXDA's CEO Alex is the most popular one alongside the interviews with such digital transformation leaders and influencers as Steve Wozniak, Brett King, Chris Skinner, Gary Vaynerchuk and Sonia Wedrychowicz.
Get UXDA Research-Based White Paper "How to Win the Hearts of Digital Customers":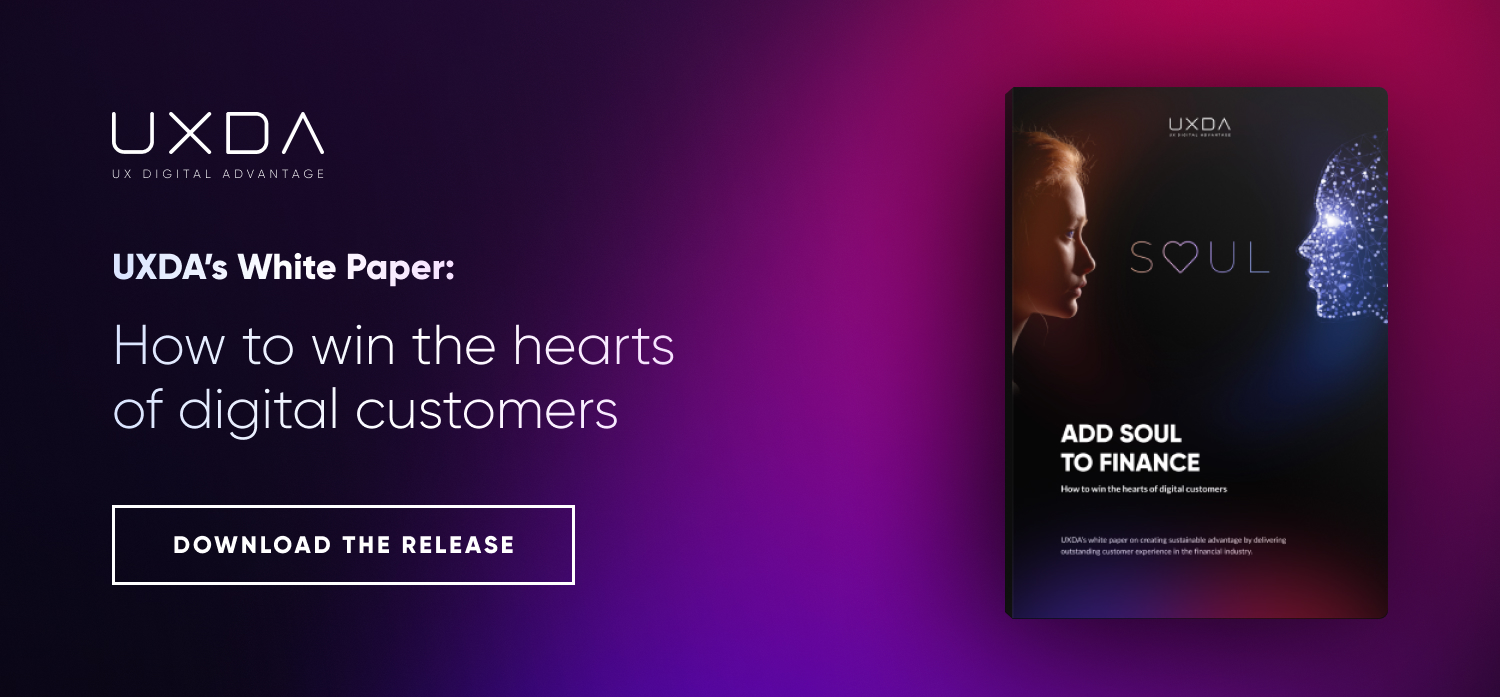 If you are seeking an exceptional competitive advantage in the digital age, contact us! With the power of financial UX design, we can help you turn your business into a beloved financial brand that has a strong emotional connection with your clients, resulting in success, demand and long-term customer loyalty.