The banking software vendor company, ITTI Digital, has undergone a massive transformation. They partnered with UXDA to move a 15-year-old core banking solution into the cloud. This core banking digital transformation has ensured a dramatic increase in banking's service speed, employee productivity and customer satisfaction. The learning curve of banking employees has been reduced from several weeks to a few hours. Also, the potential for costly human errors has been significantly decreased. The new cloud-based core banking system design has provided ITTI Digital with the opportunity to expand in the global market. With ITTI Digital's permission, we are sharing an exclusive core banking case study on designing a next-gen banking back office that aimed to become a game-changer in the industry.
Core Banking Digital Transformation Wins the World-Famous IF Design Award
A few months after this case study was released, it was announced that this core banking system designed by UXDA has received one of the world's most famous design prizes - the IF Design Award.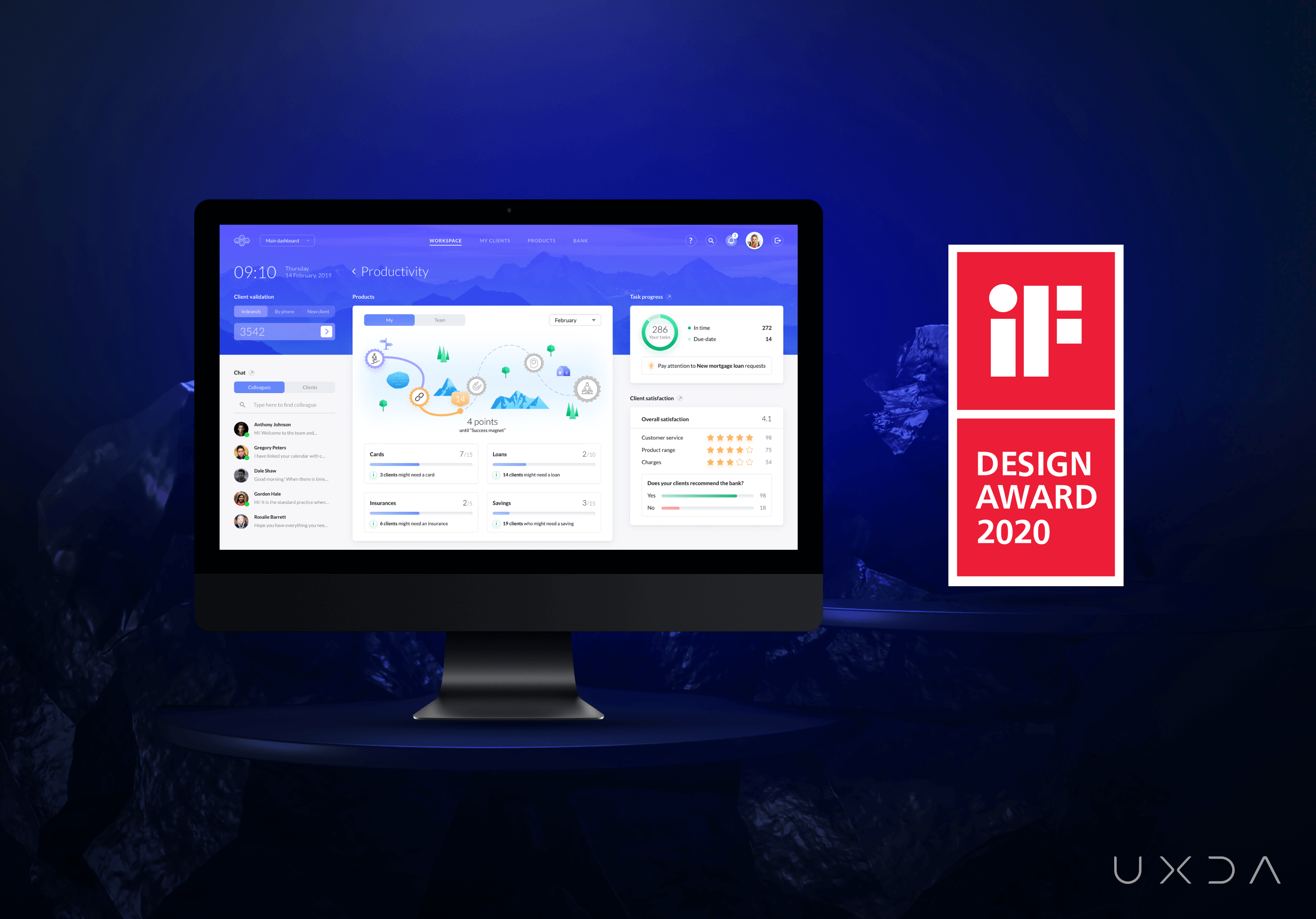 It was awarded in the Service Design category alongside Apple that was recognized for its digital finance service design of the well-known Apple card.
The international jurors of 78 leading design experts from all over the world recognized UXDA's core banking solution UX/UI design for its exceptional transformation embodying a mission to inspire and lead the financial industry to a better future.
UXDA formula to design awarded financial products
Problem: Outdated Core Banking System Ruins User Experience
It's a well-known yet well-hidden fact that core banking back-office solutions are causing a lot of problems. The banks themselves are often embarrassed about the outdated solutions that go against their modern-looking appearance.
The impact of an outdated banking back office system is much stronger than it seems at the outset. It drastically reduces the speed, quality and value customer service could provide. But, most importantly, such design of banking system demonstrate to banking employees that a modern digital approach is not valued. Thus, despite fancy looking customer solutions, the inner culture is often negatively impacted by a lack of human-centered solutions.
So, the ugly truth is that today the majority of current banking back-office solutions are slow, complex, clumsy and leading the employees to mistakes instead of helping to avoid them.
Core Banking Digital Transformation: Paraguay's Top Solution Moves to the Cloud
ITTI Digital provide the most recognized core banking solution in Paraguay with more than 20 years of evolution. It has the following modules: Clients and Signatures, Loans, Savings, Cash and Treasury, Changes, Accounting, Regulatory Reports, Cards of Credits, Collections, Fixed Assets, Suppliers, Supplies, Py Payment Systems, Money Desk, CRM, SIG (Business Intelligence), SGR (Risk Management System), SIR, Homebanking, TAS, Quotes, Superintendency, Module Accounting, Human Resources, Comex, Guarantee Management, Credit Limits, Engine, PDCA. 30% of the financial transactions carried out in Paraguay are through the Financial Core developed by ITTI Digital.
Companies around the world are moving to the cloud to increase IT agility, achieve limitless scalability, increase reliability and reduce costs. By integrating cloud banking, banks can innovate faster by focusing their IT resources on improving digital products and customer experiences rather than managing infrastructure and data processing.
Cloud-based core banking is becoming increasingly essential for banks in the future due to several key factors:
Digital Transformation
The banking industry is undergoing a significant digital transformation. Customers are demanding more convenient and personalized digital banking services. Cloud-based core banking solutions offer the agility and flexibility required to deliver innovative digital products and services quickly. Banks need to embrace cloud technology to stay relevant and meet the evolving expectations of their tech-savvy customers.
Cost Efficiency
Traditional on-premises core banking systems require significant upfront investments in hardware, infrastructure, and maintenance. Cloud-based solutions provide a cost-effective alternative by shifting the infrastructure and maintenance burden to cloud service providers. Banks can reduce capital expenditures, optimize operational costs, and allocate resources more efficiently by adopting cloud-based core banking solutions.
Scalability and Elasticity
The scalability and elasticity offered by cloud-based solutions are vital for banks to accommodate changing customer demands. Banks need to scale their resources up or down quickly to handle fluctuating transaction volumes, seasonal peaks, or sudden spikes in demand. Cloud infrastructure allows banks to dynamically adjust resources, ensuring optimal performance, and avoiding overprovisioning or underutilization.
Data Analytics and Insights
Cloud-based core banking solutions facilitate efficient data collection, storage, and processing. Banks can leverage the cloud's computing power and advanced analytics tools to gain valuable insights from their vast amounts of data. These insights enable banks to better understand customer behavior, make data-driven decisions, improve risk management, and offer personalized products and services.
Regulatory Compliance
Banks operate in a highly regulated environment. Cloud-based core banking solutions can help banks meet regulatory compliance requirements more effectively. Cloud service providers often have robust security controls and compliance frameworks in place, such as encryption, access management, and audit trails. Banks can leverage these capabilities to ensure data privacy, maintain regulatory compliance, and adhere to industry standards.
Business Continuity and Disaster Recovery
Ensuring uninterrupted banking operations and disaster recovery is crucial for banks. Cloud-based solutions offer built-in redundancy, automated backups, and disaster recovery mechanisms. In case of a disruption or disaster, banks can quickly recover data and applications from off-site cloud backups, minimizing downtime and ensuring business continuity.
Innovation and Collaboration
Cloud-based solutions provide banks with the opportunity to collaborate with fintech partners and leverage emerging technologies. Banks can easily integrate with third-party applications, open banking platforms, and other financial service providers through APIs. This integration capability enables banks to offer innovative services, expand their product offerings, and create a more connected ecosystem that benefits both the bank and its customers.
The main challenge of ITTI Digital when they started working with UXDA was to create cloud-based core banking by designing a SaaS solution 100% focused on the employees. User-centered core banking next-gen design that would take into account all bank employees' pain points, needs and daily tasks, making their job easier, enjoyable and more meaningful from a banking end-customer perspective.
To achieve this, UXDA unique Financial UX Design Methodology was used. It was developed over a period of 10 years and has already proven itself by ensuring success for more than 100 financial digital products in 36 countries. The full ITTI Digital banking transformation can be divided into four main stages realized through UXDA Financial UX Design approach: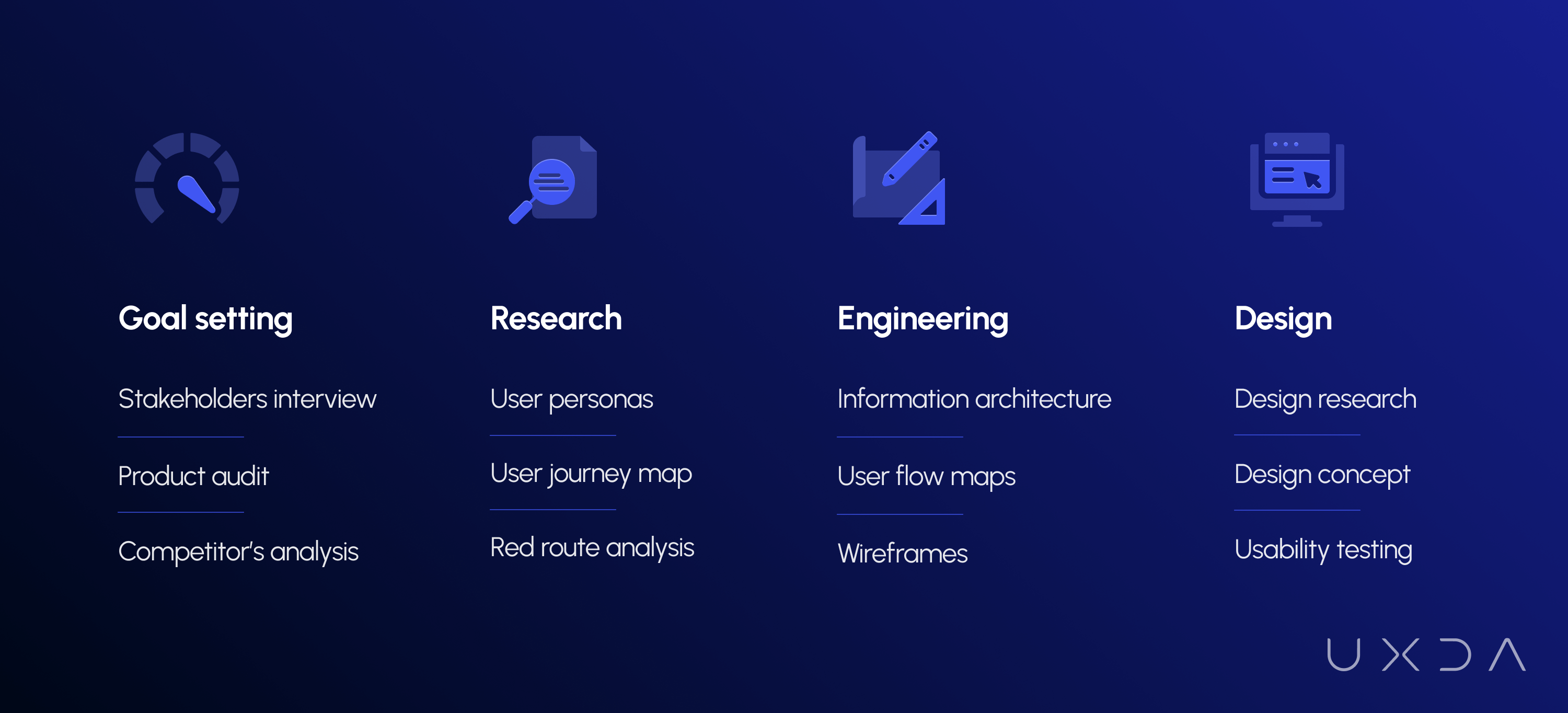 1. Empathize: Ultimate Power of Joined Vision
Every success is defined by a clear target statement. In this phase, together with ITTI Digital, we crystallized and developed an understanding of where the company is going with the new product. From a project success perspective, it is vitally important to ensure that all stakeholders are on the same page.
The Stakeholders' Interview: Is That a Triangle or a Square?
One of the biggest challenges is that often large teams find it hard to reach a common understanding; everyone has their own vision about the company strategy and the new product goals.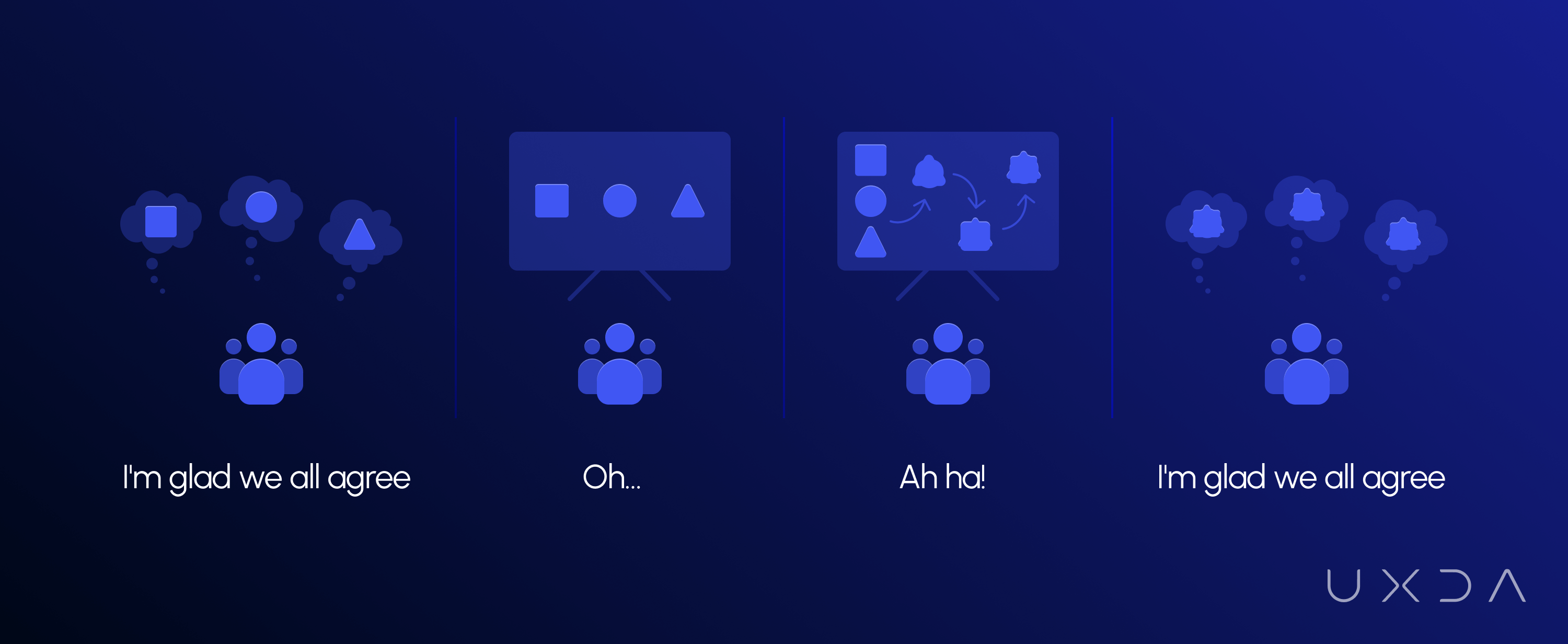 In the worst case scenario, all of the team members are certain that they think the same until faced with problems that arise because of misunderstandings.
We started the research stage by conducting an interview with ITTI Digital stakeholders. Through this, we found the overall specifics of our client's business and motivation for redesigning their existing product.
ITTI Digital turned to UXDA after trying to make their company user-centered on their own. They had heard a lot about user experience and Design thinking, but the efforts to make it work weren't successful. There was something missing that they couldn't figure out. ITTI Digital realized that it's not only about interface design or product features, which is why they decided to trust the financial design approach developed by UXDA.
ITTI Digital aimed for something more significant than just creating an appealing product design; they were willing to generate the next-level market opportunity.
At this point, they weren't yet aware of the huge journey this decision would take them on. In the following months, ITTI Digital underwent a courageous shift of implementing user-centered design throughout the whole core of the business, including strategy, processes, culture and customer service.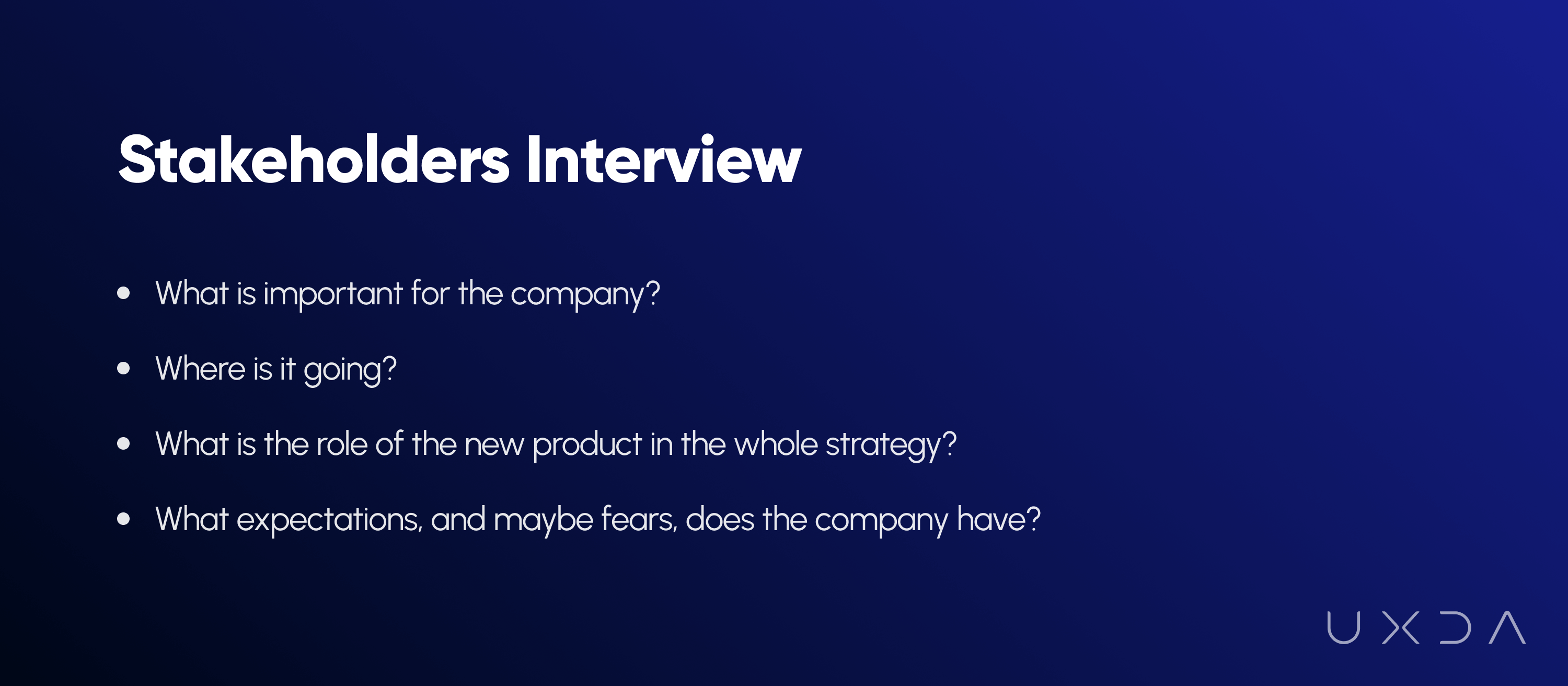 During a stakeholder interview, the ITTI Digital board gained a clear view about the huge changes necessary in their current product and overall business approach. This was the only way to achieve the desired goals, despite the frightening complexity and seeming impossibility of desired changes.
Some of the ITTI Digital team members felt nostalgic about putting the old solution to rest, as it had operated for more than 10 years, but, at the same time, they were certain that it was the right thing to do. The company was ready for in-house revolution.
Key Insight
ITTI Digital developed a strong belief that the current product was outdated and provided a terrible user experience. They agreed; in order to succeed, the product required serious and thorough changes.
The Product Audit: What do we Have Here?
After gaining a clear picture of the ITTI Digital business philosophy, strategy and goals, we investigated their current solution and its flaws. At this stage, it is important not to miss the primary product value and advantages, and explore it from a user perspective. Hundreds of functions and user scenarios can easily distract from it and hide its core value.
From the first sight, the ITTI Digital initial product was fragmented and overloaded with functionality. The appearance reminded us of Windows 98, just like most currently available core banking solutions. Instead of helping banking employees, it just confused them. That's why weeks of learning are needed.
ITTI Digital Innovation manager, Hector, guided the UXDA team through the current solution. Usually, vendors know their product really well and do not notice its complexity. While guiding us through the solution, the ITTI Digital team got a chance to look at their product from aside. During this, we asked questions from a user perspective, and Hector noted himself that the solution seemed heavy, and some of the extra functionality did not make sense.
Competitors' Analysis: Learning from Our Rivals
During this stage, we profiled the competitor companies, their core-banking solutions and how they position themselves in the market. We observed the ITTI Digital competitor successes and failures and analyzed their advantages and weak points in the customer experience. This provided a clear view of the industry background to the team.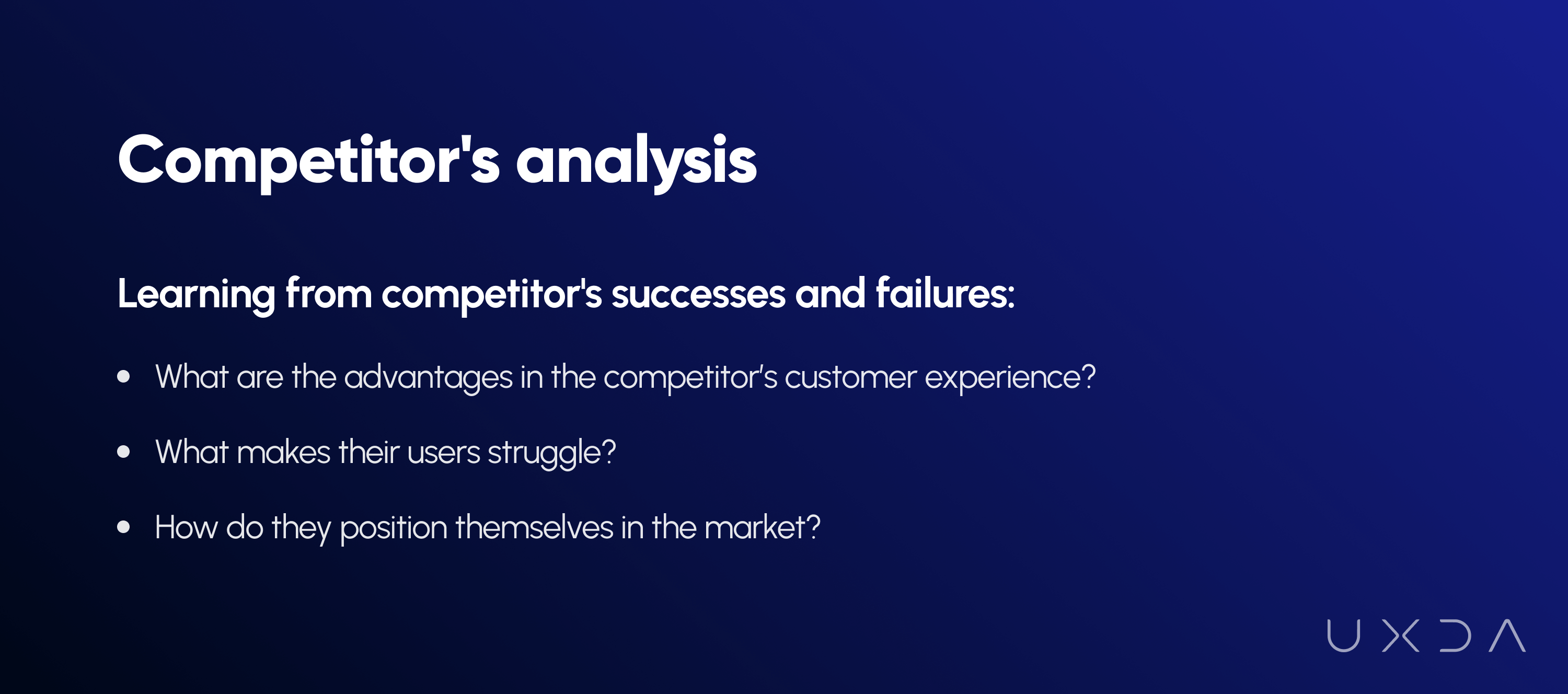 ITTI Digital uncovered a huge opportunity to differentiate their product because of the fact that the majority of currently available back-office products offer inconvenient and outdated solutions. This inspired the whole team to double their power in moving forward to offer the industry a brand new approach with a completely reinvented and revolutionary product.
2. Research: Pain and Gain Defines Everything
The very core of the whole ITTI Digital back-office rebirth was user research. Skipping this stage could have resulted in going in the absolutely wrong direction and could even potentially led to the launch of a completely useless product.
At the beginning, ITTI Digital might have thought that they knew their users well. However, during the research, they discovered that their assumptions about the user needs and wants didn't always match up with reality. It is necessary to meet and try to empathize with real people.
Key Insight
The research phase connected ITTI Digital to its users - the banking employees. It defined what features we had to include in the new core banking solution so that users' needs and expectations would be fulfilled.
User Personas: Putting a Face to a Name
Research of ITTI Digital user personas was the foundation for a solution that would be not only aesthetically pleasing but, most importantly, highly practical and usable. Here, it was crucial for us and ITTI Digital to get in touch with the people who were using the solution every day.
ITTI Digital became aware of banking employees' needs, emotions and pains. It was also hugely important to understand in great detail the everyday routines and duties of different employee positions in a bank.
Creation of ITTI Digital user personas required a huge amount of research. We collected data from:
ITTI Digital inner database;
Public databases;
Research;
UXDA inner database;
End-user interviews.
The most valuable insights and information were gained from conducting user interviews. This provides an emotional connection with potential users and helps you to feel their pain points and empathize with their current experience. Thanks to ITTI Digital, we got the chance to interview 21 real end users─people who were dealing with the old back-office solution daily.
I wasn't sure about the responsiveness of the employees willing to share their insights about the old solution, but it turned out to be a surprise when more and more people were willing to share their thoughts. This turned out to be a truly emotional phase of the whole process as the employees were so keen to speak out, and for the first time we really got to discover their needs that the current service wasn't satisfying.

Hector Ojeda, ITTI Digital Innovation Manager
It seemed like the employees had been waiting an eternity for this moment. They were eager to share their thoughts and emotions on the current relationship with the back-office solution.
The employees felt that the current solution was overloaded and complex. Even after 15 years of working in a bank, a user still didn't understand all the functionality. Unfortunately, instead of helping, the banking software created friction.
Key Insight
Creation of the user personas completely changed the way ITTI Digital perceived their own product. For the first time, they viewed it through the eyes of the users. During the interviews, we found out what was missing in the service and what was causing the biggest struggles from the employee's point of view.
The banks have many departments and divisions with various employee positions, but, based on the data collected, it was enough to create four user personas in different positions within the bank:
customer service specialist,
branch manager,
back office operative,
risk manager.
The creation of these four user personas allowed us to get a detailed look at the employees' Jobs-To-Be-Done (JTBD) or so called user scenarios by putting digital interactions into real-person experience and context. Nevertheless, the final core banking solution should be usable by every department and position in the bank because of matching architecture to a full set of jobs that customers hire product for.
We walked a day in the customers' shoes to experience the daily lives of banking employees, and we discovered a lot of struggle and negative emotions caused by their existing solutions. This allowed us to create empathy maps, collecting what users think and feel about executing their duties. This defines very valuable context of previously detected Jobs-To-Be-Done.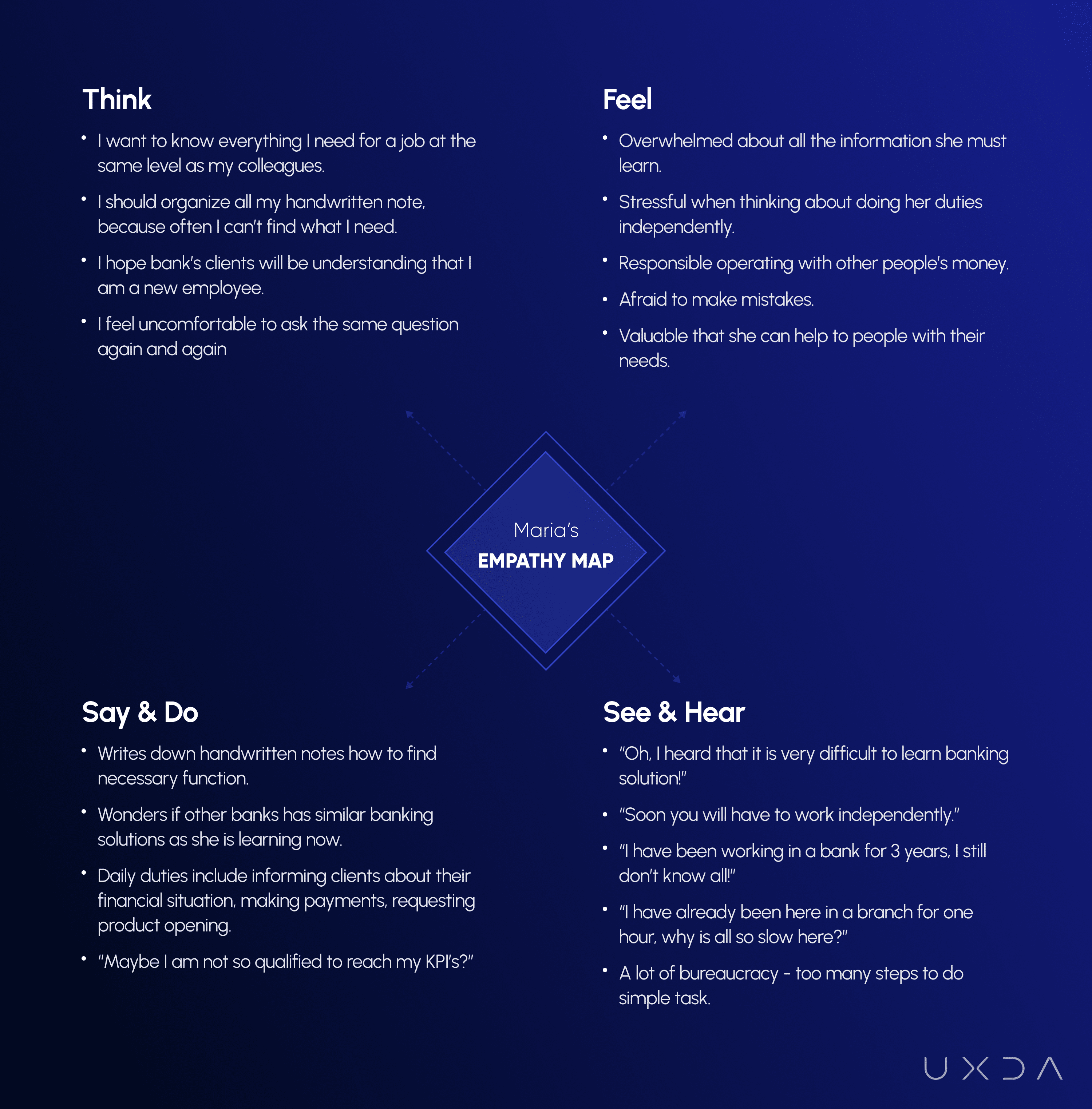 An empathy map allowed us to define more employee pain points that we had imagined there would be. This is a key milestone in extracting potential product value. Sometimes, those insights are hard to accept for product owners because they prefer to believe that everything is fine. The ITTI Digital team was happy to see those findings and were ready to use it for improvement.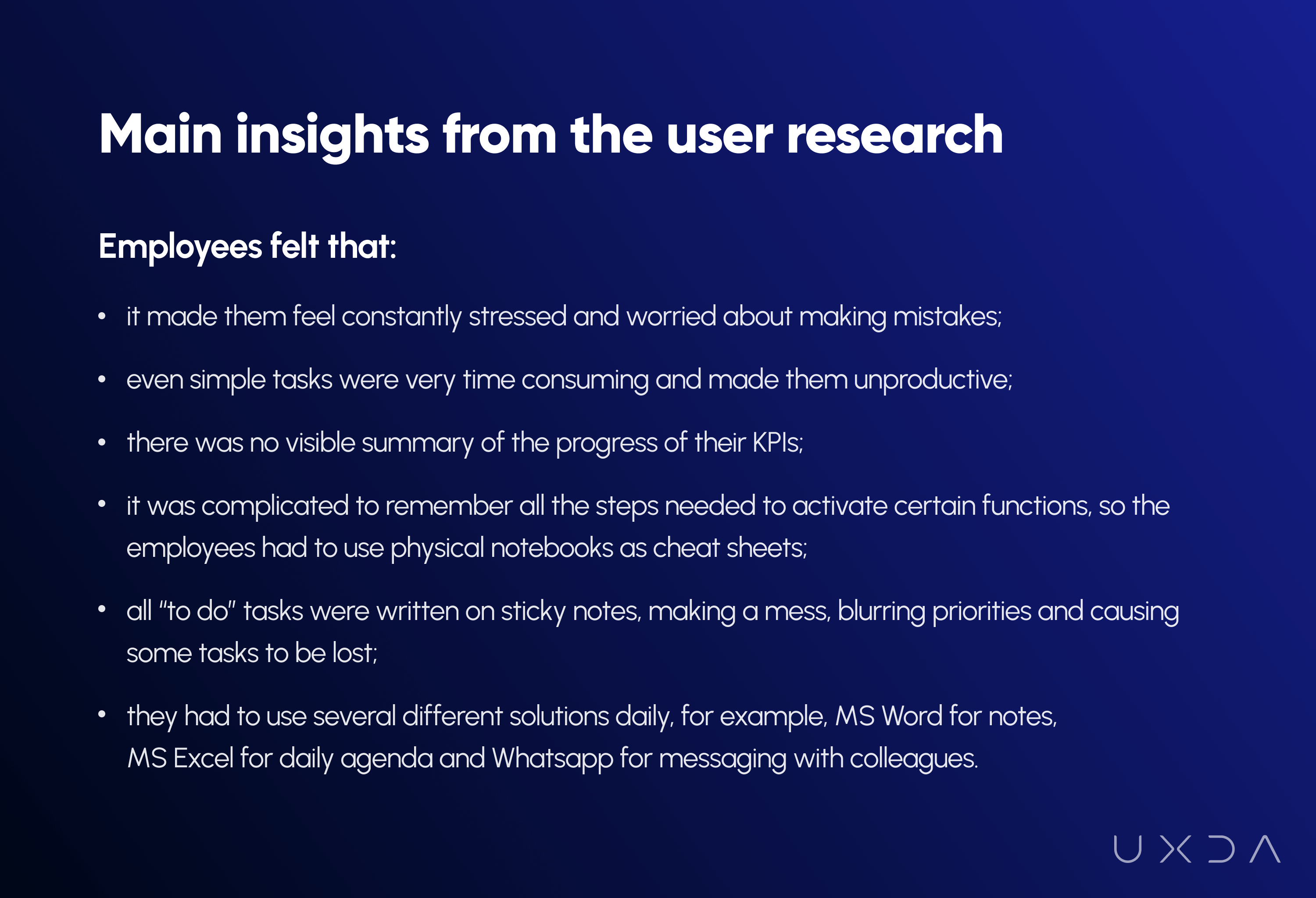 3. Define: Find a Solution That Saves the World
Now it was time to gather all the insights we gleaned about business, users and product and put them all on one timeline. This timeline would show us how users will interact with the product on a step-by-step basis. As a result, we could match hundreds of previously gained findings together and, at the end, find a product idea that would provide needed solutions.
User Journey Map: Designing an Ideal User Experience
The User Journey Map was a huge turning point for the ITTI Digital business and culture. It divided everything in terms of "before" and "after" by causing a complete mindset shift in how the company viewed its product, users and even the business processes as a whole.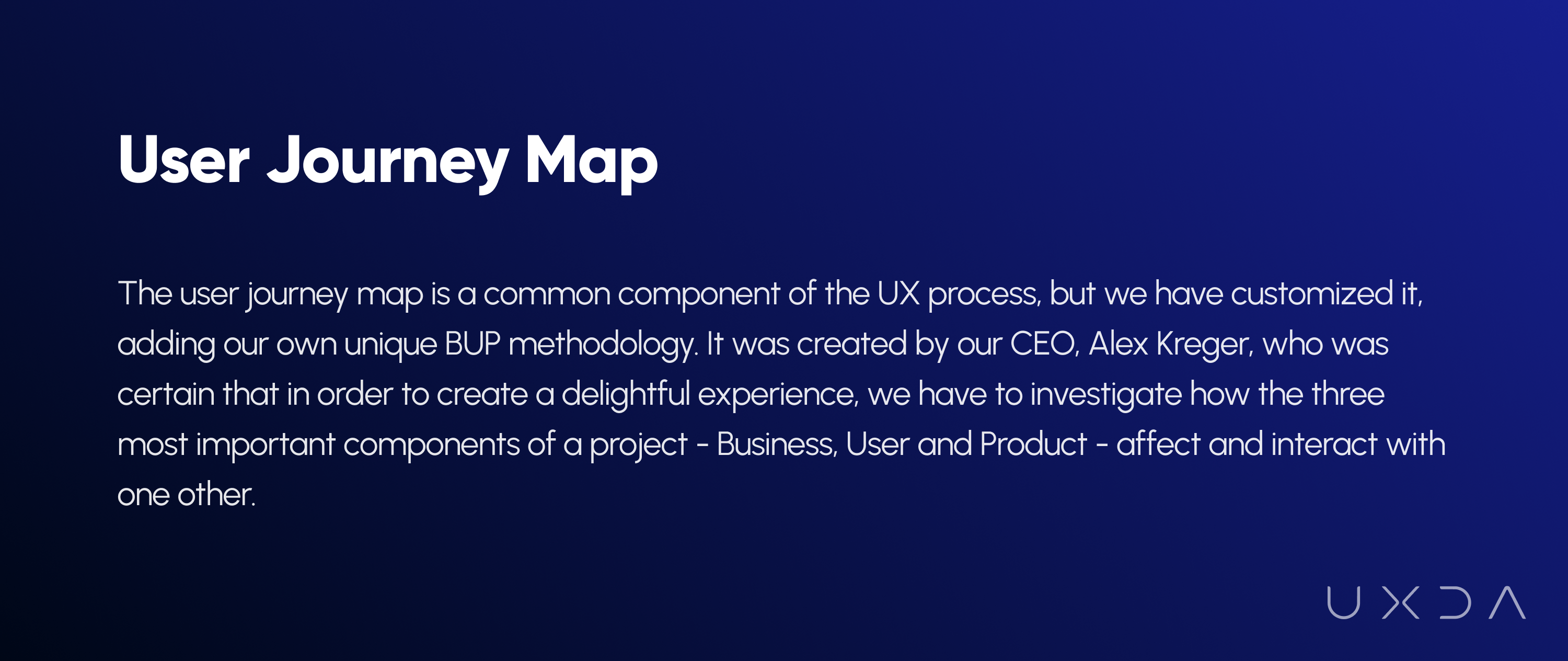 User Journey Map was one of the most voluminous and important deliverables of the ITTI Digital project. It was created during a two-week workshop with intense daily calls with the ITTI Digital team. Their active participation was crucial as this was another important step to ensure that all team members shared the same understanding of what Jobs-To-Be-Done customers expect from the product and how users would interact to achieve it.
The creation of ITTI Digital User Journey Map was challenging because we had many different users with access to different functionalities. During the workshop, we changed the UJM framework five to six times until we found the best way to show one holistic user journey through it. In total, 745 inputs were added in the ITTI Digital User Journey Map.
First, we compiled all of the possible ITTI Digital user scenarios in each interaction with the banking back-office solution and defined what feelings and emotions each step could cause. In this way, we would be able to detect the main pain points, turning those into pleasant experiences.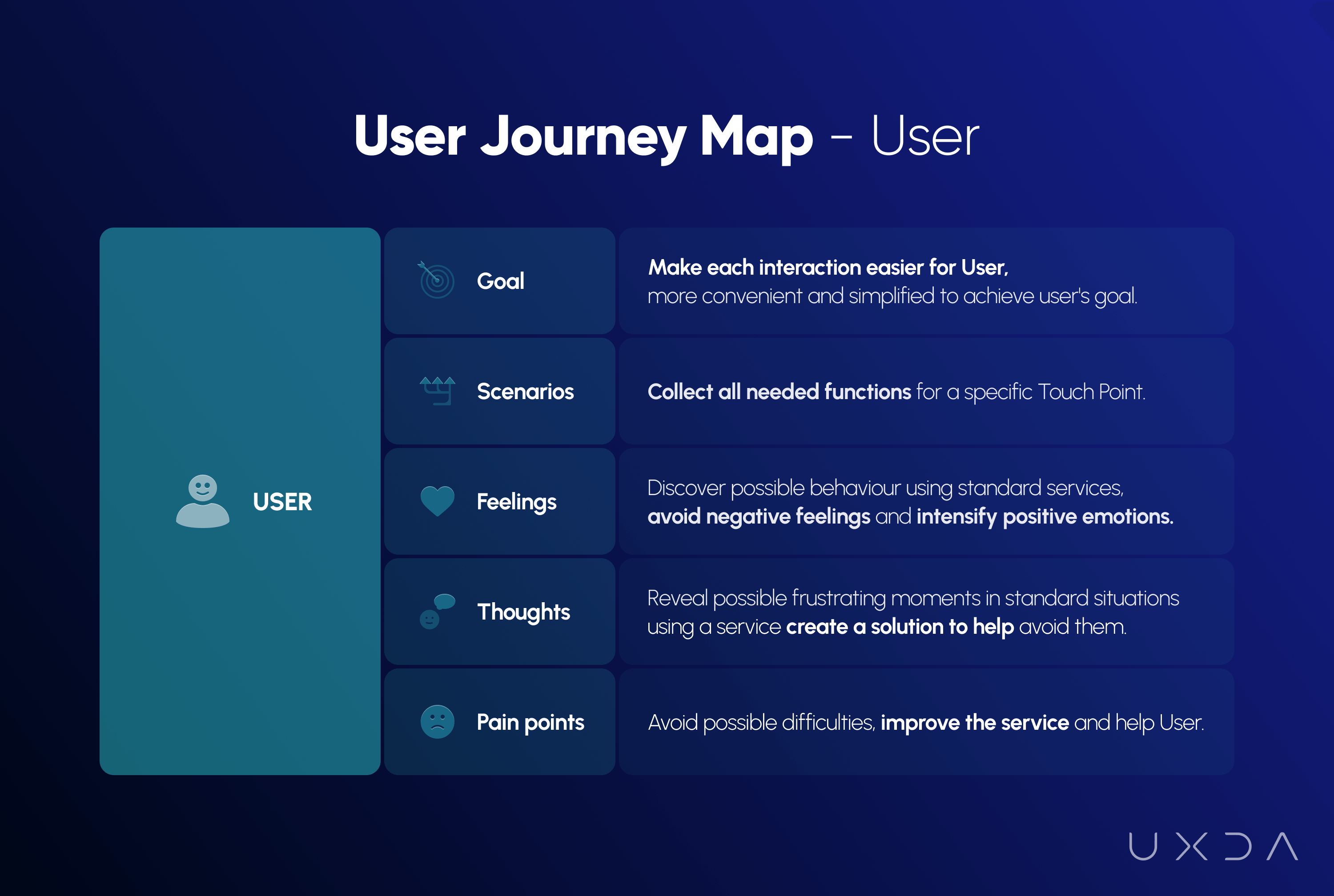 Next, we looked at the new product from a business perspective. Here, we defined the ITTI Digital business goals in every user's interaction with the back-office solution and also the key performance indicators (KPIs) to be clear how they can measure success.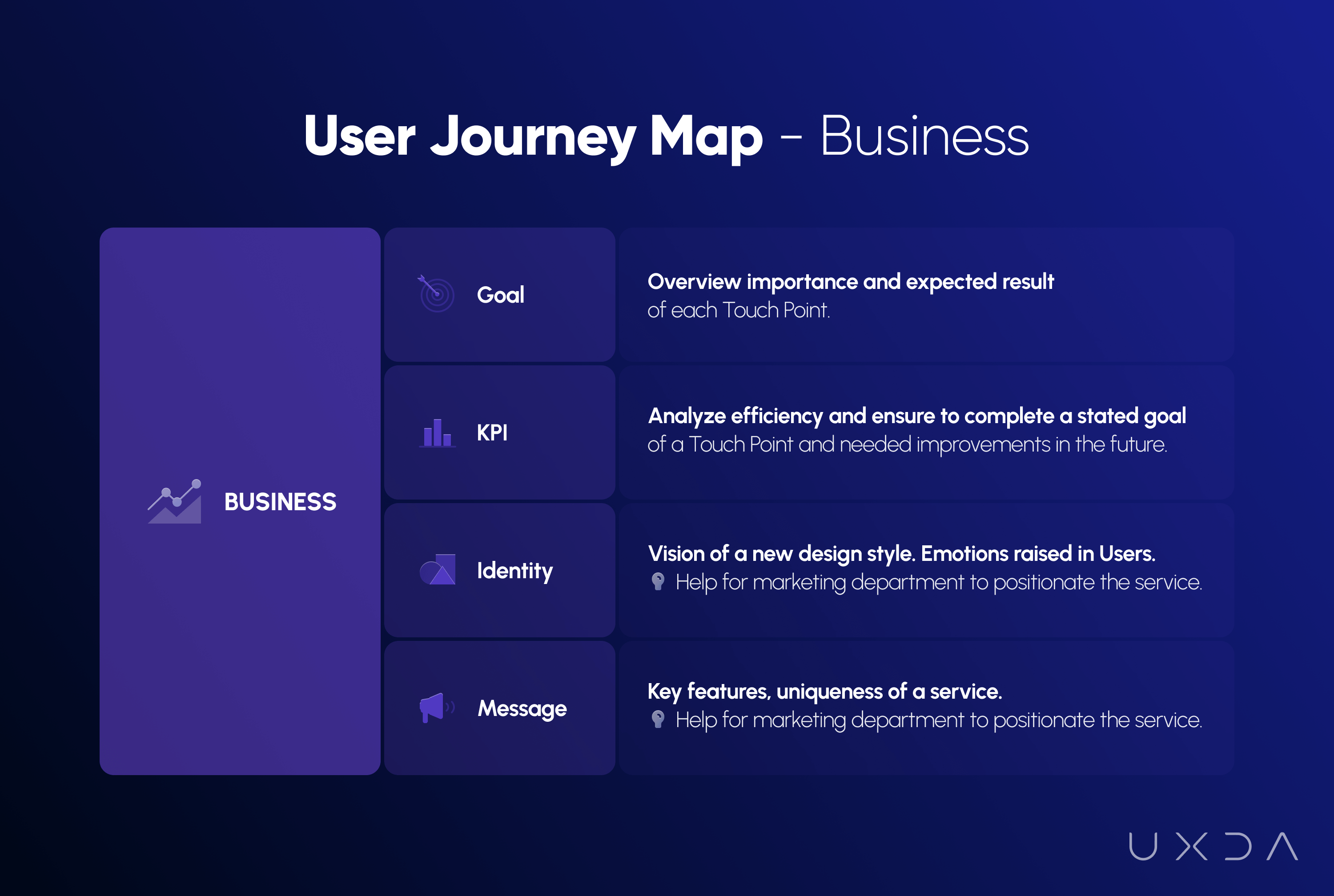 After exploring the business perspective, we moved to the product section. Based on all the detailed insights collected from user scenarios, feelings and pains, as well as business goals and KPIs, we were able to identify the exact functionality and features that ITTI Digital's new back-office solution should have. During this phase, we had to keep in mind that this was a bank's internal solution, so every functionality and flow had to strictly meet the security requirements.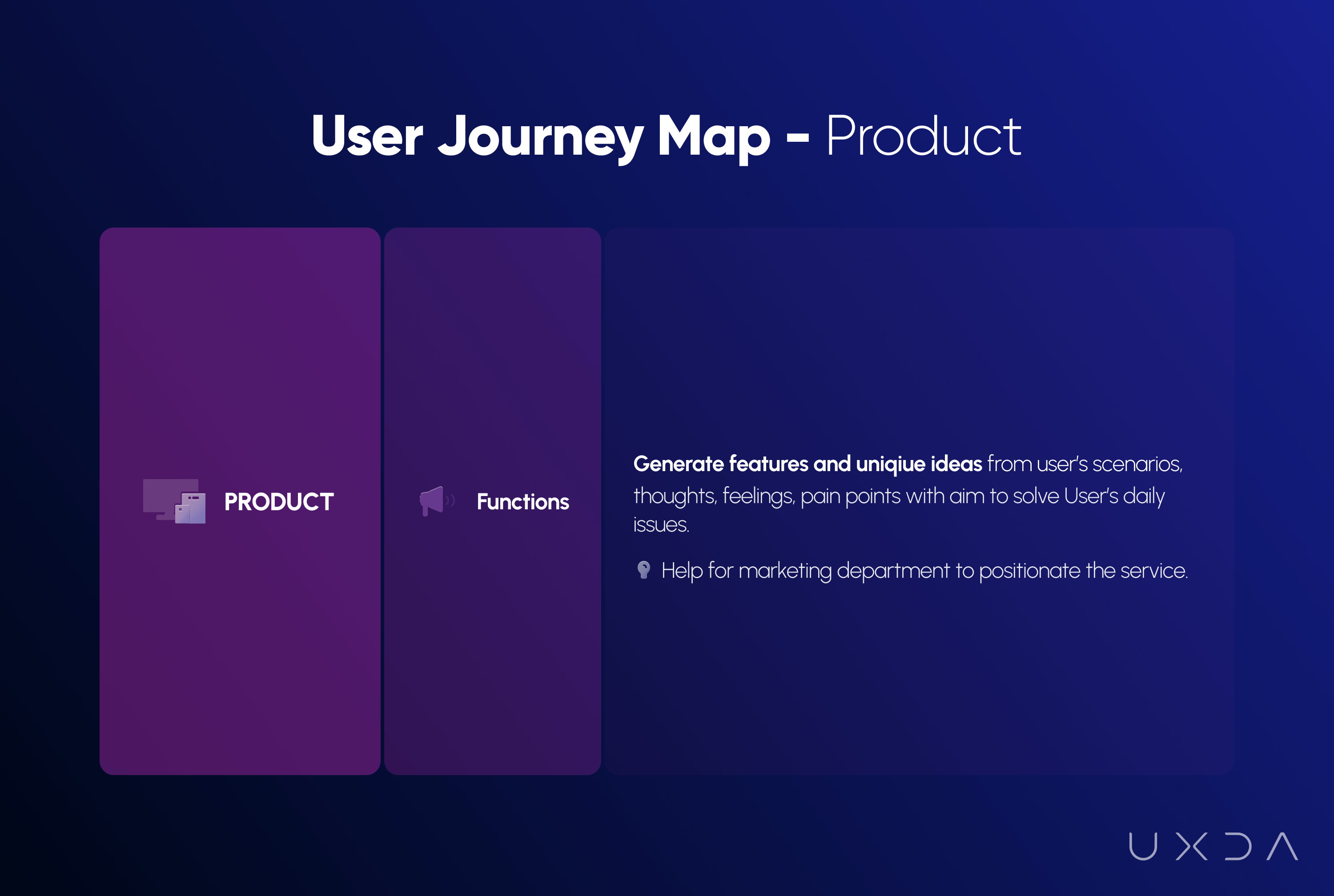 Finally, based on the synthesis of all the insights at each touchpoint, we were able to define the best possible product solution through functionality we had to include in the new ITTI Digital back office.
When we discussed the results of the User Journey Map with the ITTI Digital team, Hector voiced excitement about the functionality we had included that would ease the employees' lives, noting:
I think our new solution will make all the dreams of banking employees come true!
Key Insight
The User Journey Map let us grasp the whole functionality of the new service. It provided a satisfying sense of how the employee's daily duties would be made much more convenient, increasing the speed of the service and avoiding stress, mess and mistakes, which were some of the most common pain points employees faced in the previous solution.
Until this project phase, ITTI Digital had a very fragmented vision of their banking back-office solution; they viewed it as "separate modules." It is common in the banking industry to think this way, but, from the user's perspective, the banking employees don't care how many and what kind of modules the solution has; they see it as one continuous flow. Realizing this can bring significant power to a product team driving customer experience digital transformation in financial services because now they are able to match business goals and user needs in an appropriate way through digital technology.
Key Insight
During the user journey map workshop, ITTI Digital finally views their product as a single, complete and united solution - there were no modules anymore. This was the breaking point that revolutionized ITTI Digital as a company creating a shift toward an experience mindset.
At the end of the user journey mapping process, Hector admitted:
We see the value User Journey Map provides not only for this project but for the future of the company. We have gone from a complex, difficult and fragmented view to a holistic and transparent vision of the whole huge flow that's suited for the user needs.
4. Ideate: Project's Bullet-Proof Backbone
This stage allowed us to ideate solutions based on the ideas we created with ITTI Digital regarding their User Journey Map. At this crucially important digital banking transformation stage, we turned our vision of an ideal user experience into the architecture and operation of the data-rich product.
This solution is filled with tons of data, and it's a challenge to structure and display it in an intuitive manner that's insightful and easy to understand for the user. We believe that many financial services are actually in the data-displaying business because this is a job that users require them to do perfectly.
Information Architecture: Everything in Order
We tried to make the new ITTI Digital back-office solution as simple and easy to understand as possible, keeping in mind that all of the service information is divided into two main parts:
one is individual for the banking employee;
the other one is functions connected to client affairs.
Key Insight
The old ITTI Digital solution didn't include any kind of information architecture for the work management of a banking employee. As user interviews revealed, this made it messy and troubling to accomplish everyday tasks and do them effectively.
The complex part of the ITTI Digital product specifics was the requirement of customized data for each employee. This was due to different daily routines, tasks and, most importantly, internal security accesses that change according to the department and position.
To solve this, we created one overall architecture for the entire solution and also four smaller ones for each of the user personas. This allowed us to understand the differences of information we should include to keep the core banking back office product intuitive and holistic.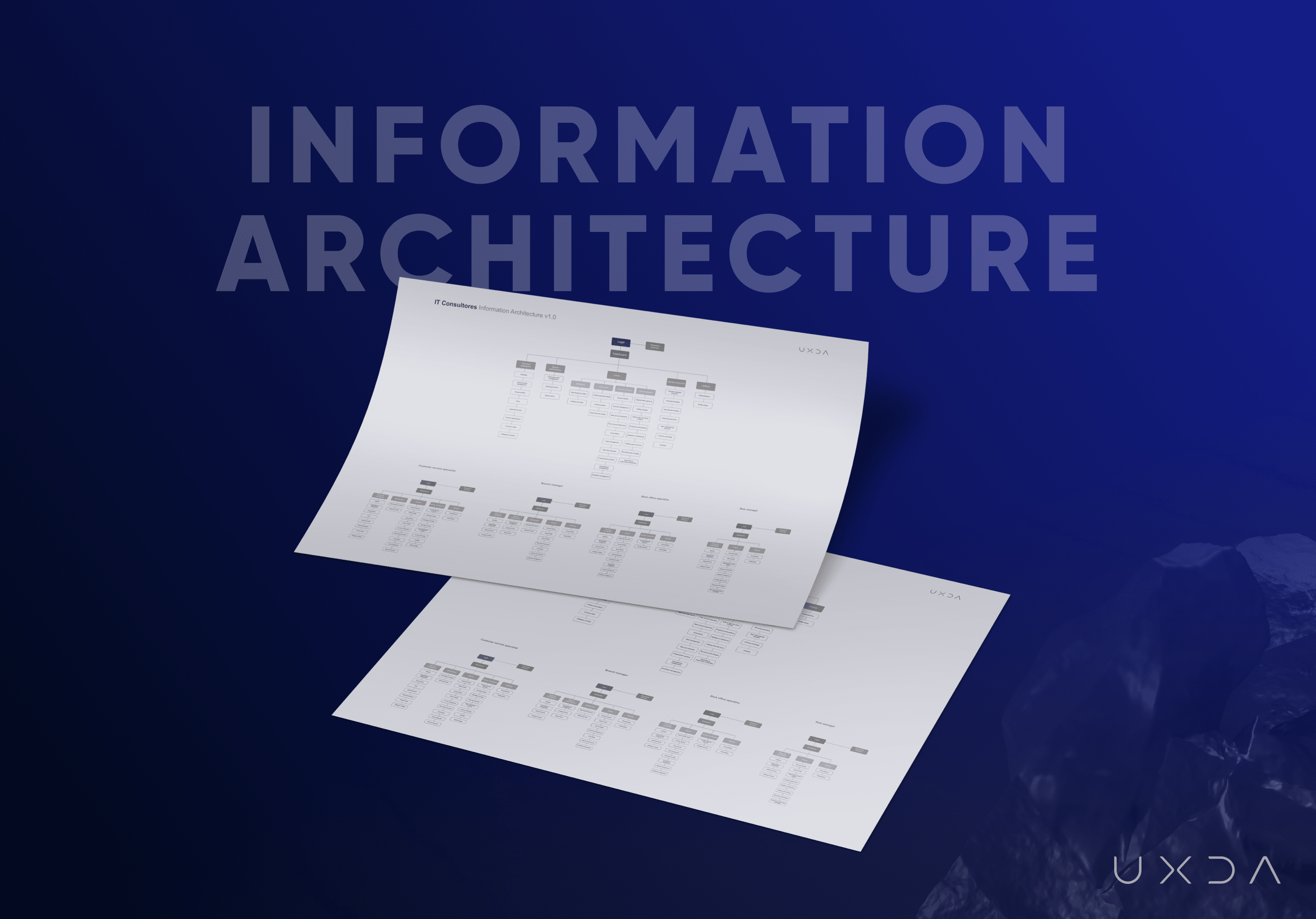 Wireframes: Creating the Product's Silhouette
Key dashboards of the new ITTI Digital product required a huge time investment. While architecting the key screens, we had to keep in mind all the scenarios of the solution that affect its hierarchy and usability.
The first wireframe we started with was a dashboard for a Customer Service Specialist. To reach the optimal solution, we modified it multiple times. There were several versions of the final dashboard, and we discussed how the banking employee would interact with a huge amount of data. We tested the solutions to check their usability and clarity during the main scenarios.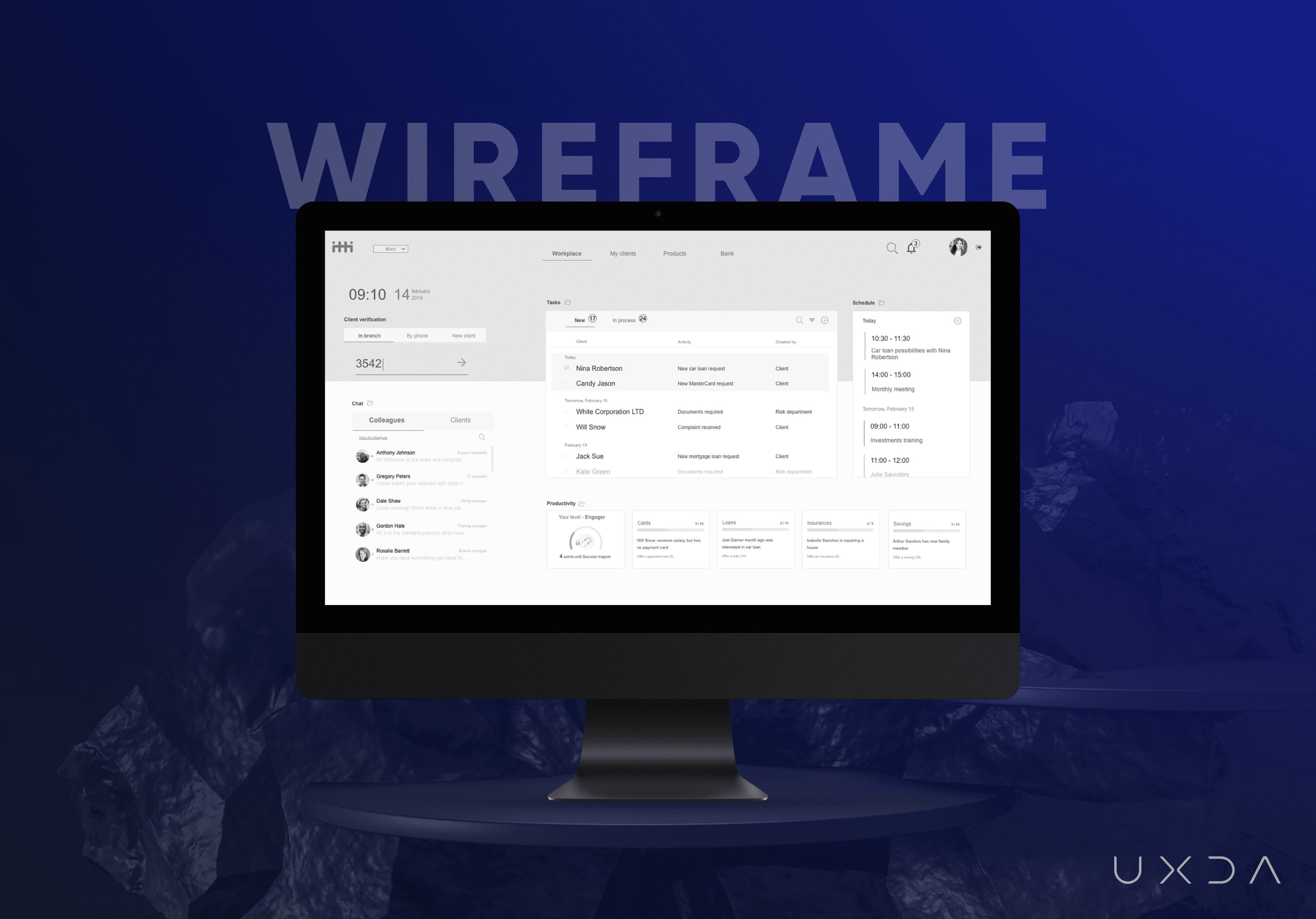 During the wireframe reviews with the ITTI Digital team, Hector asked if there was a possibility of including some more features. Often, it could result in over-featuring that would confuse the user. Here, it was important to clarify the purpose of these functions for the employee. In what case scenario would they be using them? This provided a mindful break for Hector as he paused for a moment and realized:
Oh, we don't need those features after all! I am still trying to switch my mindset to a user-oriented one!
This concluded the entire research stage that was basically the very core of the new product. We understood who our users were and what they needed and wanted and also explored the business goals and how the product can help to satisfy both the users and the company. Based on that evaluation, the complete service architecture and wireframes were created.
Only now, after coming a long way, did we arrive at the most exciting stage of the project: user interface design.
5. Design: Data-Rich Functionality Filled With Love
When it came to the design of the new ITTI Digital core banking system, the biggest challenge was to step outside of the boring, gray tableview design into something more appealing. A colorful and fresh solution could provide a clear difference by becoming emotionally engaging.
This was one of the most creative and excitement-charged stages of the whole ITTI Digital project. The entire UXDA team was involved during the in-house design challenge.
It took a week of intense creative work to get to the key design concept─the best possible for the ITTI Digital project.
The design concept presentation was a hugely anticipated and emotional step─both for us and for ITTI Digital. We had been working very hard on the research and engineering phases while creating the core of the solution. Now, it was finally time for ITTI Digital to meet their new world-class banking system that had already changed their business through the design process.
The Key Design Concept presentation turned out to be a truly remarkable moment. ITTI Digital team members couldn't hide their emotions of joy and delight as they admitted that they feel thrilled and the ITTI Digital design concept exceeded their expectations!
We've guided you through the whole process, and now it's time to review the results. This is the ready-made design and architecture based on the research that, as of today, is being developed by the ITTI Digital IT team and soon will be available worldwide for any bank to purchase!
Login: Start the Day off Right
We wanted to provide users with a service that would make their tasks quick and easy to implement, but their motivation and inspiration were also very important to us.
We focused carefully on the login screen, as that's the first thing greeting an employee in the morning. We wanted to provide an inspiring, calming and focused tone for the day ahead.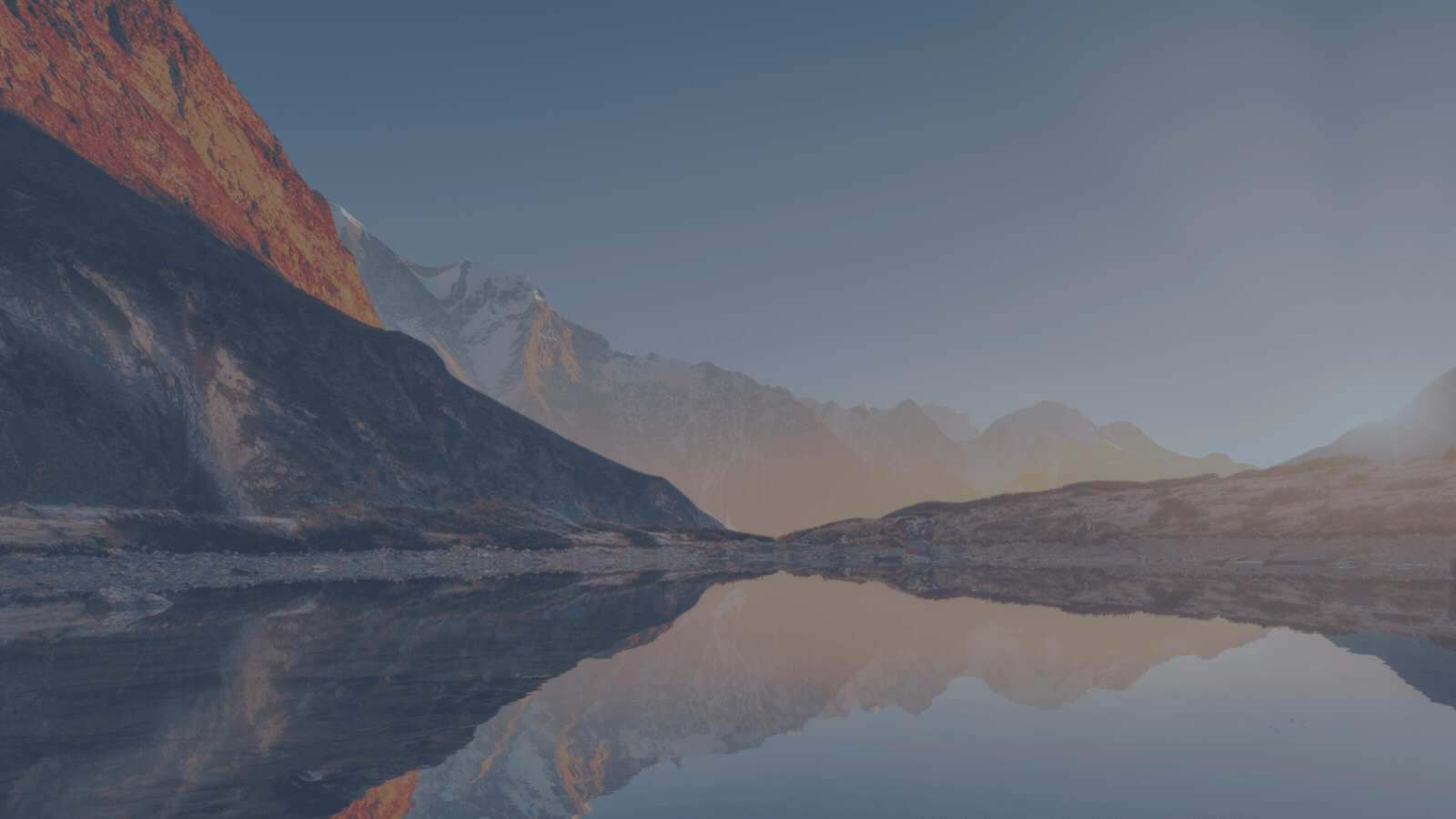 We did that by displaying a remarkable view of nature in the background of the screen, as well as a quote by a successful, well-known person. Every time the employee assesses the login screen, he/she is greeted by a different picture and quote to instill a peaceful mood. The login is quick, as the solution remembers the employee's user name, and only the password needs to be entered.
The Main Workspace: Wise Assistant for Daily Tasks
We made a flat, clean and light core banking dashboard design for bank employees so it would stand out from the boring gray screens most employees are accustomed to. We wanted to refresh the common formality in banks, replacing it with an emotionally uplifting environment.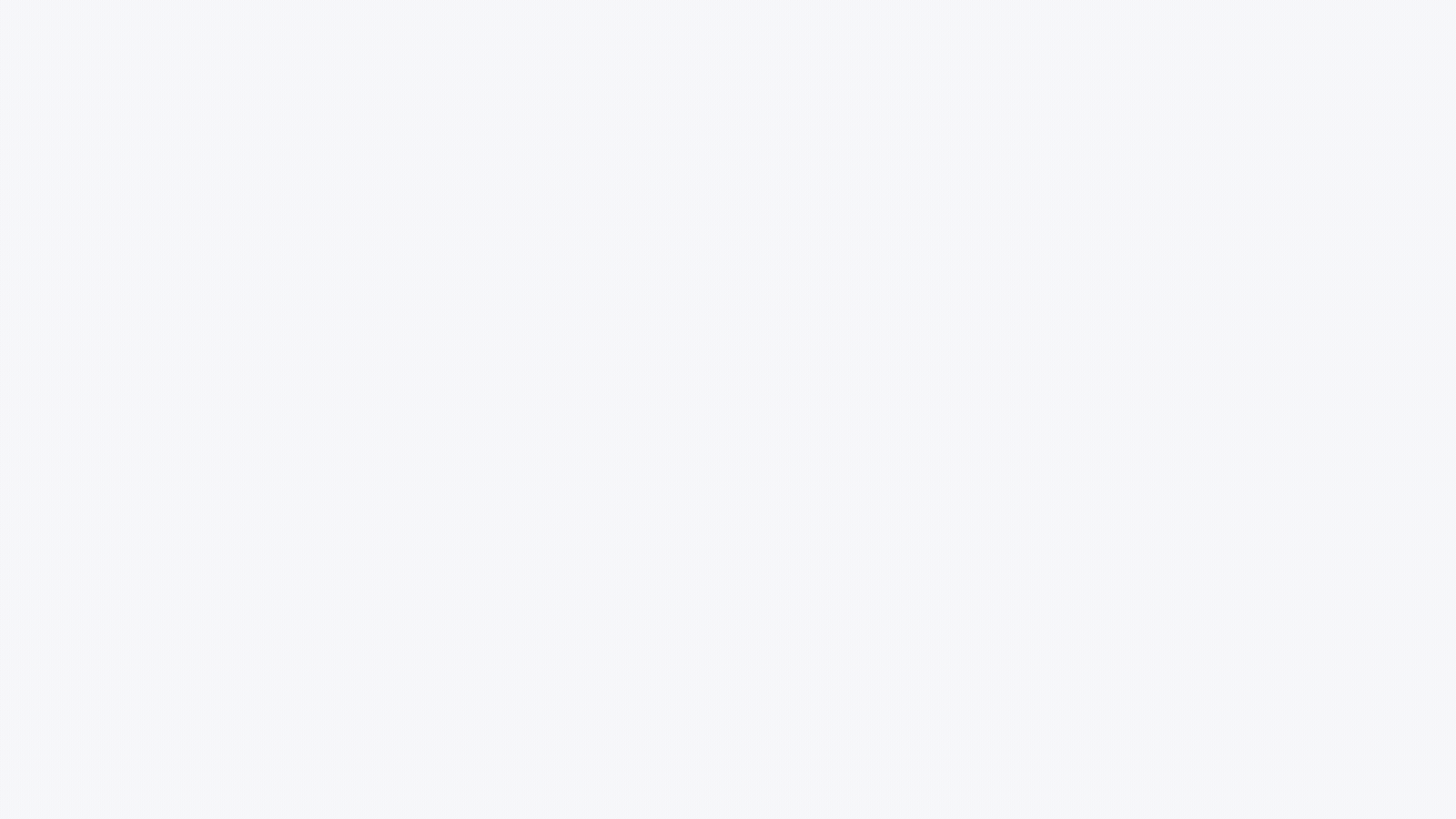 In the example below, our user is a Customer Service Specialist, who works at a branch with clients daily. As noted before, there are different kinds of financial dashboard architectures according to the employee's position and information required to accomplish their daily tasks.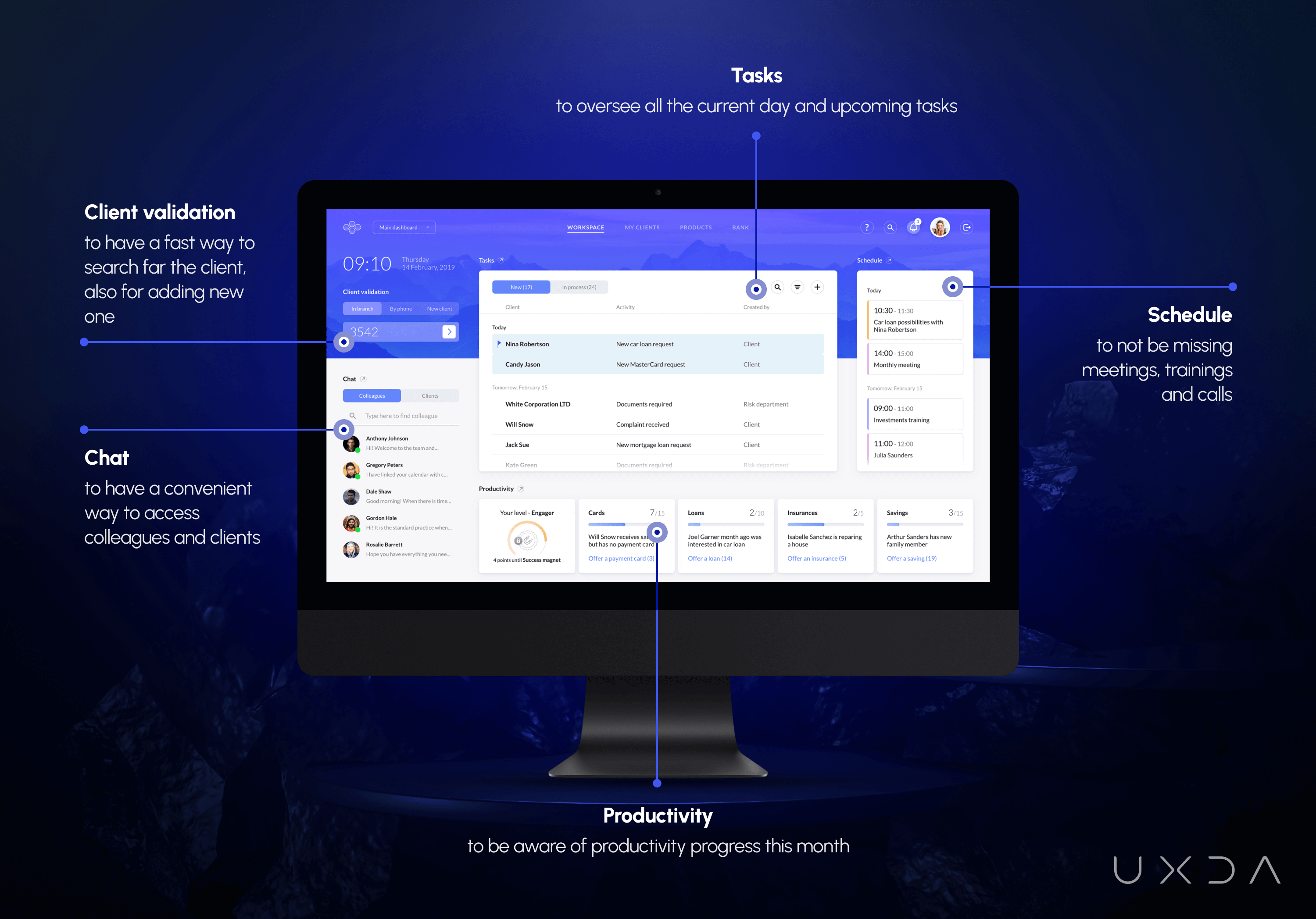 Features of the Main Banking Back Office Dashboard:
On the left side, there is a client validation function and chat; these two blocks are accessible constantly, even when the user is navigating to a different page;
In the middle part, there is a block of all user tasks;
On the right side is the schedule;
At the bottom, the productivity summary is displayed.
To see a more detailed view, the user can expand the three blocks of tasks, schedule and productivity.
The main financial dashboard design addresses a huge part of all the needs that employees indicated throughout the interviews. Here's a short overview of the solutions we created to reduce employees' pain points and stress and make their everyday lives much simpler and more enjoyable.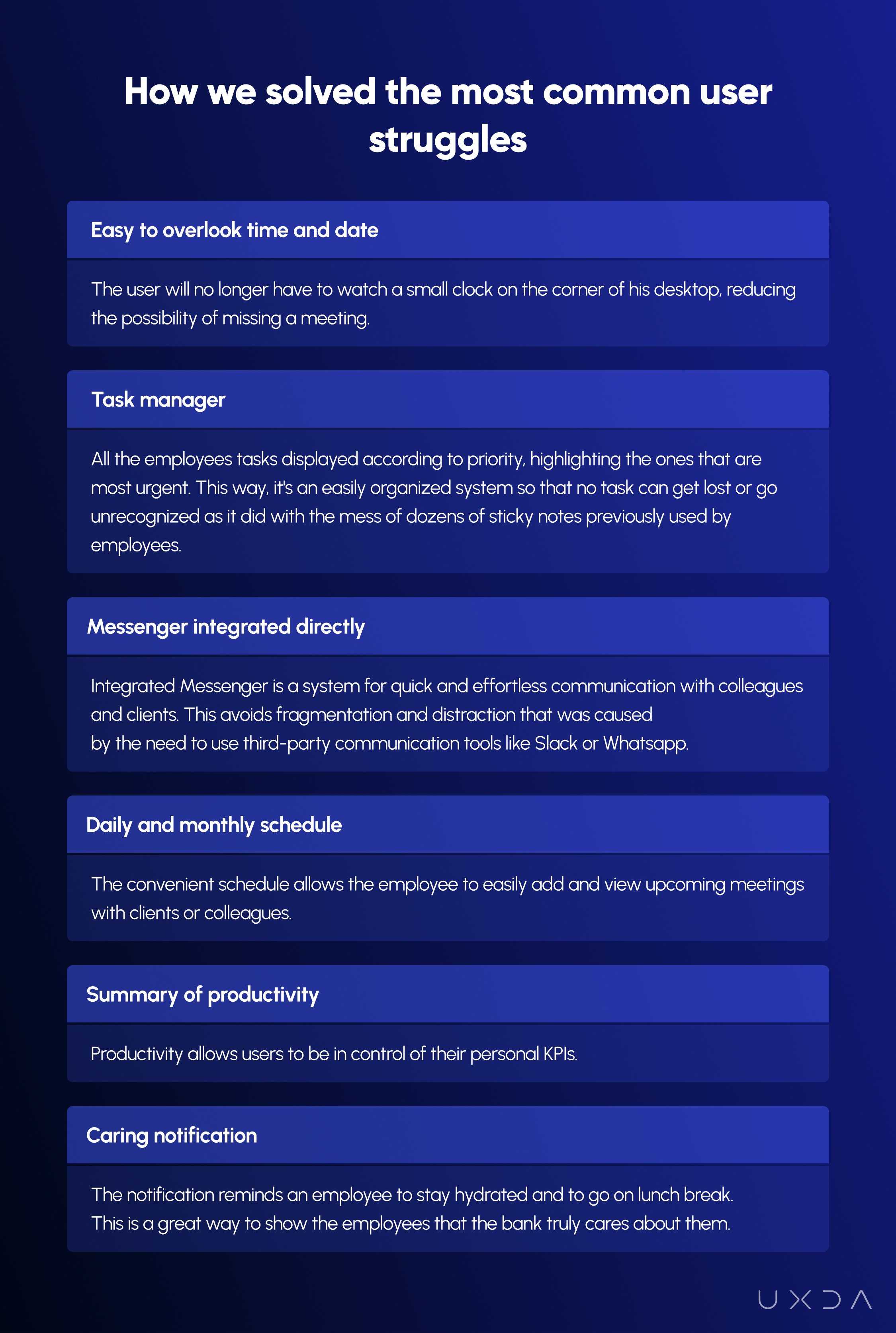 It was crucial to make the solution intuitive and understandable, so the users would not need to spend two months learning it. We concentrated only on those functions─ the ITTI Digital user personas really needed for their duties.
Goals Made Fun: Gamification for Motivation
ITTI Digital had the courage to admit that their old banking back office solution was frustrating employees and stressing them out. In six months, we turned that around and designed something pleasant and enjoyable. We wanted to engage and motivate employees to reach their goals in the most effective way by addressing the users' needs for fun, entertainment and reward.
Key Insight
Gamification is something completely new to banking, but ITTI Digital was eager to integrate it. When we presented the gamification in the productivity section, they were thrilled by the way we had integrated it.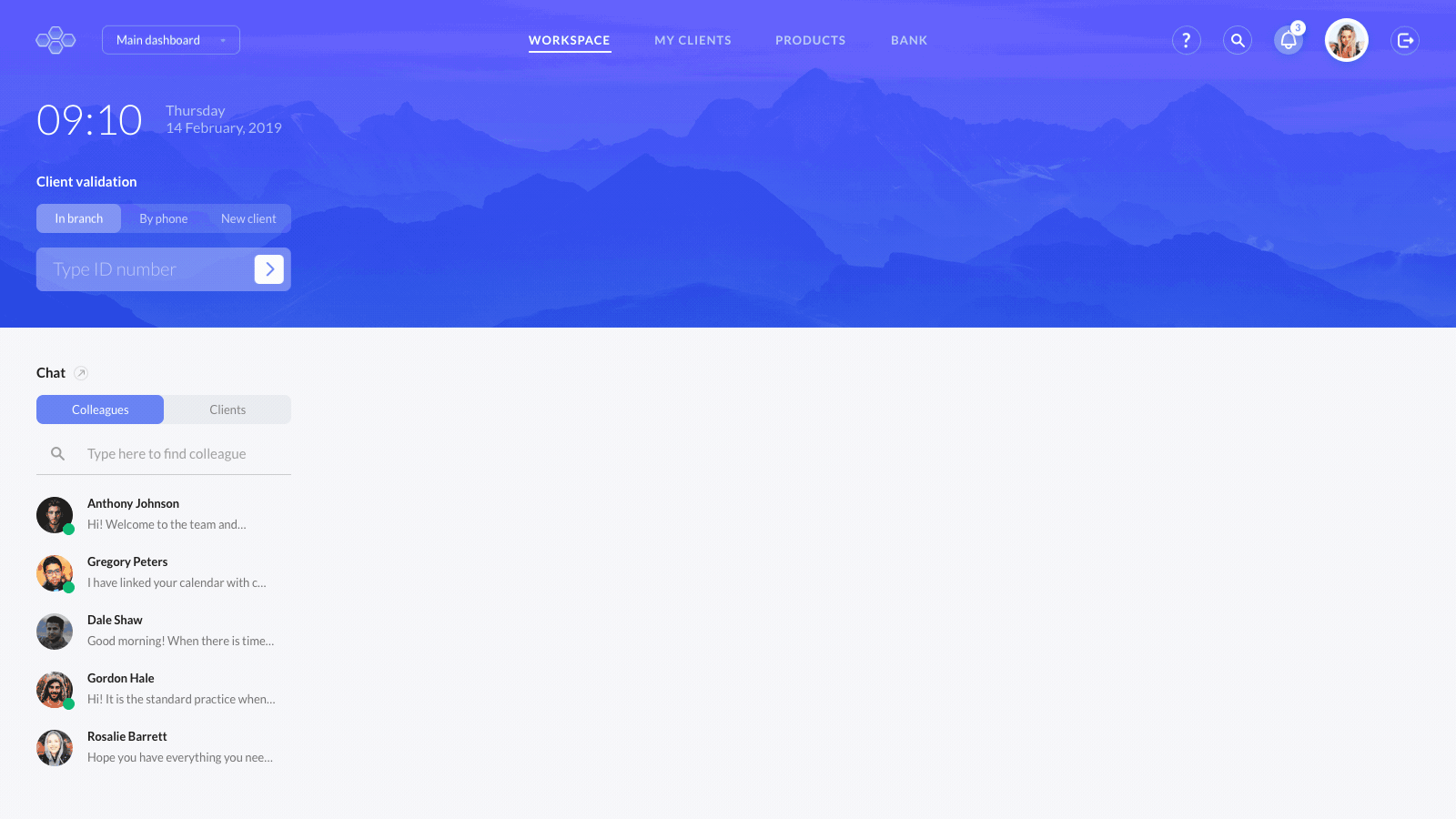 We used gaming elements to inspire employees to reach their sales goals while, at the same time, keeping them informed about the progress they were making. Thus, we are using digital technologies to help employees reach their business goals in the most affordable way.
Every month, the employee embarks a journey toward his/her sales goal. To attain the superior "Sales Guru" badge, the user must unlock four previous badges by selling the bank's products. To help them with that, we included small hints in each product group.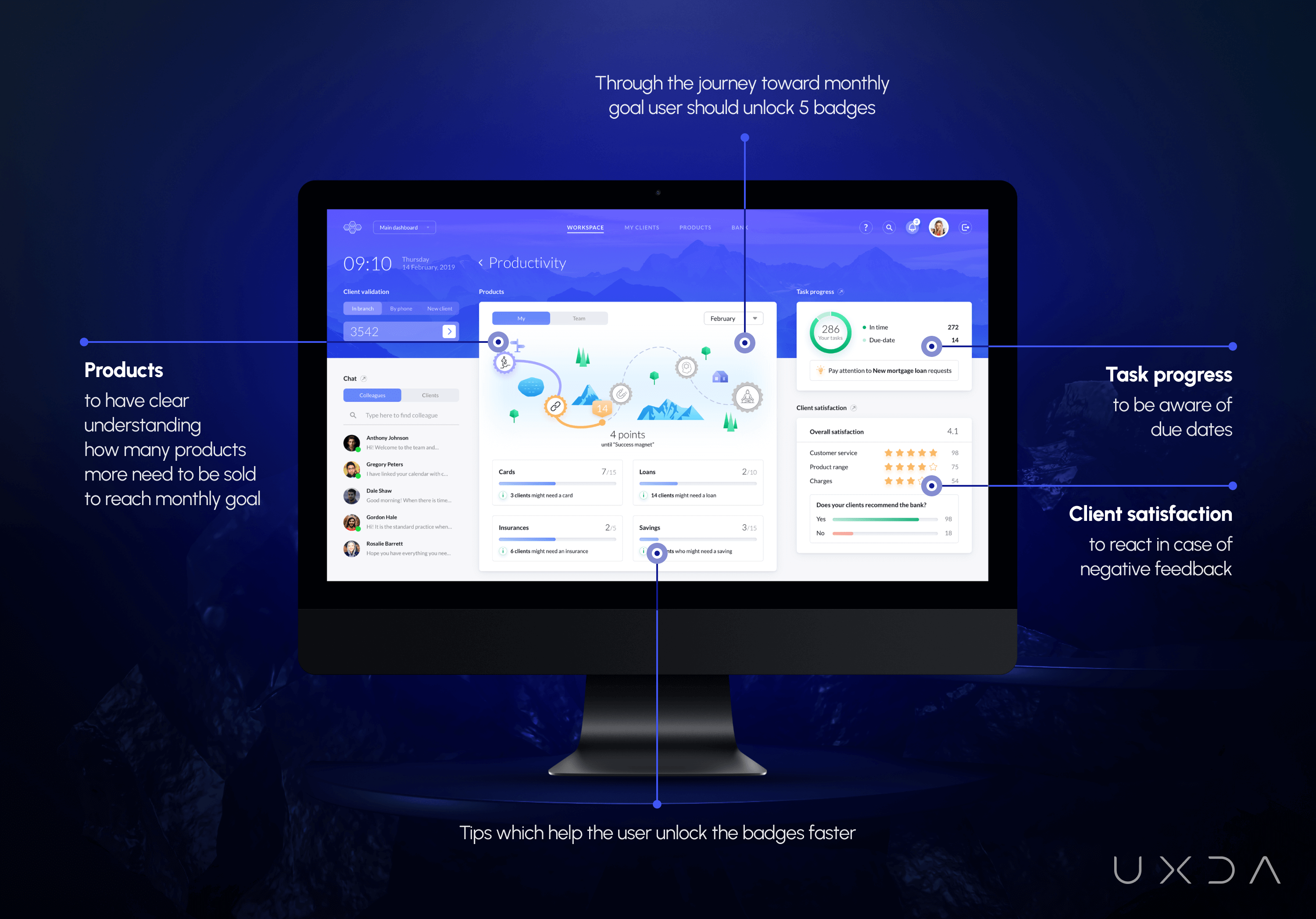 During the productivity section, the user also reviews his personal task progress: how many of them are finished on time. Here, statistical information is combined with useful insights about the tasks that the employee is most often delaying.
We have integrated a block that displays the overall client satisfaction. Unfortunately, this information that is crucial for employee self-evaluation and service quality is almost always hidden from them.
We also wanted that employees would feel appreciated by their workplace. That's why we complemented the solution with inspiring illustrations that would celebrate their successes and motivate them towards reaching higher goals. This was one of the many little details we included in the solution to ensure positive emotions for the employees, adding a sense of meaning and significance to their everyday duties.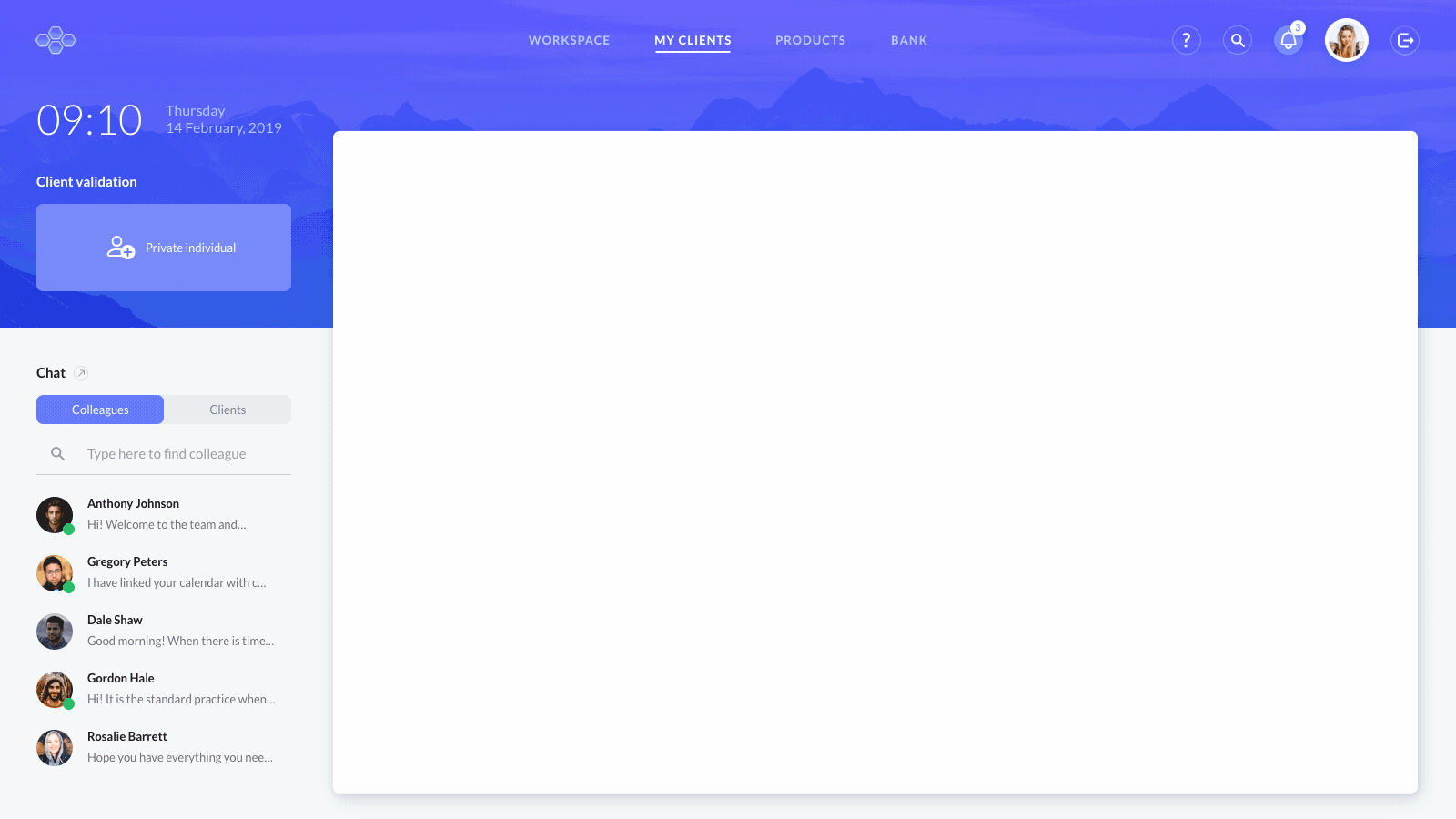 Designed for Focus and Joy
When it comes to the design, a blue color dominates. It cultivates a feeling of calmness and serenity, which is critical for employees of a bank who have a huge responsibility on their shoulders.
It is important to note that, since ITTI Digital is a vendor that would provide this solution to different kinds of banks utilizing their own colors and brand identity, the appearance of the solution can be customized.
In the background, we have displayed a picture of mountains, which provides a relaxing appearance while keeping employees attentive. Mountains bring a feeling of open space and freedom, which is often sorely missing in the tall glass buildings of many banks. We wanted to bring joy to users' daily lives, so we made personalization available, providing an option to change the background picture.
The Fight for a Better Future: Cloud-Based Digital Transformation in Banking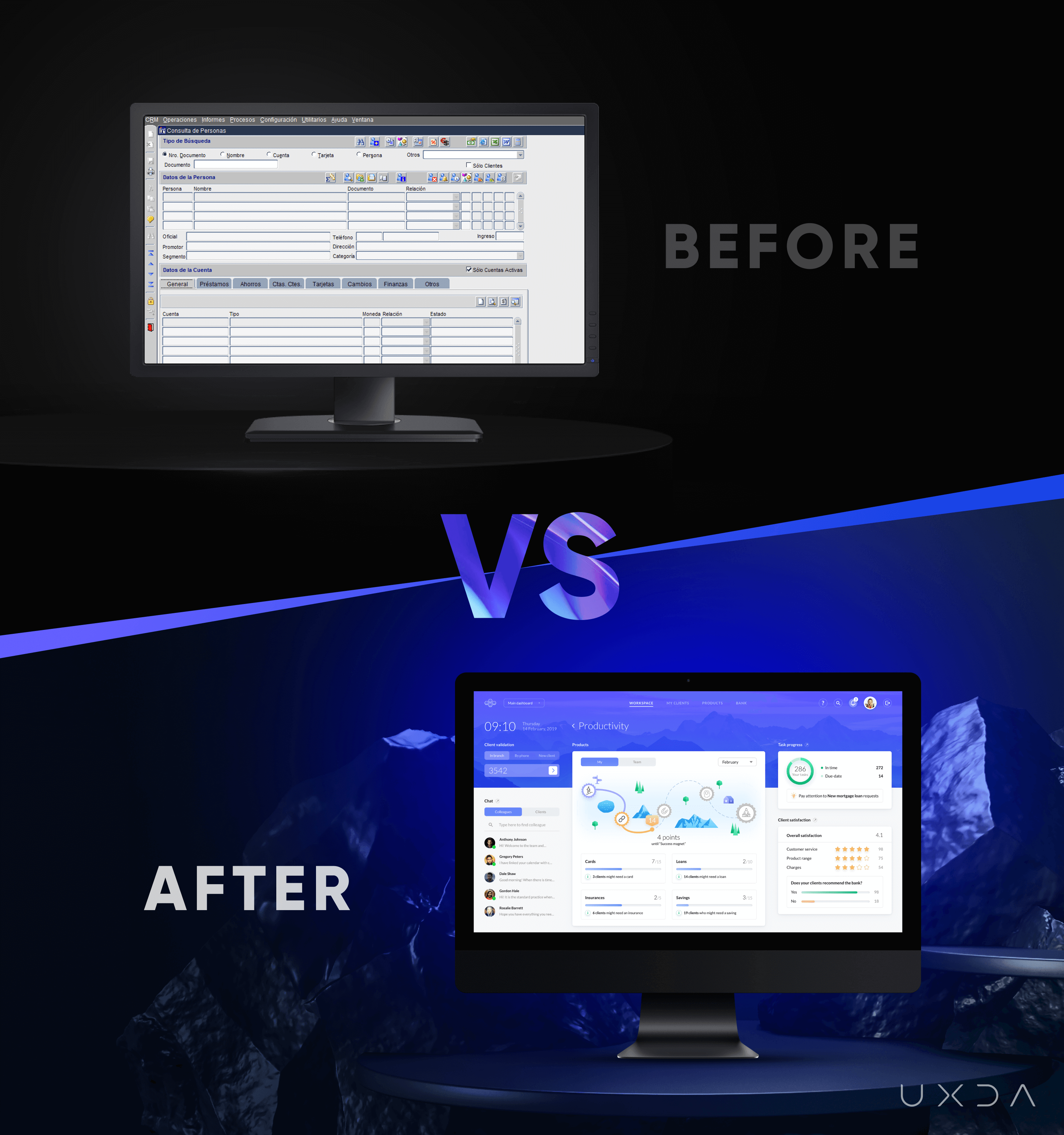 Halfway through the project, the ITTI Digital team admitted:
We understand that we should change not only our product but the whole mindset as a company, how we act like a business. Everybody in the team has started to think from the users' perspective. It's not about the functionality. The value is not the technical features but the way a product makes people feel. Cultural change is happening.
This has been one of the most rewarding moments the UXDA team has experienced. You see, many believe that the design is about packaging─a beautiful picture and color─but, in fact, the ITTI Digital case is living proof that user-centered Design thinking is able to provide exceptional value for the whole business.
UXDA has always stated that our mission is to humanize the complex financial world, making it closer to the real end users─the people, and the way to achieve that is not by creating a pretty design. It's about shifting the mindset from profits and features toward a perspective focused on creating valuable experiences. That's exactly what ITTI Digital experienced and acknowledged during this digital banking transformation with UXDA. This led them to integrate an experience-oriented philosophy into their inner business culture.
ITTI mission is to provide cloud-based core banking for banks in the future to enable successful digital transformation, reduce costs, offer scalability, provide data insights, ensure regulatory compliance, support business continuity, and foster innovation and collaboration. Because embracing cloud technology is becoming a necessity for banks to stay competitive, meet customer expectations, and drive future growth.
Key Insight
The past six months have completely changed the way ITTI Digital perceives their product, users and one another on the team.
They admitted that, at the beginning of the project, the team felt skeptical of the possibility of combining back-office functionality and security measures with user centricity and delightful design.
During the project, ITTI Digital learned to make users their main priority, and their perception changed dramatically. It felt like they had finally opened their eyes to what has always been right in front of them─their users. They learned to listen to the users and focus on understanding their needs, expectations and, most importantly, their pains and struggles that the current solution was constantly causing.
Throughout this digital banking transformation process, their skepticism was overridden by inspiration, insights and revelations they had never even expected to encounter. Observing the behavior of the team, they changed and became more and more involved in the process and oriented on the best possible result they could provide for the users. It was gratifying to guide them through every stage, constantly uncovering new ideas and insights on how to improve the solution even more.
ITTI Digital admitted:
The end result over-delivered on our expectations, not only because it proved the possibility to combine the complex functionality with user centricity in an enjoyable, beautiful and delightful design, but also because we became live witnesses of the huge mindset shift a user-centered thinking creates in our organization.
Of course, it took great courage to embark on this challenging journey. Most banks reveal they are very afraid of making such a huge and revolutionary shift, changing a structure that has been working for decades, but ITTI Digital is living proof that it's 100% worth it. And we are really proud of them!
Together with ITTI Digital, we have developed a never-before-seen core banking back-office solution that will surely become a global game changer in the financial industry.
Most importantly, however, we have helped a huge financial company shift their inner mindset toward users and their needs, taking a revolutionary step toward humanizing the financial industry.
If we changed the mindset of our company while developing this core solution, then I believe the banking employee who will use this product will change his/her mindset too, and as a result this shift will change how the clients perceive their bank. I think this is a great start to do a real digital transformation in financial services.

Hector Ojeda, ITTI Digital Innovation Manager
Explore other of our client's next-gen financial digital products and UX transformations showcased in the UXDA team's latest showreel:
EXPLORE MORE UXDA CASE-STUDIES
Get UXDA Research-Based White Paper "How to Win the Hearts of Digital Customers":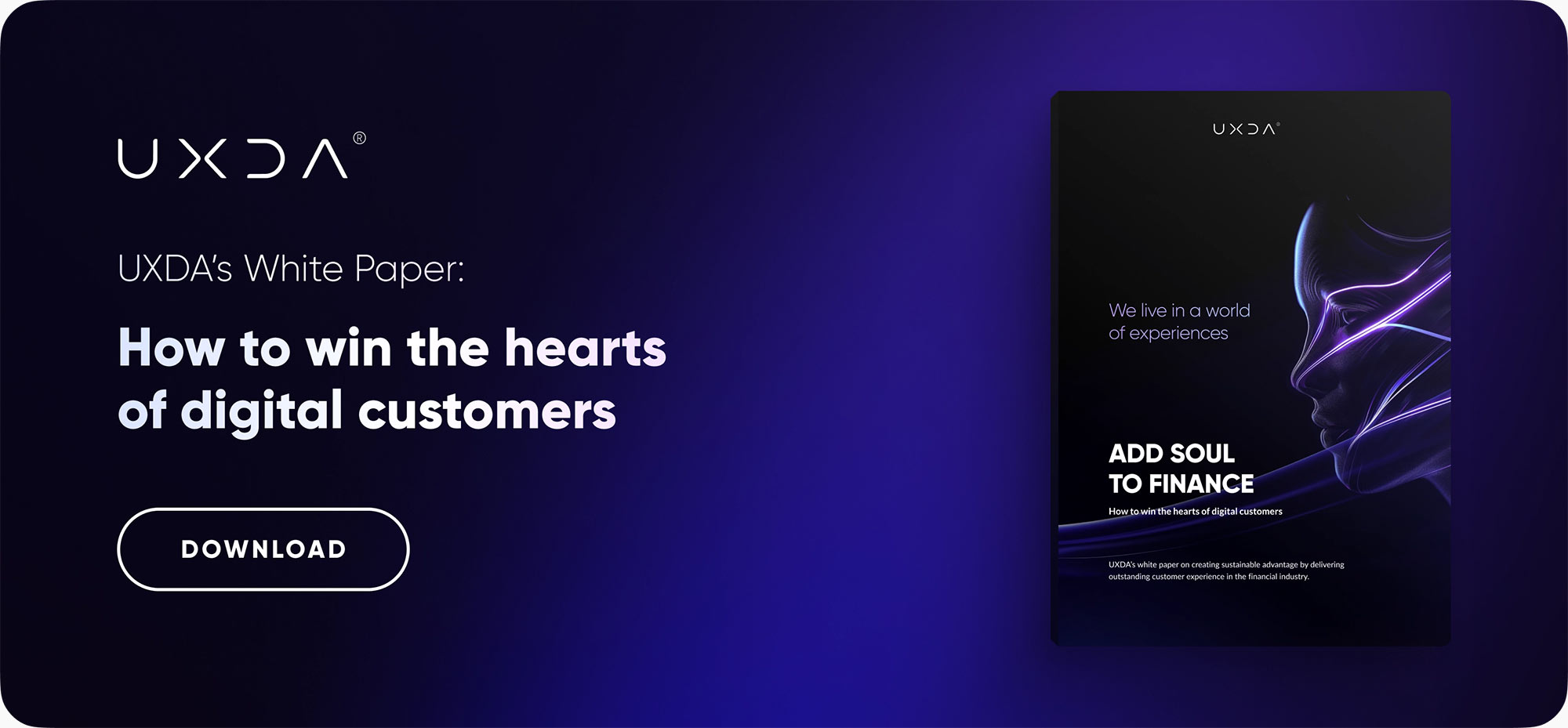 If you want to create next-gen financial products to receive an exceptional competitive advantage in the digital age, contact us! With the power of financial UX design, we can help you turn your business into a beloved financial brand with a strong emotional connection with your clients, resulting in success, demand, and long-term customer loyalty.