We have amazing news to share! UXDA has been named 'National Winner' of the 2019 European Business Awards - one of the world's largest and longest-running business competitions.
UXDA Becomes the National Winner of the 2019 EBA
We were chosen "National Winner" from a total of 120,000 businesses from 33 countries that participated in the European Business Awards. A panel of independent judges including business leaders, politicians and academics from all over Europe praised UXDA as a progressive company that's delivering exceptional results to the financial industry.

UXDA was announced the best business in the category of Customer and Market Engagement. Now we will represent our home country Latvia in the final stage of the competition that will take place in Warsaw this December. After the final judging, the overall category winners for the 2019 European Business Awards will be announced.
UXDA Founder and CEO Alex Kreger shares his excitement:
I'm very happy that the respectable jury has chosen UXDA as the "National winner" out of thousands of huge and well-known companies. It is a great honor, and a living proof that the Financial Design methodology is making a real difference in the financial industry. Products created with user-centred approach truly ease the lives of millions of people and make financial businesses much more successful than they ever imagined before starting working with us.
The European Business Awards is one of the world's largest and most prestigious cross border, cross-sector business competitions. Its primary purpose is to support and develop a stronger, more successful, innovative and ethical business community in Europe, as it believes businesses play a key role in addressing major issues faced across the world.
Adrian Tripp, CEO of the European Business Awards states:
This is a significant achievement and UXDA is an outstanding leader in their field. To be chosen as a National Winner means you show great innovation, ethics and success and are one of the best businesses in Europe. We wish UXDA the best of luck in the final round.
UXDA is also participating in European Business Awards side competition "European Public Champion". We have created a unique video telling the story of UXDA, showing around our office and explaining what we do and how we make an impact in the financial industry. Please support UXDA and cast your vote so that we can become the Public Champion of EBA!
Get UXDA Research-Based White Paper "How to Win the Hearts of Digital Customers":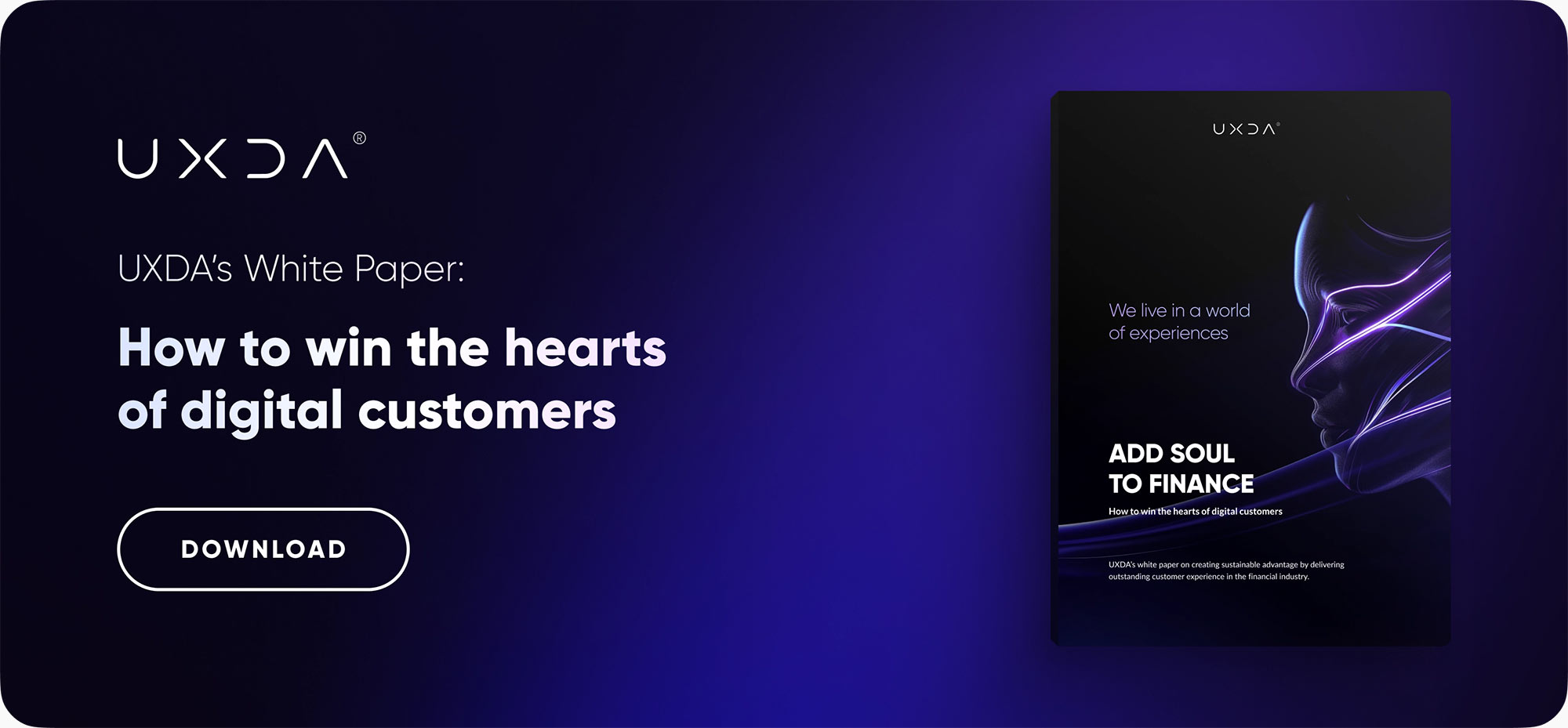 If you want to create next-gen financial products to receive an exceptional competitive advantage in the digital age, contact us! With the power of financial UX design, we can help you turn your business into a beloved financial brand with a strong emotional connection with your clients, resulting in success, demand, and long-term customer loyalty.