According to Clutch research UXDA is included in TOP15 user experience agencies worldwide, as a leading financial UX design boutique agency.
UXDA among the best UX design agencies in the world
Clutch has released its first report identifying leading user experience agencies in the world which deliver best UX design. The research leverages Clutch's proprietary Leaders Matrix methodology, which charts each UX design firm's focus on user experience design against their ability to deliver world-class results for their clients. The below firms have been selected as leaders:
UXDA,
Slide UX
Brave UX,
Every Interaction,
QubStudio,
Experience Dynamics,
Five,
Savvy Apps,
SFCD,
Macoscope,
Momentum,
Eight Bit Studios,
Macadamian,
altr,
MSTQ.
Analysts reached out to best user experience agencies around the world for this segment of their research. Top UX design firms were selected based on a variety of qualitative and quantitative criteria including market presence, company experience, industry awards, and positive client reviews.
User experience design has become an essential investment for any company with a digital presence," explained Alexa Rosenstein, Analyst at Clutch. "A compelling and thoughtful user experience has an immense impact on customer retention and overall loyalty. The TOP UX agencies featured in this report have crafted beautiful, intuitive experiences for their clients.
Clutch's effort to identify leading user experience designers worldwide continues, and the firm encourages best UX consulting companies to apply for inclusion in future research.
Clutch is a Washington, DC-based research firm that identifies top service providers and solutions firms that deliver results for their clients. The Clutch methodology is an innovative research process melding the best of traditional B2B research and newer consumer review services. To date, Clutch has researched and reviewed 1000+ companies spanning 50+ market segments.
UXDA is the first and best UX design agency specializing in finance, as evidenced by multiple globally famous design and finance awards and events like IF Design Awards, DNA Paris Award, International Design Award (IDA), A' Design Award, London Design Award, Banking Technology Award, European Business Award, European Fintech TOP100, European Business Awards, Finovate, TOP15 UX agencies by Manifest, as well as NPS 81 rate based on highly positive reviews from 70+ financial brands served by UXDA.
UXDA designed financial solutions in 27 countries using financial UX design methodology developed over the past 15 years. UXDA experts have experience and knowledge in banking, as well as a wide range of multidisciplinary skills needed for a deep understanding of financial industry challenges, offering the highest-quality design of digital financial solutions to establish deep emotional connection between customers and financial brands. Learn more about UXDA approach and financial UX design trends in our blog.
Get UXDA Research-Based White Paper "How to Win the Hearts of Digital Customers":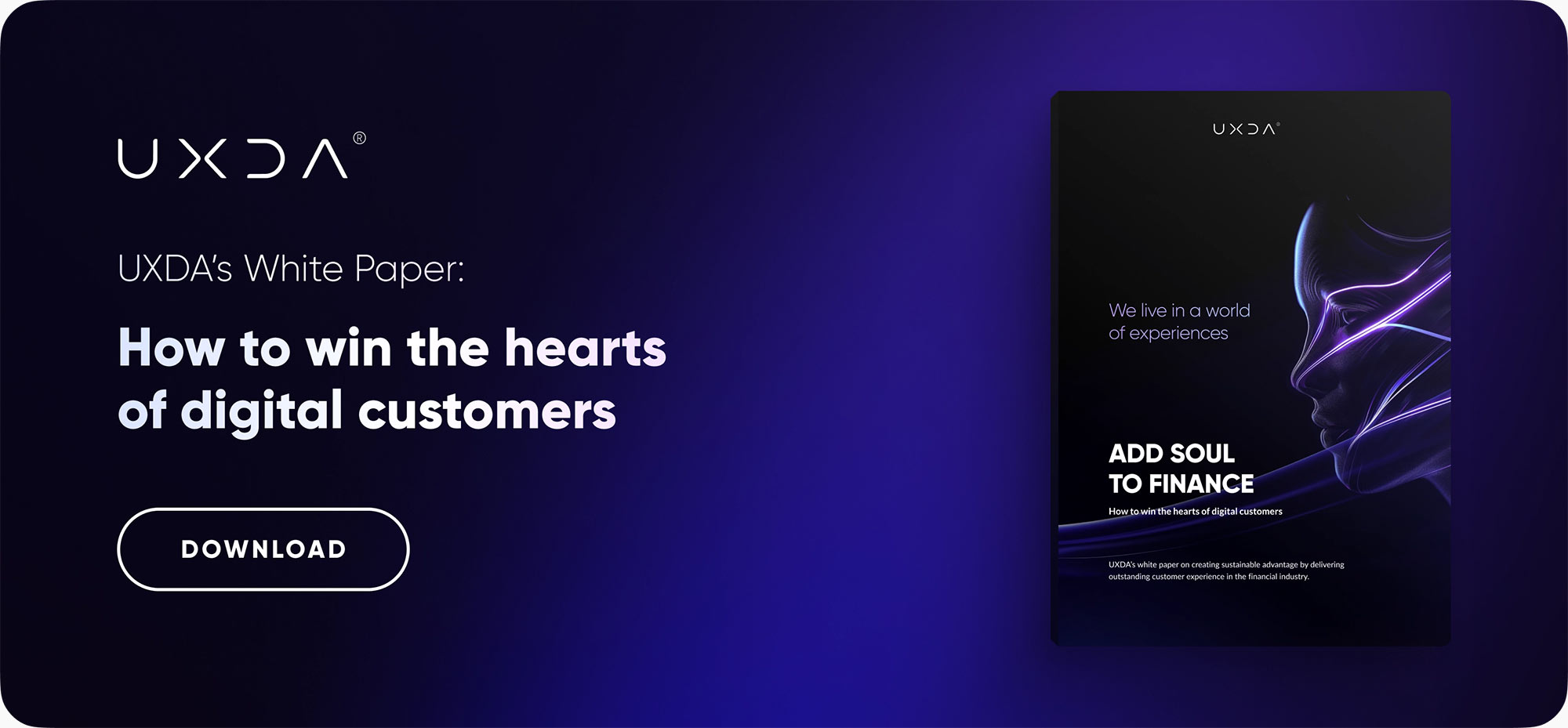 If you want to create next-gen financial products to receive an exceptional competitive advantage in the digital age, contact us! With the power of financial UX design, we can help you turn your business into a beloved financial brand with a strong emotional connection with your clients, resulting in success, demand, and long-term customer loyalty.