After these amazing years and more than 100 stunning financial products designed, we have entered a brand new stage of UXDA's evolution. We no longer stand for a "nameless" UX design agency, so we have changed our uxdesignagency.com domain. From now on, we are officially the UXDA - passionate digital architects and designers in finance and customer experience who turn UX design into a Digital Advantage for purpose-driven financial business. Find out below why did we get into this and how we add a soul to transform ordinary financial services into extraordinary ones.
People who are crazy enough to think they can change the world are the ones who do.
Steve Jobs
Building Skyscrapers in the World of Digital Finance
Our path turned out to be more difficult than I ever could have expected. Connecting the dots, the beginning of UXDA was prompted by an existential crisis for me.
The Banking Crisis of 2008 burned all my savings and investments. It was a hard choice, whether to stay in business that I had invested 5 years of my life OR quit and radically change the industry. I decided to end my career in real estate and switch to the promising digital industry.

Alex Kreger | UXDA CEO and Founder
The first startup was a scary challenge, but we entered the digital industry anyway, filled with hope and optimism. Of course, we failed because of the lack of relevant knowledge and experience.
I realized that the problem was in the approach, so I decided not to take the ordinary path in product design, but instead invest a lot more time and energy to master the complex competencies of a human-centered UX design approach.

Alex Kreger | UXDA Founder
In the few years before the creation of UXDA, we designed and coded 20 startups and 70 web projects for external clients in multiple industries. This created a thorough knowledge and experience base to further develop the UX design methodology that our UX architects keep on improving to this day to make unique and customer-centered digital financial services.
When it comes to design of digital services, the role of the UX architect differs from the role of the designer as much as a construction architect differs from an interior designer. Would you dare to visit a skyscraper that was built based on blueprints made by an interior designer without any construction architecture at all? I doubt it.
Therefore, in our work, all the baggage of accumulated knowledge and skills came in handy: psychology, research, marketing, entrepreneurship, finance, banking and design. But, at the center, there is always a UX architect─a person with a scientific approach and UX tools who has dedicated her/his heart to caring about the result.
Our breakthrough came in 2015 when we realized that our UX architecture is most needed where the "skyscrapers" are the highest and the challenges are the most difficult - in the financial industry.
The desire to make complex financial services more user-friendly and pleasant brought us together with Linda Zaikovska-Daukste to create the UX Design Agency. We were eager to humanize the financial industry so that the greed-driven banking crisis would never happen again.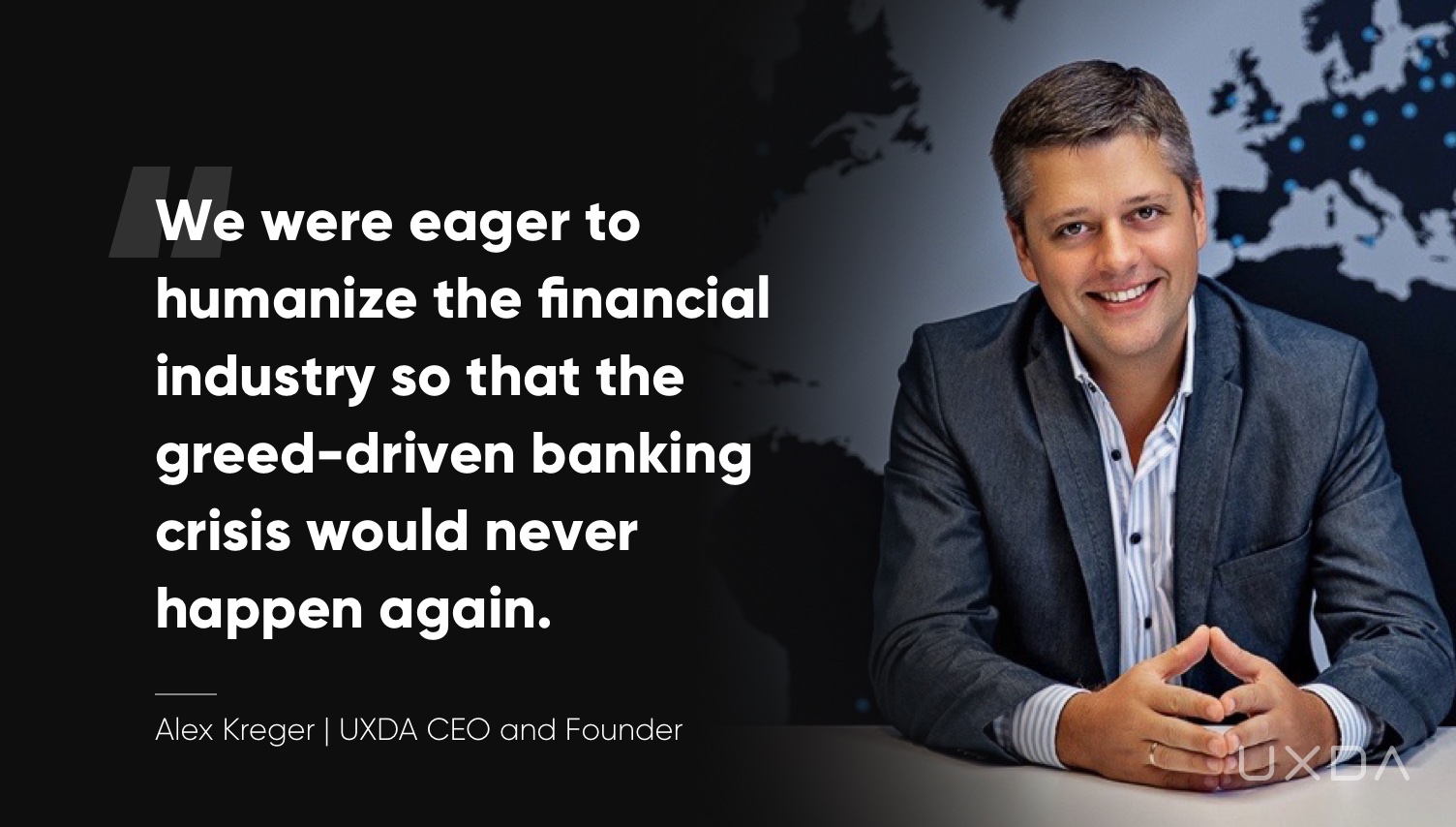 Over the next 6 years, our European-based team has helped more than 70 financial institutions use a unique design methodology.
Looking back all these years ago, I remember that we didn't know if we would succeed. But we were so inspired by the idea to humanize this industry by bringing additional value for end users, that nothing seemed impossible. At the time, there was so much pain and frustration in this industry, but we saw how great the potential was to help people, and we wanted to be the ones who participate in creating these success stories.

Linda Zaikovska-Daukste | UXDA Co-Founder
Time to Stop Lethal Missiles in our Phones
Let's look back at some stories. In January 2018, the Hawaiians came under a rocket attack. The official warning was broadcast on television, radio and mobile. Panic and fear ensued, and several people became sick. Many decided that it was North Korea, because previously they reported that they had weapons capable of striking American bases in the Pacific Ocean. Jim Carrey tweeted: "I woke up today in Hawaii, and I have 10 minutes to live." People threw cars and sought refuge in terror, expecting to hear the rumble of explosions and the smell of burning.
Half an hour later, it turned out that this was an operator error, and, instead of a training alarm, he launched a real one.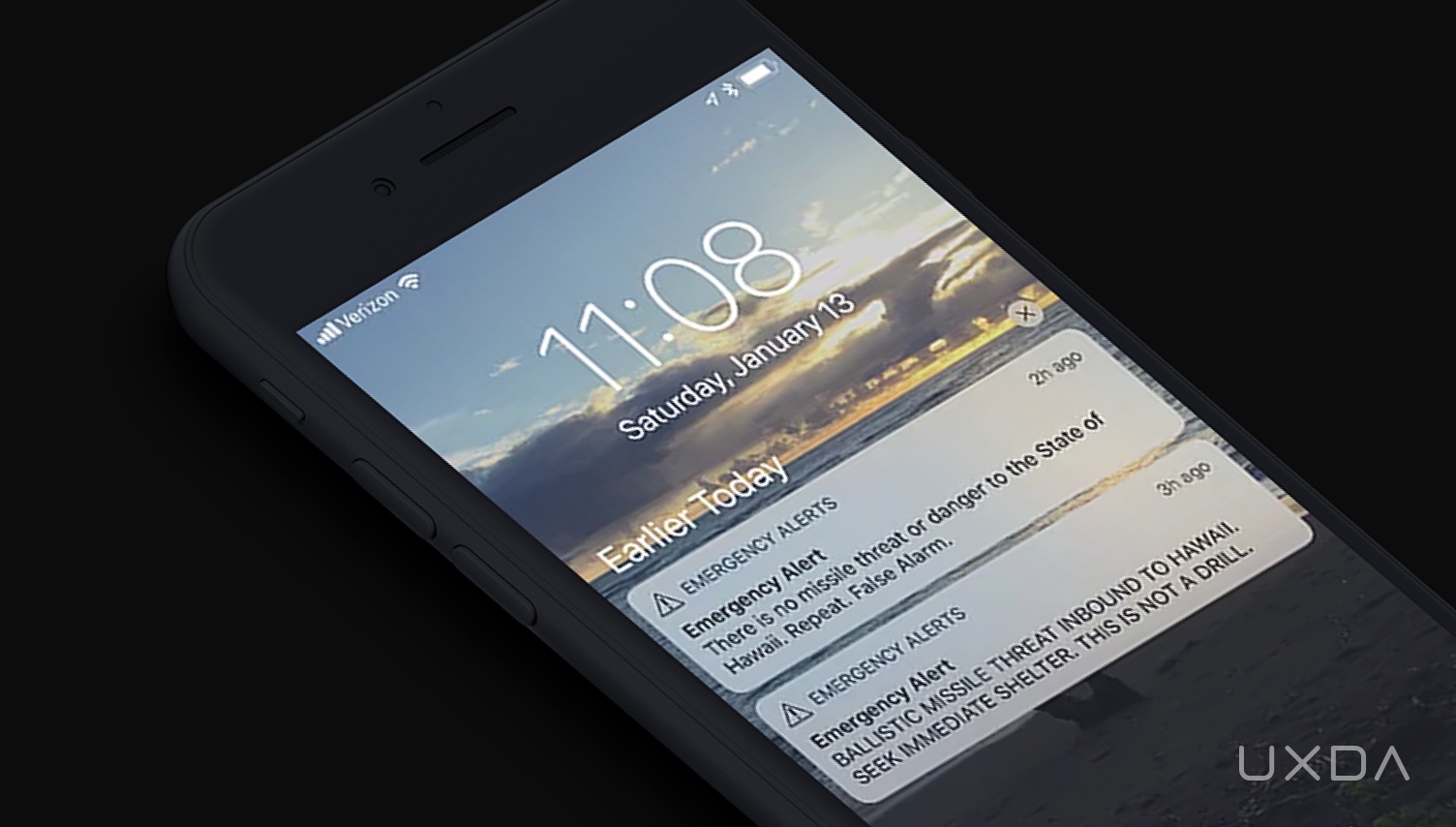 Two years later, a University of Nebraska student was so shocked by his flop in the stock market that he committed suicide. After the tragedy happened, it turned out that he had misunderstood the balance of his account in the mobile application, and there was no debt of 730,000 USD!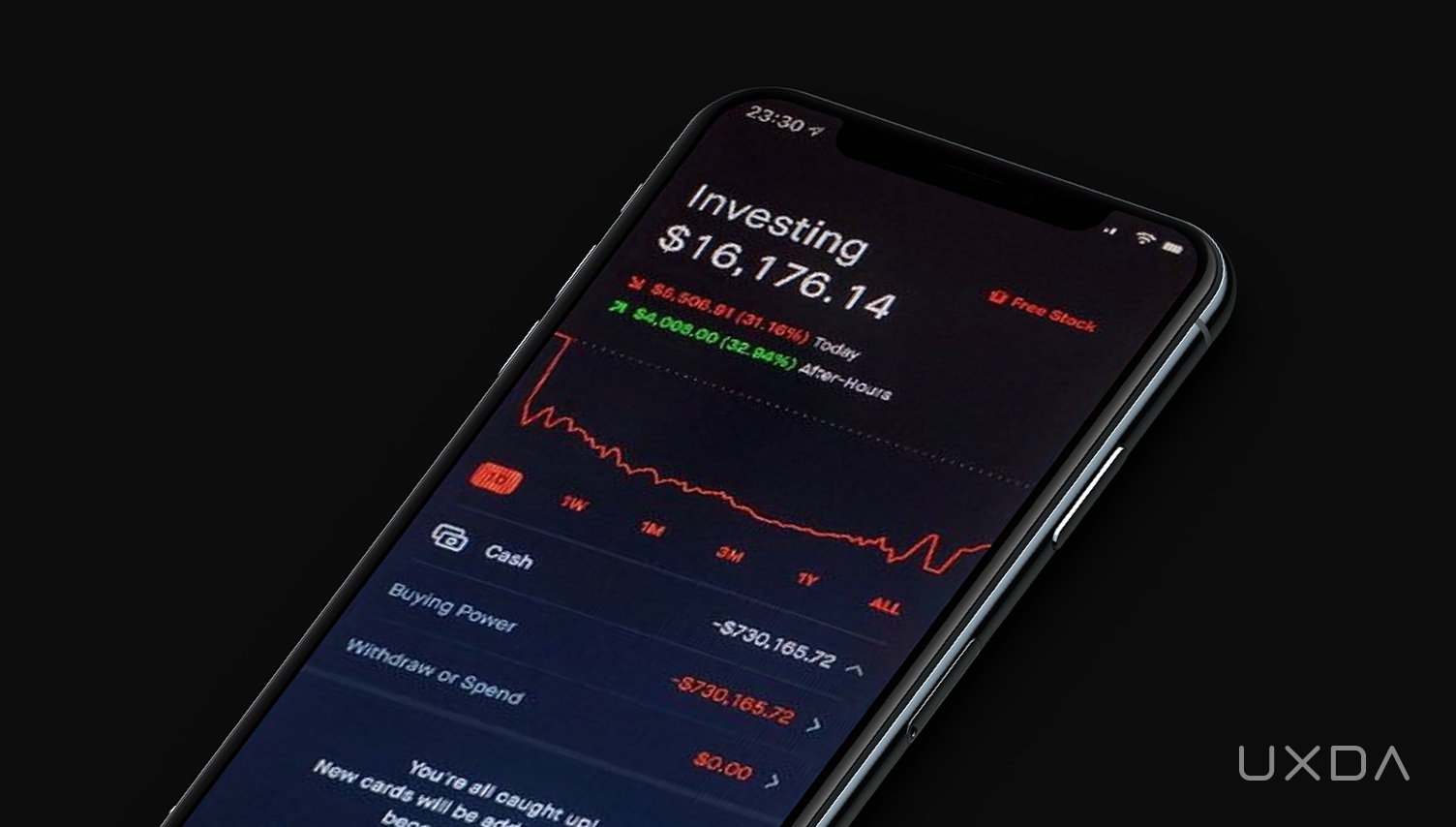 Recently, a federal judge ruled that Citibank isn't entitled to the return of 500 USD million it accidentally sent to various creditors while entering a transaction into the Flexcube interface from Oracle. It looks like it was one of the most expensive mistakes in banking history.
Unfortunately, such stories happen all the time and have the same reason in common. Have you ever heard the sound of banging and swearing and saw a man around the corner who, in a rage, beats the vending machine trying to get his snack? Or someone in a fit of rage who throws his phone against the wall or breaks the TV?
It is not easy to understand the reason behind these stories if we don't know the details. The Hawaiian authorities had issued an official apology, blaming the human factor. In fact, each of us has such "lethal missiles" periodically appear in our phones or other interfaces we use.
Often in such situations, we blame ourselves, our imperfect human nature and lack of patience. But often the cause of the problem can be found somewhere else. This has had a frightening impact on our lives, especially in recent years.
All of these situations can be attributed to faulty design─an interface full of friction that results in errors. The device interface in all these stories was so confusing that it led to damaging and even tragic consequences. This understanding imposes a huge responsibility on us and constantly pushes us to make financial interfaces intuitive and frictionless.
For businesses, such negative digital experiences mean only one thing─losses. Loss of reputation, trust, user loyalty, market position and money, especially in a post-pandemic world in which digital communication has become the primary channel. There are already 5 billion mobile users in the world, and 3 million apps compete for their attention. How can we design a product that will survive?
The power of technology is extremely great. It determines human behavior, interests and values. Consider how often in your life you follow recommendations found on social media. Digital services are everywhere, but they're not perfect. And, at the strategy level, everything depends on how and for what purpose they are created. And this became our mantra.

Alex Kreger | UXDA CEO and Founder
Creating a Digital Advantage by Adding Soul to Purpose-Driven Financial Products
The creation of frictionless, human-centered digital products requires tremendous competence and a lot of effort.
This resource is in great deficiency, but such giants as Apple, Google, Amazon and Tesla owe their success to this challenging human-centered approach. Each of them was able to go much further than competitors to meet the needs of their customers. In their hunger for unique advantage, they did not settle for mediocrity and were literally obsessed with crafting an exceptional customer experience.
If we return to the example of skyscrapers, of course, it is clear that not every building needs such a complex architecture. A typical copy-paste project is quite suitable for small row houses. But, in the case of purpose-driven financial service, a typical design approach will not deliver a unique product feeling. And sometimes it hurts, as for example, witnessing the banking app rating fall dramatically and clients switching to the competitors after a failed digital transformation attempt that cost half a million dollars and two years...
That's why it upsets us when the design turns into a conveyor belt. Many ego-centered designers are primarily focused on promoting themselves instead of helping their clients. Often they call themselves UX designers, but unfortunately the design execution is poor; it's a functional approach, focused on speed and cost savings. They use templates designed without user needs, emotions or expectations in mind and, as a result, there are lack of usability, user delight, and emotional connection with the brand.
Perhaps for simple services without a brand, such an approach is suitable. But, for financial brands whose value and long-term success depend on a digital service that serves thousands or even millions of people, it is not─because uniqueness becomes a crucial factor in a crowded and selective digital market of sophisticated services.
Financial brands will not be able to win the interest and love of users with a stamped product in a highly competitive digital environment in which 3 million applications and more than 100,000 financial services are fighting for users' attention.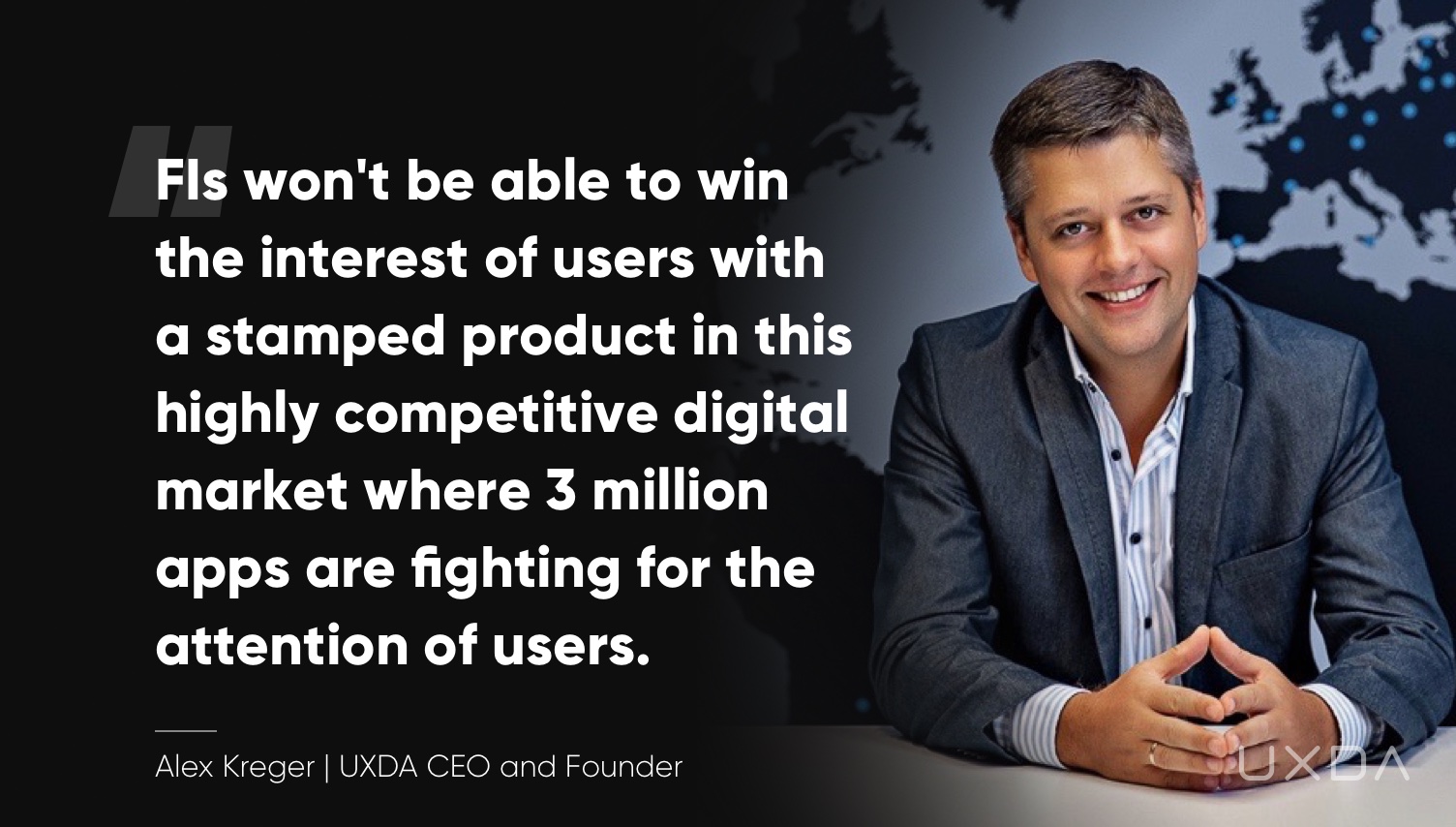 Many years ago, some clients asked us why UX Design Agency operates as a "no name agency." To be honest, we weren't interested in promoting self-ambition by placing the owners' names in the title or attracting attention by using cryptic names that mean nothing to our clients. Instead, what we truly cared about was the design result for our clients and their end users─creating something truly unique and magnificent that uncovers a brand new perspective on how to perceive the product and the business through the eyes of the users, thus uncovering unimagined opportunities.
Throughout the years, such an ego-free design approach has become a characteristic of our work, speaking through the heartwarming user testimonials. All of this proves that well-designed financial products create an emotional connection with users, and they change lives. It looks like magic for our clients, but there is a deep scientific approach behind it.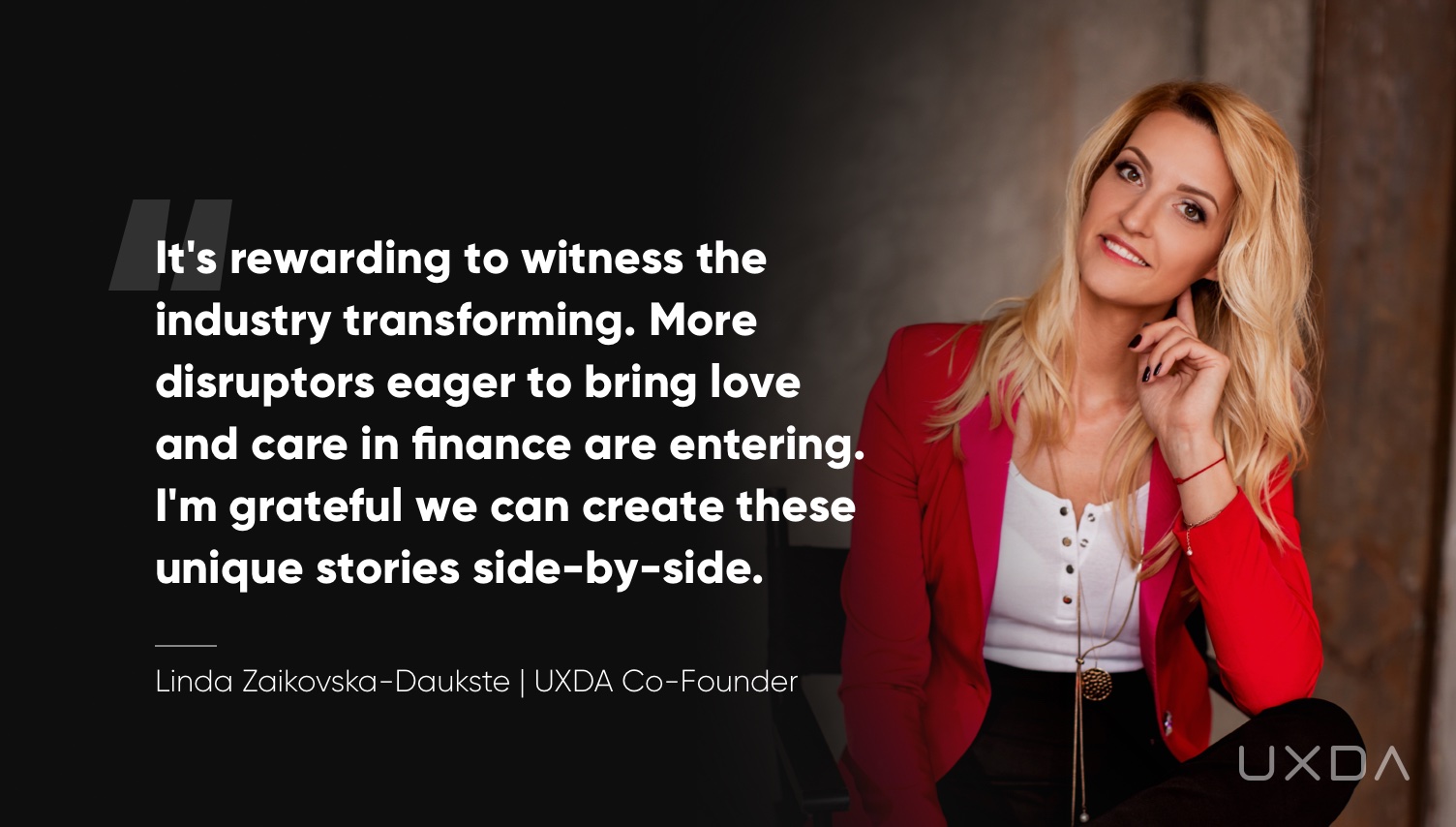 We still stand strong by ego-free delivery, trying to help not only with our services, but also by openly sharing our knowledge, insights, experience and methodology to more than 300,000 financial specialists all over the world through UXDA blog, Apple podcast, Forbes, YouTube, the Financial Brand, Medium, Finextra, Researchgate and other platforms.
Designing such complex solutions as financial services is very challenging, and yet so inspiring! It's even more rewarding when we witness the industry transforming as a result of our work. There are more and more new disruptors entering banking and Fintech who are eager to bring love and care in this field, and I'm grateful we can create these unique stories side-by-side with them.

Linda Zaikovska-Daukste | UXDA Co-Founder
Nevertheless, after all these years of designing 100+ financial products in 36 countries, UXDA has become a fairly well-known brand. Therefore, we wondered, does the "nameless" UX Design Agency designation correspond to the real value we bring to our clients today? We must take into account all these years that UXDA has radically moved away from the typical product design approach.
Compared to the traditional approach, our methodology goes way beyond the surface level of UI. The main focus is set on integrating a customer-centered mindset and culture that uncovers amazing opportunities for the financial business, its products and, most importantly, the users.
In UXDA, we accumulate experience and knowledge to continually improve our methodology. Our unique financial UX approach is focused on finding the best ways to create a digital advantage for financial products. I think this is very important in the financial industry, which is perceived by everyone as boring and typical. Using our team knowledge, experience, methodology and passion, we help purpose-driven brands to turn ordinary financial products into extraordinary ones by adding a soul.
What do we mean by extraordinary financial products, you might ask.
These are exceptional stories we create together with our clients─stories that result in a unique product that forms an emotional bond between the user and the financial brand.

Alex Kreger | UXDA CEO and Founder
For us, this is not just assembling yet another of the thousands of FI products on the market. It is a step-by-step process of seeking and shaping the ultimate product value, its unique power to serve people. During this process, we never lose the focus on the people behind the story of the product, people for whom it's being created. WHY it's done, HOW it will help to improve users' lives and WHAT is the genuine product value beneath all of this.
Our process is deeply rooted in constant focus on this humane and emotional aspect. It's what we keep in mind and hold on to throughout the whole process. This allows us to create financial products that have soul and truly mean something to people.

The energy of our team is fueled by the joy we gain from seeing our clients fall in love with their products and their brands that have been re-born through value and emotions we have vitalized.
Our team is constantly developing our empathy skills and focus on telling the product story through human-centered design, because otherwise the products would lose their heart. It may sound noble, but it's not easy at all and we face this challenge every day.
Surprised by the experience of our process and the end result, our clients often ask, what is your magic? How do you make it happen? Our secret is to communicate true empathy, humanity and emotions throughout the financial product stories, always maintaining the focus on WHY we are creating this product and HOW it will serve people.
At UXDA, we are certain that every product has its own uniqueness. It needs to be found and released in order for it to be passed on to the end users. It's a never-ending process.

Alex Kreger | UXDA CEO and Founder
The focus on the value, emotions and stories of people who will be using the products is what leads to the most powerful transformations of financial products and brands. If the creation of the product is inspired by making the world a better place for people to live, and the whole team is united around this mission, there are incredible breakthroughs awaiting this kind of company. This is the essence of creating products that excel among competitors and are truly loved and even worshiped by their customers.
We were once again confronted with an existential choice. For us, it's clear that we are not just another design agency in the traditional sense. Due to this difference, we need to put a proper meaning into UXDA brand. So, starting today, UXDA means UX Digital Advantage─because all these years we have helped our clients globally to establish digital advantage through exceptional experience design of their financial products. To exemplify this, we decided to transform from uxdesignagency.com to theuxda.com. This is a significant change that more clearly defines UXDA value and unique approach provided to our customers.
The decision is empowered by the fact that many of our clients see working with UXDA as a transformative experience that has helped them to achieve (digital) business breakthroughs and open up such opportunities that they hadn't even considered.
As Simon Sinek has said, Apple would never be who they are if they didn't have a "Why" that reveals their value to users. Today, financial services too rarely think about their "Why."
Most financial brands struggle to overcome ordinary to make their digital service so stunning that the entire team will be passionate about it and customers will love to use it. We help our clients find and transform their "Why" into a digital product story capable of engaging and building a long-term emotional connection with users. As a result, financial brands receive an extraordinary product with an exceptional user experience that creates a digital advantage for their future success. We are UXDA, and we love what we do!
Overcome the ordinary and make your product extraordinary so that the customers would love it!
Get UXDA Research-Based White Paper "How to Win the Hearts of Digital Customers":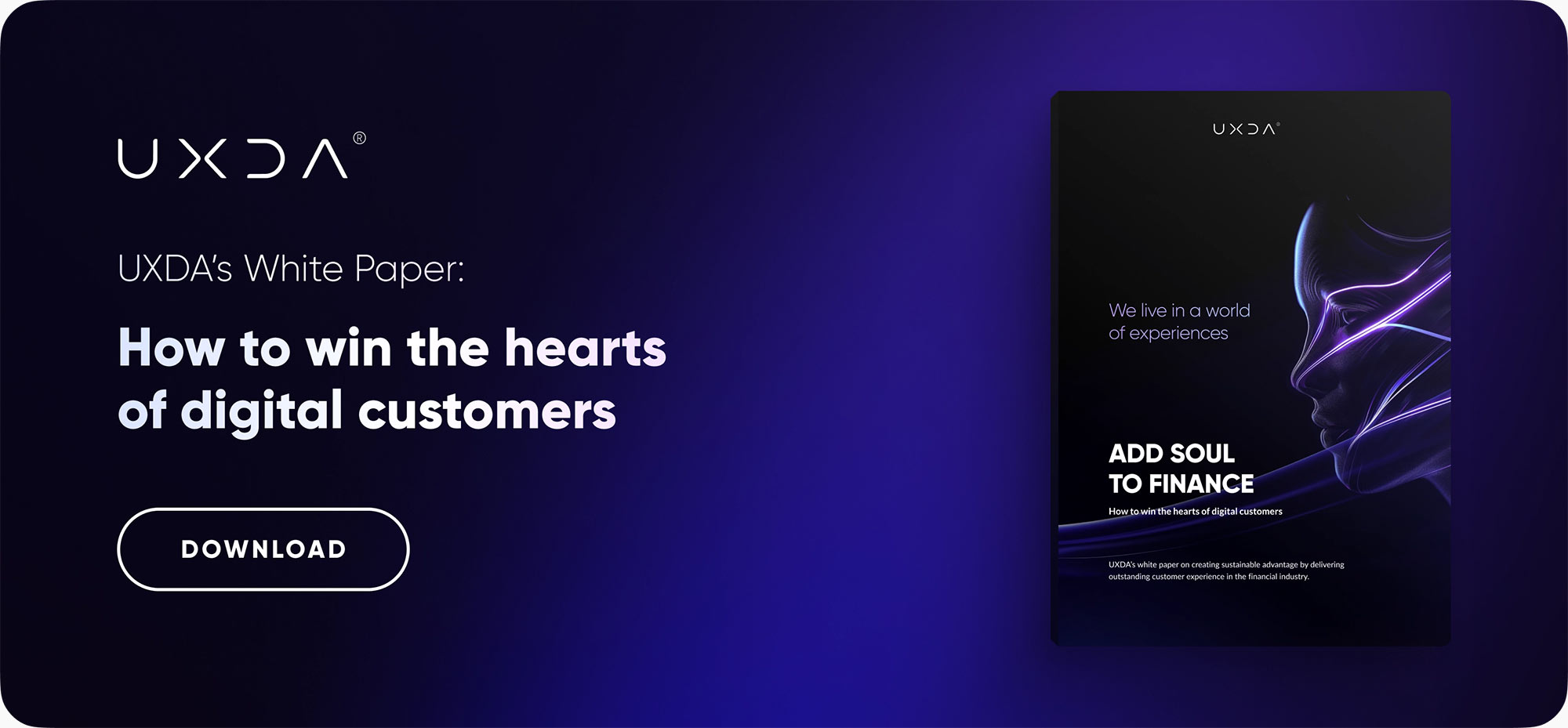 If you want to create next-gen financial products to receive an exceptional competitive advantage in the digital age, contact us! With the power of financial UX design, we can help you turn your business into a beloved financial brand with a strong emotional connection with your clients, resulting in success, demand, and long-term customer loyalty.