Fortunly FinTech Statistics confirm that digital banking services are taking over for good. Forty-six percent of people exclusively use digital channels for their financial needs, and 88% of incumbent financial institutions believe part of their business will be lost to Fintech companies in the next five years. It isn't sufficient for UX/UI designers to simply create visually acceptable art. You have to start by deeply researching your clients' customers to build a thorough design based on user experience.
User research is a way of gathering data about a target audience or user group. It is often used to understand the needs, motivations, and behaviors of users in order to design products or services that are more effective and usable. By conducting user research, you can gain insights into the problems that your customers are facing and use that information to identify best potential solutions.
There are many different methods for conducting user research, including interviews, surveys, focus groups, usability testing, and field studies. The specific method that you choose will depend on your goals and the resources that you have available. By gathering data from users directly, you can get a better understanding of their needs and preferences, which can help you to identify the right solution for them. For example, if you are designing a new product, you might conduct user research to understand what features and functionality users value the most and then use that information to guide the design process.
Cisco AppDynamics global research 2021 shows that 68% of 13,000 global consumers find poor digital experiences disrespectful, and digital services expectations of 76% of consumers have increased since 2020. Brands have only one shot to impress their customers, 57% claim, and 60% blame the application and brand when they encounter a problem with their digital service.
That's why meeting customers' wants and needs has never been so crucial for financial businesses. There has to be a clear acknowledgement of the expected customer pain points and how they can be solved when creating the best possible financial service experience. If we don't want to fall into the "Nokia whole", this is the last moment to transform our digital finance products by digging deep and prioritizing UX design methodology's research quality.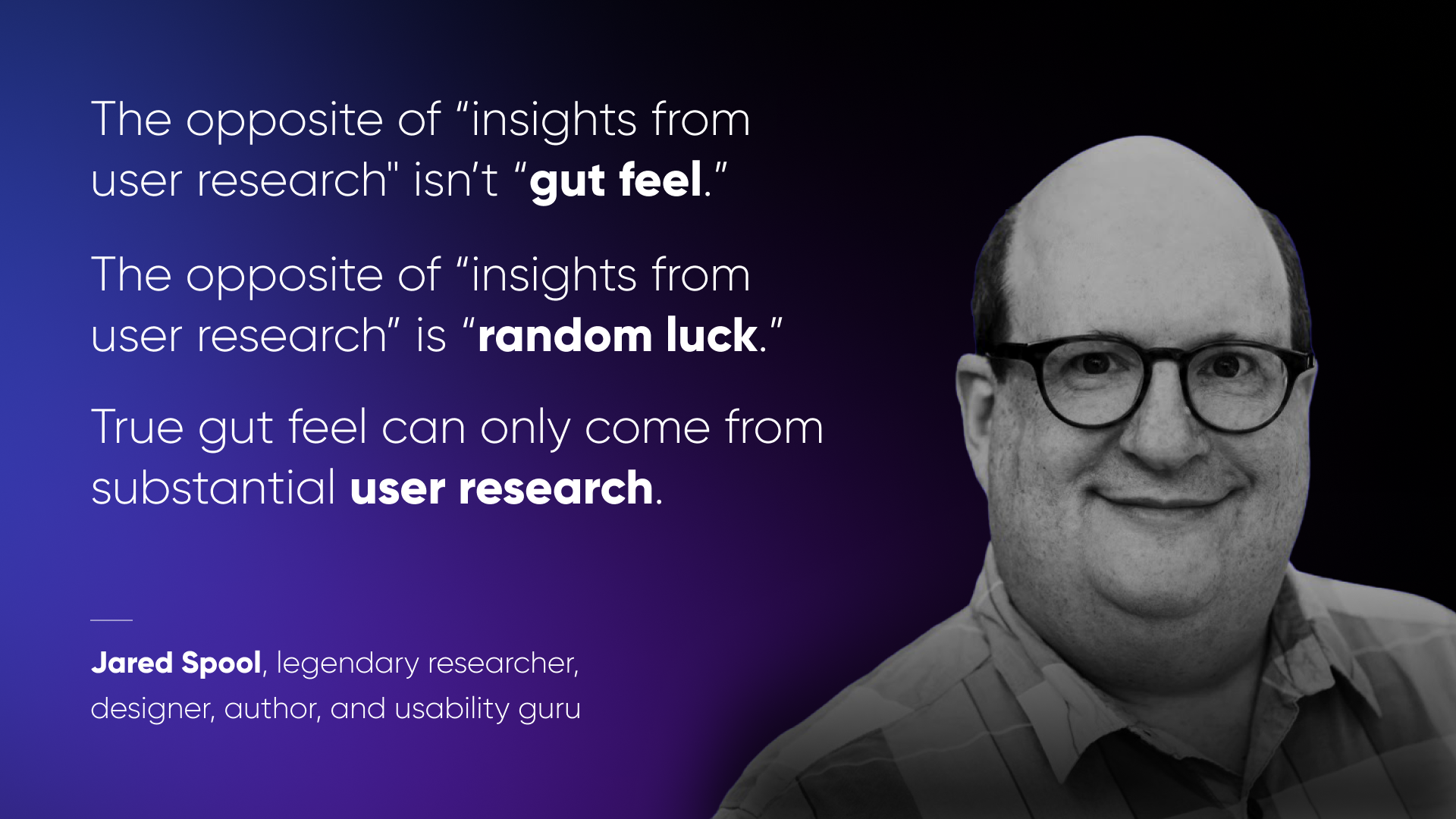 How User Research Defines the Success of a Financial Product
User research is an essential part of the design process for any financial organization because it helps to ensure that the products and services being offered meet the needs of the users. By conducting user research, financial organizations can gain a better understanding of their target audience, identify any pain points or areas for improvement, and create solutions that are more likely to be successful. This can lead to increased customer satisfaction, loyalty, and ultimately, revenue for the organization. In addition, user research can help financial organizations stay ahead of competitors by identifying new opportunities according to changed customers' expectations.
At the very least, every new user should be able to quickly adapt and navigate your financial digital platform. If the product is easily approachable, and their first interaction goes smoothly, the customer will want to return to it. Therefore, the first interaction is critical for your financial product.
Second, can the user perform frequently used operations quickly enough? We all know the most commonly used features of banking products, such as checking account balances, top-up accounts and money transfers. If any of these features require too much effort to perform, clients will likely seek better solutions elsewhere.
Third, how many errors does a user make when performing any action? In a frictionless scenario, the user should go through the step-by-step process without encountering any problems. To prevent mistakes, we can ensure that the information input format and type can be easily completed, and the clients won't skip any mandatory fields.
Last but not least, is your financial product enjoyable? Financial products shouldn't only be functional but also appealing to the customer in view of the fact that users don't appreciate services that look too boring or outdated.
The only way to explore this to ensure financial solution user-centricity is to conduct user experience research. In brief, the purpose of user experience research is to put yourself in the shoes of your users, explore their needs, pain points and expectations, analyze the data obtained and develop design hypotheses that could be substantiated using a product prototype.
What User Research to Use for Your Financial Product Design
There are dozens of user research methods available, but our UXDA experience has identified five key research methods to create a successful customer-centered financial product. These methods provide the best way to gain key insights from your end users.
1. Ethnographic Research
Ethnography is a method to explore the social interactions of customers in a given environment to get an in-depth insight into the user's views and actions through direct observation, diary studies, video capture and artifact analysis. This research is also practiced in anthropology.
Ethnography can reduce the effect of social approval when the respondent tries to make a positive impression on the researcher. Also, respondents tend to rationalize their behavior, which leads to an incorrect interpretation. Ethnography reduces such a risk and allows you to receive the data as it is.
In UXDA, we are exploring the digital footprint of the potential end users. This is the so-called digital anthropology, which analyzes digital artifacts, such as tweets, posts on social networks and reviews on the App Store or Google Play for a corresponding service or topic. This gives us an understanding of how these customers see the world, what their pain points are and also identify their positive feedback aspects. Sometimes powerful improvements in the UX of an existing mobile banking application materializes because of negative reviews from the App Store.
2. End Users Interview
Interviewing your customers is one of the commonly used research methods to understand users' motivations, pain points, feelings, daily routines and behavior while using various financial products. It can be performed at any stage of a product's development.
Prior to product launch, in the early architectural stages, user interviews can provide insights into whether the upcoming product will be used as planned. As for existing products, interviewing your customers will help you understand what difficulties these people encounter and why they use or don't use a specific feature.
For example, a retail banking platform had a goal to increase the number of payments made from the mobile app. During the user interviews, many users revealed that they don't make payments from the mobile app, or they make them very rarely. The main reason for it was simple: it was easier to make the payment from a computer as the app's payment form was difficult to navigate. That motivated the bank to remake the payment form into a version that was much easier to use, resulting in a quick change in the users' habits of making payments only from the computer.
3. Mapping User Personas
To create a user-centered product, it is important to understand who the end users are. Only by gaining an understanding of their needs, behavioral habits and pain points is it possible to empathize with them and create the perfect product.
User personas are invented characters with a precise description of their age, gender, occupation, location, income, daily life, thoughts and other details. Each user persona represents a specific type of an end user that can be defined by polls, stakeholder interviews, desk research and field research.
For example, the user persona in a mobile banking app can be a young student working a part-time job, a mother of two who takes care of her household or a businessman who must check both personal and company finances.
For each type of user, the main functions of why and how they want to use this mobile banking app differs. It is better to create an empathy map by using the data from ethnographic research and user interviews - what those end users feel and think, what difficulties they face in their daily lives and what their priorities are.
4. Card Sorting
Card sorting is a method used to understand how users categorize information. It can be performed when creating a brand new product or when researching an existing financial product to create an intuitive Information Architecture.
Currently, there are two types of card sorting methods: open card sorting and closed card sorting. Open card sorting helps to perform Information Architecture mapping to identify how many and what kind of groups users create and how they name each group. For example, do users keep credit card information within their accounts, or do they create a separate group for it?
Conversely, closed card sorting helps to filter the information that will be put into specific groups provided for the user. For example, there is a plan to create these groups: Accounts, Cards, Payments, Profile and Settings. The user is given the information cards that need to be ordered into those given groups. As a result, it is possible to see how the user orders it and if his mental model matches the conceptual model of the product.
To ensure the created Information Architecture for a product is understandable for its users and they can easily navigate through the service and find exactly what they need, we can add tree testings to the card sorting.
Tree testing can be performed at any stage of a product - for a brand new product under development or a currently running product to prepare it for improvements of Information Architecture UX. This method offers good insights into whether created or current product architecture is understandable and easy to navigate, and to acknowledge why users have difficulties finding something.
In the tree testing method, users are provided a full list of categories and subcategories and are asked to perform specific tasks, such as the following: a user might be asked to pay for utilities or add an additional account in a different currency. This way, it is determined whether the user can easily perform the requested task.
5. Usability Testing
Usability testing is the best method to get insights about exactly how customers interact with a product. This is extremely important for the design of innovative financial services. The testing should be performed as often as possible to check separate scenarios or even test an entire banking product.
UX testing can be performed in the wireframe stage to determine if your users understand the flow. In the UI design prototype stage, we ensure that all of the visual accents are used correctly and test how existing users use the service or how absolutely new customers deal with the same service.
In usability testing, users are asked to perform specific scenarios, for example, to send a money transfer request of $25 to a friend or to freeze a card that might be lost or stolen. It's important for a customer to comment on every step along the way and verbalize each thought that comes to mind while performing these scenarios.
Detailed attention must be paid to how a user performs each scenario. To get good insights, it is recommended to test five users because it will give an overall idea whether the user can handle the scenario and perform it without any difficulty.
Focus on a Solution
The five aforementioned key methods to improve the usability of a financial service is only a small part of all the possible user research methods. The main purpose of all of them is to collect as much information as possible about users' behaviors in order to create the right solution for them.
Without user experience research, it is almost impossible to create a product that fully solves users' problems in a manner that is quick and completely understandable. The main reason for this is seeing how a business' perception and knowledge sharply differs from a product's end-user behavior. So, the business has to get to know and research their users to create a product that they love to use and would want to recommend to others as well.
User research can also help you to identify potential problems with your existing products or services, and to develop strategies for addressing those problems. For example, if you find that users are having difficulty navigating your website or app, you might conduct user research to understand why that is and develop solutions to improve the user experience.
Because user experience research has such a significant impact on business, leaders are investing more time and money in recruiting UX research and design professionals. According to a recent survey, 81% of executives believe that user research improves the quality of their products and services, and 86% say that user research makes their organization more efficient. Therefore, if we want our businesses to survive and even thrive, we are obligated to spend our time and investments on thorough research resulting in high-quality UX design products.
Get UXDA Research-Based White Paper "How to Win the Hearts of Digital Customers":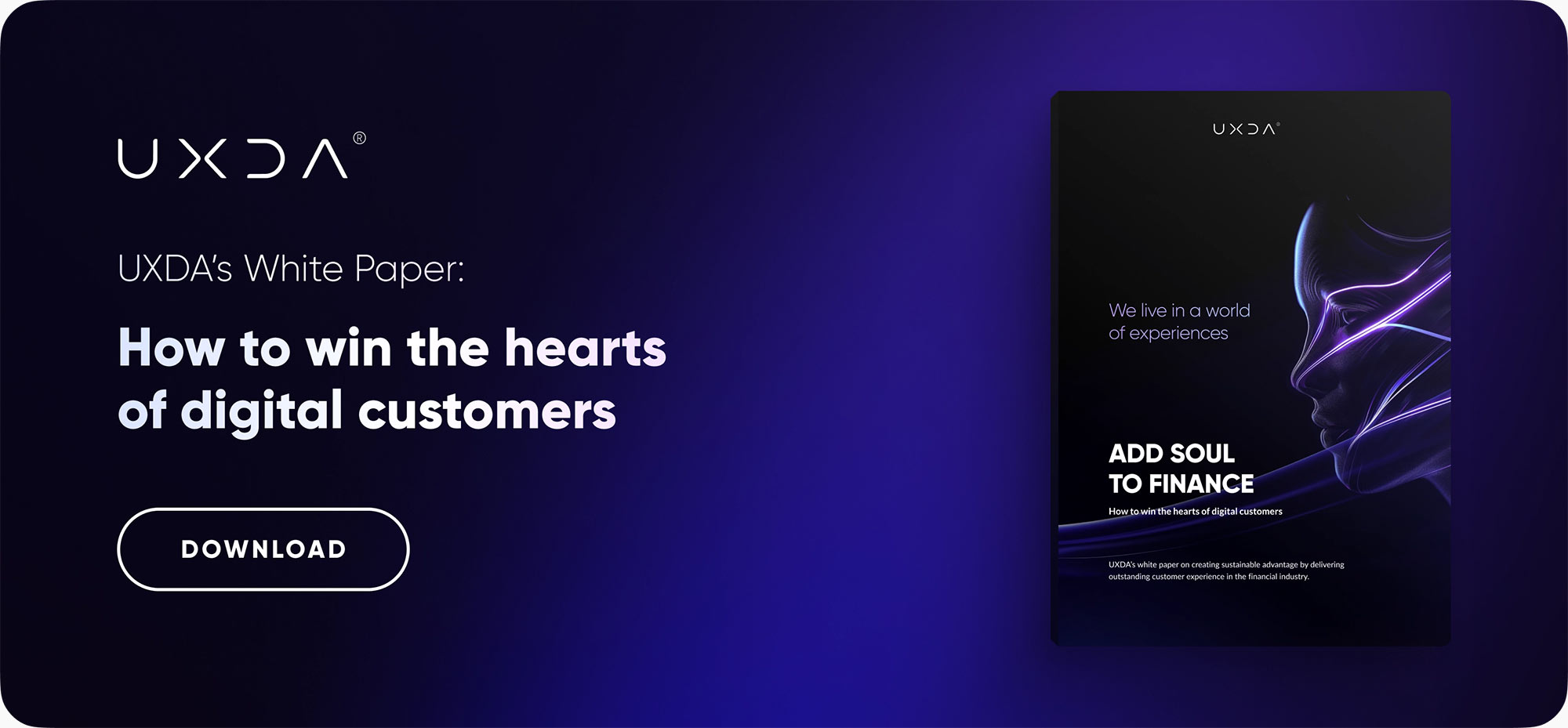 If you want to create next-gen financial products to receive an exceptional competitive advantage in the digital age, contact us! With the power of financial UX design, we can help you turn your business into a beloved financial brand with a strong emotional connection with your clients, resulting in success, demand, and long-term customer loyalty.