UXDA, a premium UX design agency for banking and FinTech, announced an important win at this year's Banking Technology Awards ceremony as Best Outsourcing Product/Service.
UXDA awarded the Best Banking Technology Award
UXDA becomes first design agency that wins Banking Technology Awards. UX Design Agency helping online banks and Fintech startups engage their customers with a delightful user experience through user-centered design. UXDA also included in the TOP3 Innovative Banking providers in Europe according to European Fintech Awards 2016 and in the TOP15 user experience agencies worldwide according to Clutch Research.
The 2016 Banking Technology Awards were hosted by comedian Julia Streets in a dazzling event on the 1st December, in The Tower Hotel, London. By gathering together over 260 figures from some of the financial industry's most influential companies The Banking Technology Awards, now in their 17th year, shine a spotlight on the industry's most innovative companies and recognise innovation and excellence across the board.
UXDA was awarded, along with such companies as Royal Bank of Scotland, JP Morgan, DBS Bank, Bank of Montreal, Backbase, Temenos and 34 others. A full list of winners can be found here: Banking Technology Awards 2016 Winners.
This year, Banking Technology readers voted for:
1. Best Asset/Investment Management System/Service
2. Best Business Intelligence & Analytics System/Service
3. Best Core Banking System/Service
4. Best Digital Banking System/Service
5. Best Emerging/Innovative Technology Product/Service
6. Best Outsourcing Product/Service
7. Best Private Banking System/Service
8. Best Regulations & Compliance System/Service
9. Best Risk Management System/Service
10. Best Trading System/Service for Sell-Side
11. Best Treasury Management System
12. Best Retail Payments System/Service
Founded in London in 1984, Banking Technology has been at the forefront of the print and online publishing for the international community of bankers, financial services professionals, vendors, consultants, analysts and other industry participants, big and small.
Get UXDA Research-Based White Paper "How to Win the Hearts of Digital Customers":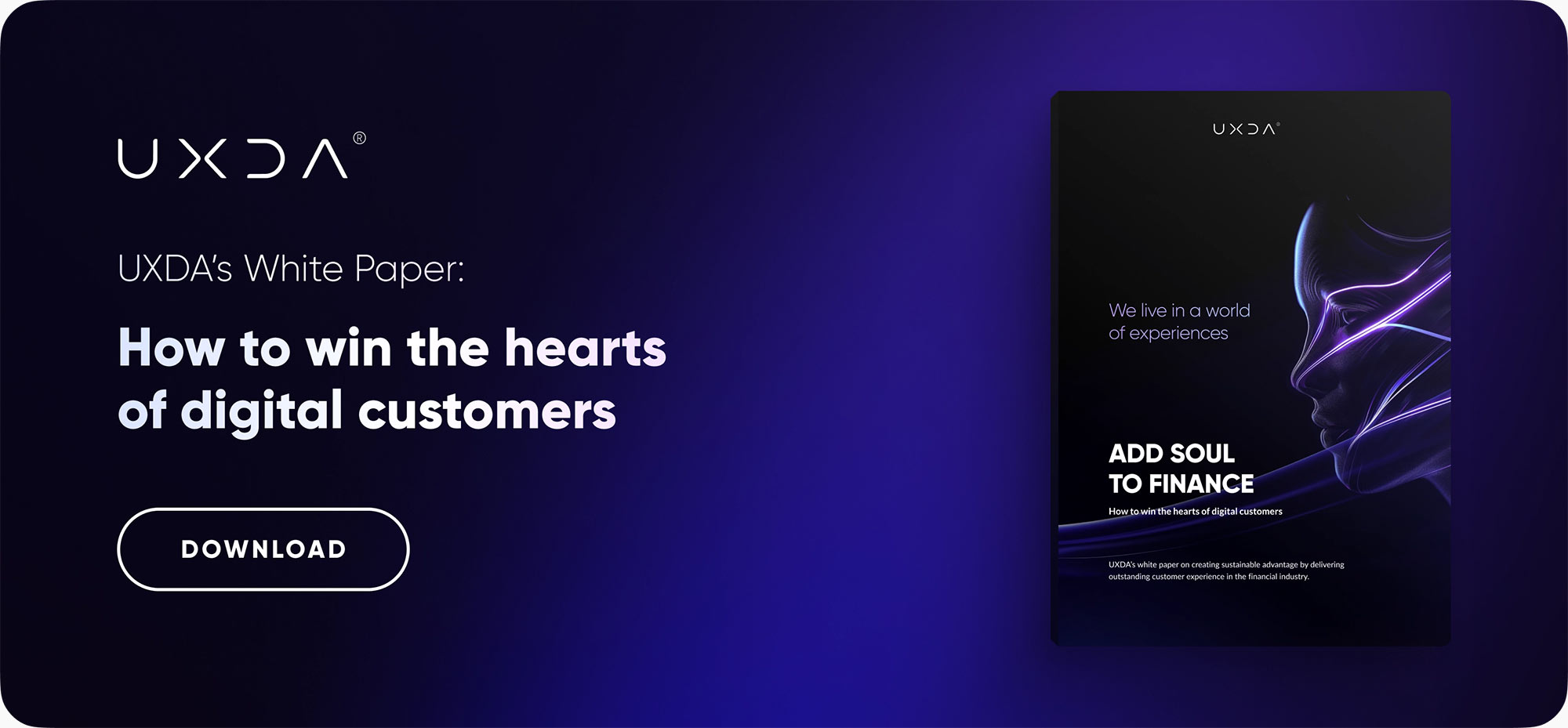 If you want to create next-gen financial products to receive an exceptional competitive advantage in the digital age, contact us! With the power of financial UX design, we can help you turn your business into a beloved financial brand with a strong emotional connection with your clients, resulting in success, demand, and long-term customer loyalty.